News:
1/25/2013
Hockey is back in full swing this semester. This years competition in the region has been tough. With two Division I teams moving down to Division II there is an exciting amount of new competition and skill within the region. Kansas State has managed to stay middle of the pack up until now. We are hoping that the new home rink at the Rec will be a turning point as we come toward the end of the regular season.
You can help in our effort by coming out to support our team for our home opener in February. See our flyer for more details.
4/17/2012
After a hard fought national playoff series, Kansas State finished in the final four, losing 6-2 to a tough Central Michigan team in the semi finals. Central Michigan went on to defeat Pittsburg 8-0 in the finals to win the national championship. This final four finish ties the best finish in Kansas State Inline Hockey Club history. We are looking forward to having another great year next season!
2/20/2012
Finished the regular season in a strong second place. We've tied the first place team, Maryville, twice and are looking for another good game this weekend at regionals in St. Louis! Please come out and support the team if you can, this is the best team we've ever had with the best chance of bringing home that regional cup!
Also, pick up a copy of the collegian tomorrow morning. There should be an article on the team!

11/14/2011
Finished the semester tied for second in the region. Looking for a strong second semester after the break!

9/28/2011
Hockey club is doing a fundraiser in KC this weekend. We're picking up trash after the Friday, Saturday and Sunday race events at the Kansas Speedway.
Exhibition game vs. Northwest Missouri State in KC at 2:00pm on Sunday at Brookside Roller Rink in Holmes Park (70th and Holmes).

9/28/2011
Denver pre-season tournament schedule: Bus leaves Friday at 4pm from Z18
Oct 1 2:00PM Lakewood, CO Northern Colorado
Oct 1 5:00PM Lakewood, CO at Arapahoe CC (JC)
Oct 1 9:00PM Lakewood, CO Colorado State (DI)
Oct 2 9:00AM Lakewood, CO at Colorado at C. Springs
Playoffs at 1,2 & 3PM on Sunday.
Exhibition game against NW Missouri State in KC on 10/9/11 at 2:00pm. Bus leaves Sunday at 11am from Z18.
Fund raiser in KC 10/7-10/9 picking up trash at the KC speedway.
Full Season schedule is out. Here are all of the weekends we'll be in St. Louis:
10/21-23
11/4-6
11/11-13
1/27-29
2/10-12
2/24-26

9/19/2011
St. Louis travel dates for this semester have been released. Headed to Denver on Sept 30th for four games on Oct 1st.
St. Louis Dates:
October 22-23
November 5-6
November 19-20
8/19/2011
First Practice tonight at Spin City in Junction City. Check out the 'practice' link on the left for more information.
Also, for your viewing pleasure and general pumped-uppedness, check out these videos:Kyle'sVideo Joel'sVideo
8/19/2011
New season is about to start! Please come visit us at the Activity Carnival, the first meeting, or the first practice if you're interested in joining the club. Also feel free to send any of the officers an e-mail in the 'contact' link if you want to learn more! Here's a list of some activites to kick the year off. Any and all are welcome.
Thursday 8/25/11 6-8PM - Activity Carnival in the Student Union. We will also have a net setup for students to shoot pucks into.
Monday 8/29/11 5:30PM - Team meeting in Waters Hall room 137, everyone welcome! Come to this if you're interested in joining the team
Tuesday 8/30/11 7:00PM - First Practice at the Junction City Rink. Practices will be every Tuesday 7-8:30pm and Wednesday 7-8PM
Friday, Sept 16 - Fund Raiser! We will be providing valet parking for the Beach Museum.
October 1,2 - Pre-Season Tournament in Denver
October 8-9, Fund Raiser! Cleaning the parking lot at the Kansas Speedway
2/23/2011
The Alumni Game has been scheduled for April 2nd at 10:00am at Spin City in Junction City!
Invite your family invite your friends, invite your next door neighbor! It's ging to be a blasty-blast!
1/20/2011
Come see us at the 'Winter Classic' activities carnival tonight in the K-State Student Union! This is a great time to learn more about our club if you're interested in joining. If you can't make it tonight, don't be afraid to e-mail one of us in the 'contact' section!
1/19/2011
School of Mines and Colorado this weekend! Let's come home with two wins!
1/13/2011
First weekend back at school and we're on the road to Denver. Practice starts the first day of school; Tuesday (7:00 - 8:30) and Wednesday (7:00 - 8:00).
10/25/2010
Team is looking really strong this year, join the revolution!
10/25/2010
Got 4th in the Illini Invitational, good job team! This last weekend we went 3-0! Got a tough rest of the season, practice hard!
10/4/2010
Get ready for the Illini Invitational this weekend! We have a week of practice left to prepare, let's make it a good one! Must have Denver trip paid for to attend this trip.
10/9/10 Schoolcraft 1:00PM
10/9/10 Illinois 4:00PM
10/10/10 Illinois State 9:00AM
10/10/10 Round robin Playoff noon or 2:00pm
More games when we win
7/25/2010
Practice has started and is open to anyone, e-mail me (Joel12@ksu.edu) if you want more info.
The practice facility is in Spin City in Junction City, come on out and find out what we're about!
Tuesday nights : 7-8:30pm
Wednesday nights : 7-8pm
7/25/2010
First Meeting AND practice of the semester for all interested students and current members.
KSU Inline Hockey Club
Waters Hall – Room 137
Wednesday, 8/25/10 5:00PM
Get ready for the new season! If you'd like to join the club you can get more info by coming to this first meeting and you can also contact me at Joel12@ksu.edu.
Officers for the 2010-2011 school year:President - Michelle Dick, VP- Joel Carroll, Secretary - Geoff Martin, Treasurer - Kara Gudenkauf
3/22/2010
Alumni Game this Saturday in Junction at Spin City, 10:00 AM.
Picnic after the game at Milford Lake Army Corps or Engineers, shelter #1. BYOB, hamburgers and hot dogs provided, donations appreciated to help cover food costs.
3/11/2010
Dates to know:
Alumni game is on 3/27
Valet parking fundraiser at the Wareham Opera House on Poyntz* on 4/16
*used to have it listed as Beach museum, that was incorrect, it is at the Wareham.
2/26/2010
Last regular season game and playoffs this weekend
We can finish in either 9th or 10th for the regular season. We play
SIU-E @ 9:00am at Queeny park on Saturday.
If we win, we will finish in 9th.
If we lose, our final position Depends on the outcome of the St. Louis
COP vs Illinois State game ( noon - the Omni)
If COP wins, we finish in 10th, if Ill St wins, we finish in 9th.

If we are #10, we play at 7:00pm at the Omni
If we are #9, we play at 9:00pm at the Omni
Most likely opponents for either of these will be Illinois State or
Washington.

After winning our game Saturday night:
If we were the #10 seed, we play at 10:00am Sunday at the Omni
If we were the #9 seed, we play at 11:00am Sunday at the Omni

When we win that game:
If we were the #10 seed, we play at 2:00pm at the Omni
If we were the #9 seed, we will play at 3:00pm at the Omni

After winning that game we play for the championship at 6:00pm at the Omni
1/13/2010
Here is the schedule for the rest of the season: (changed since originally posted - 1/20/2010)
Jan 30 1:00PM Ballwin, MO - at Saint Louis
Jan 30 4:00PM Ballwin, MO - Illinois
Jan 31 9:00AM St. Peters, MO - at Washington (STL)
Feb 20 3:00PM St. Louis, MO - at Southeast Missouri State
Feb 20 8:00PM St. Peters, MO - at Missouri S&T
Feb 21 10:00AM Ballwin, MO - Kennesaw
Feb 27 8:00AM Ballwin, MO - SIU - Edwardsville
Practice starts again this Tuesday (1/19) so be there!!!
Lets win these so we can go to Cali for the Championships!
11/5/2009
First half of the season is over! Good work everyone, best season so far in a long while (5-4-2). Enjoy Thanksgiving and Winter break; next games aren't until January 30th.
Don't forget to keep going to practice!
11/5/2009
Team is headed St. Louis the next two weekends in a row. November 7th & 8th, and the 14th & 15th.
In other news, Chris Clavin has been placed on the injury list until further notice.
10/13/2009
Next Travel Weekend is October 24-25th in St. Louis. Don't forget to pay your dues and travel fees.
Merch comes in soon, wear it around and let people know about the club!
09/17/2009
K-State Inline Hockey is the proud new owner of a retired 13 passenger K-State parking shuttle bus, head over to the sponsors section for pictures and some gratitude.
Valet Parking Fundraiser - 9/23/09 4-7pm at Meadowlark Hills
Denver preseason tournament - 9/25-27/09. Bus leaves Friday, returns Sunday. Bring the heat.
09/09/2009
Meeting tonight at 5:30 in Waters 106, its on the east side of the building. This is open to everyone, who is in the club or looking to join!
Don't forget about valet parking on friday night, more on this later.
08/31/2009
First Practice in Junction City at Spin City tomorrow night (Tuesday) from 7:00 - 8:30 pm Wednesday nights will be from 7:00 - 8:00 pm . Click the 'practice' link on the left for directions.
Always feel free to send any of the people on the contact page an e-mail if you have questions or need a ride to practice. See you all there!
08/24/2009
First meeting is tomorrow night, Tuesday August 25th at 6:00 pm in the conference room in Waters Hall (room 137ish maybe? Just look for the big room with people in it on the first floor in the middle section). Doesn't matter if you are a returner, or want to join the team; please come!
FREE PIZZA PROVIDED!
Don't forget first day of practice is next Tuesday, give us a shout (see 'contact' section) if you want a ride.
08/21/2009
Interested in joining the team? Check out the contacts section and send us an e-mail for more information.
Events to know:
1) Activity Fair - Tuesday 8/25/09 - we'll need everyone to man the
table and other 'exhibits' that evening. Please plan on being available.
2)First Practice - Tuesday 9/1/09 - Junction City rink - 7:00PM - 8:30PM
Regular practice schedule after that, every Tuesday 7-8:30 and
Wednesday 7-8pm
3)Valet Parking at the alumni center for the Beach Museum - 9/11/09
We need all hands available to help with this as this is our
biggest fund raiser.
4) Denver - pre-season tournament 9/26-9/27 -
Not at the Bladium as in years past, but at Rocky Mountain Roller ( the
other side of the city).
5) We have firm dates for all league games in St. Louis. Most will be at
either MSG or the Omni ( across the highway from the Holiday Inn ). One
week-end we will be on the south side of St. Louis and we'll worry about
hotels etc later for that one.
Oct 24 & 25 MSG and Omni sportsplex
Nov. 7 & 8 MSG and Omni sportslex
Nov. 14 & 15 MSG and Omnisportsplex
Jan. 30 & 31 MSG and Omnisportsplex
Feb. 20 & 21 Midwest Sport Hockey and All American
Feb. 27 & 28 MSG and Omnisportsplex
04/22/2009
The results are in...
President - Coleman Younger
Vice President - Chris Clavin
Treasurer - Michelle Dick
Secretary - Joel Carroll
04/21/2009
Congratulations to our new club president, Coleman Younger!
More election results coming soon.
03/30/2009
Congratulations to our 2008/2009
MVP: Chirs Clavin
Most Improved: Dany Majard
03/11/2009
The alumni game is scheduled for 10:00am on Sunday 3/29/09 at the Junction City rink. The doors will open by 9:00am.
We will have a BBQ at Milford Lake State Park after the game. This is open to alumni, team, family and close friends.
02/25/2009
Van will leave the parking lot at 5:15am Saturday. 02/27/2009 : Van will leave at 6AM since first game will not be played.
02/18/20098
Van will be leaving 6:00am Saturday. Games at 1 &5pm Saturday & 8am Sunday.
02/04/20098
Van will be leaving 7:00am Saturday. Games at 7 &10pm Saturday & 8 & 10am Sunday.
HOTEL: La Quinta Inn Denton
700 Ft. Worth Dr.
Denton, TX 76201
(940)387-5840

RINK:
Face Off Hockey Center
222 S. Mayhill Rd
Denton, TX 76208


01/22/20098
The van will leave from lot B-18 at 6:30am on Saturday 24th!
We have a second game added to our schedule for this Saturday. We now have a 2:00pm game @ Illinois, a 5:00pm game @ Missouri S&T (B team) and 8:00am Sunday @ Washington
01/12/2008
First practices in 2009: Tuesday and Wednesday 20th and 21st of January!!

01/7/2008
Here's the schedule for the Texas week-end. We will be leaving Saturday morning.

02/07/09 7:00 PM KSU TTU
02/07/09 10:00 PM KSU UT
02/08/09 8:00 AM KSU TAMU
2/08/09 10:00 AM UTA KSU

11/25/2008
The league tournamen on February 7 will be played in Denton, TX instead of St. Louis.
11/24/2008
No practice on Thanksgiving week. We will resume practice on Tuesday 12/2/08.
11/11/2008
The van will leave from lot B-18 at 6:30am on Saturday 15th!
10/21/2008
Congratulations to our new captains:
Captain - Chris Clavin
Asst - Jeremiah Wood
Asst - Joel Carroll


10/01/2008
Denver Preseason Tournament Schedule:
Saturday 4:00PM - North Rink - KSU @ Metro State
Saturday 7:00PM - South Rink - Arapahoe CC @ KSU
Sunday 11:00AM - South Rink - Northern Colorado @ KSU
Sunday 2:00PM - North Rink - Colorado @ KSU
We will leave at 4:00PM on Friday from parking lot B-18, off Jardine Drive.

09/22/2008
Collegian article about the hockey club:
09/17/2008
updated League weekends:
Nov. 1 & 2

Nov. 15 & 16

Jan. 24 & 25

Feb 7 & 8

Feb. 21 & 22

Feb. 28 & Mar. 1 (new dates)
09/04/2008
Please reserve Saturday September 5 (from 5PM to 10 PM)
for our Valet Parking fundraiser at the Alumni Center.
08/26/2008
Meeting next Tuesday at 5:00PM in 137 Waters Hall to layout our plans for this season and to introduce the current and new members of the club.
08/26/2008
Team members and prospective members to meet in the quad in front of the Student Union at 5:45PM Thursday 8/28/08 for the activity fair. We will once again be doing a car bash fund raiser. We'll need people as well to man a table inside the Union for recruitment.
08/14/2008
Practice will start on Wednesday 9/3/08 in Junction City at 7:00pm. Practices will be on Tuesday & Wednesday nights from then on. After the Christmas break, we will go to a 2.5 hour practice on Tuesday nights only.
08/12/2008
Activity Carnival - 8/28/08 - We will need as many people as possible to man our recruitment table and perhaps another car bash.
08/12/2008
Denver pre-season tournament on October 4-5. 7 rooms are reserved in the Drury Inn in Denver for Saturday & Sunday night. There is no school on the following Monday!
07/14/2008
Please reserve Saturday September 5
(propably from 5PM to 10 PM)
for our Valet Parking fundraiser.
06/09/2008
Draft Schedule for 08/09 season is out:
11/1/08 - 11/2/08
11/15/08 - 11/16/08
1/24/09 - 1/25/09
2/7/09 - 2/8/09
2/21/09 - 2/22/09
3/7/09 - 3/8/09
PLUS
Denver preseason tournament either the week-end of 9/27-28 or 10/4-5.
04/21/2008
Congrats to the new officers for the hockey club:

President : Zac Buckmiller
VP : Chris Clavin
Treasurer : Nate Buckner
Secretary : Coleman Younger

04/04/2008
New pictures and stats have been uploaded.

03/30/2008
Alumni game was great succes. Special thanks for the alumni who not only traveled to help put on a great event, but also supplied the food for the BBQ afterwards.

We meet again in late August for the start of our best season yet.

03/03/2008
Saturday, March 29, 2008 - Alumni game in Junction City 11:00am - 12:30 pm. Free admission. Everyone invited. Come watch the current K-State hockey team play the legends of the past

03/03/2008
Congratulations to our 2007-08 MVP - Jerimiah Wood
and our 2007-08 most improved - Nicole Dick

02/28/2008
Van leaves this Saturday 6:00am !!! for St. Louis. We will have a tow hitch this time.

02/20/2008
Annual alumni game held in Junction City, Saturday March 29, 2008 from 11am to 12:30pm.

02/10/2008
Homepage under construction

02/14/2008
We are leaving at 7AM on Saturday for St.Louis.

Welcome to K-State Hockey.
Team Picture 2012/2013: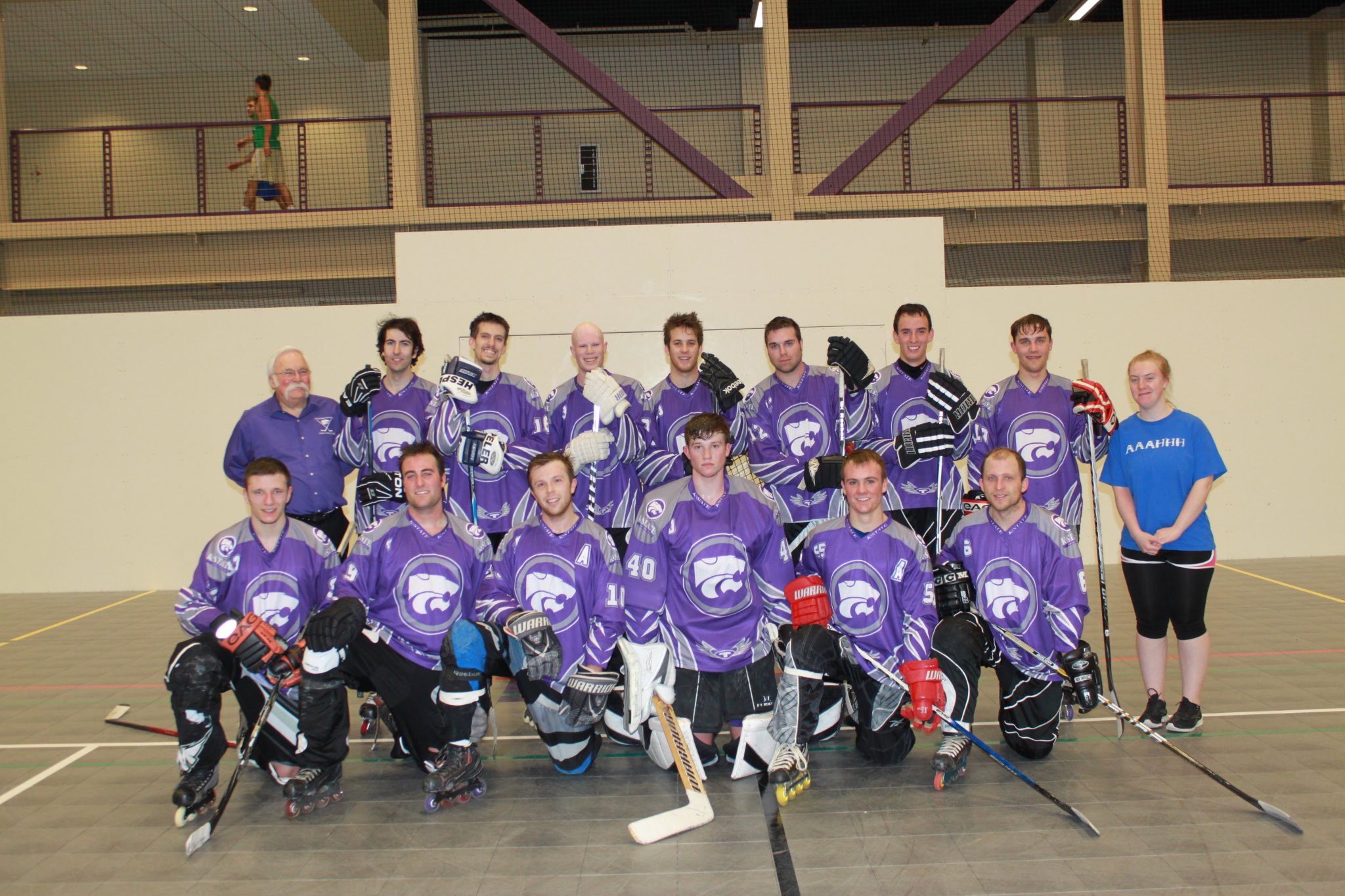 L to R: back row: Jerry Remsbecker, Sean O'Hara,Luke Castle, Geoff Martin, Parker Conant, Andrew Gradon, Kuter Isaac, Austin Robish, Alex Billings
front row: Richard Iverson, Michael McHugh, Kyle Probst, Steven Starr, Josh Gray, Steve Carson
Not pictured: Dan Potucek, Taylor Hardy, Chase Fox