MJ Morgan
Assistant Professor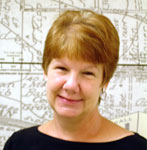 Office: 111A Leasure Hall
Email:morganm@k-state.edu


MJ Morgan received her Ph.D. from the University of Cincinnati, with a specialty in French colonial North America, the Mississippi Valley, 1650-1850, and riverine environmental history. She also holds degrees in writing from the University of Alaska. Currently assistant professor of history and Research Director, Chapman Center for Rural Studies, she teaches undergraduate and graduate classes in interdisciplinary approaches. In her class on migration, settlement, town formation and persistence, she guides students in fieldwork methodology and interpretive writing about place. She is strongly interested in the concepts of regional history and population mosaics determined by rivers. Her book, Land of Big Rivers: French and Indian Illinois, 1699-1778, was released in 2010 by Southern Illinois University Press. She also published, in the same year, Portrait of a Lost Town: Broughton, Kansas: 1866-1969.
Select Publications
MJ Morgan has published articles on French America and reviews of regional history and archaeology in the Journal of Illinois History, Ohio Valley History Journal, Louisiana History,Journal of the Early Republic, and Wintherthur Magazine. She has contributed a chapter on the French and Cahokia Indians to a historical geography collection, Geography, History, and the American Political Economy (Rowland and Littlefield, 2009); and her dissertation was a finalist for the 2006 Great Lakes American Studies Award. She is currently finishing a book about environmental change on a Mexican land grant that eventually became a national wildlife refuge in Texas.
Courses Instructed
History 251: America to 1877
History 533: Special Topics: African American Kansas
History 533: Special Topics: Lost Kansas Communities
History 558: Kansas History
History 798: The Seven Years War
History 799: (Graduate) Nineteenth Century History
HIST 986: Special Problems in Louisiana Regional History
Workshops on Realities of the American Fur Trade and Geography and History
Additional Information
Students interested in research specializations in environmental history, local and regional history, and in using interdisciplinary approaches that include historical geography should contact me. Chapman Center for Rural Studies, part of the KSU history department, is building an archive of student-authored Kansas history. A diversity of undergraduate and graduate interests has vitalized Chapman Center for Rural Studies, and our interns have found professional positions as archivists, GIS directors, and museum curators. The current Chapman Center collections include student-produced cartography, articles on Kansas History and Life, and a Lost Town archive of over 120 histories of lost communities.