Albert N. Hamscher
Kenneth S. Davis Professor History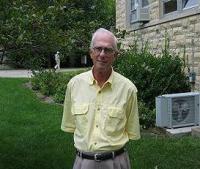 Office: 010D Calvin Hall
Email: aham@k-state.edu


Professor Hamscher specializes in the Institutional, Legal, and Social History of Early Modern France, and the Cultural History of U.S. Cemeteries.
Select Publications
-- The Parlement of Paris After the Fronde, 1653-1673 (Pittsburgh, 1976)
-- The Conseil Privé and the Parlements in the Age of Louis XIV: A Study in French Absolutism (Philadelphia, 1987)
-- ed., Kansas Cemeteries in History (Manhattan, KS, 2005)
--The Royal Financial Administration and the Prosecution of Crime in France, 1670-1789 (Newark, Del., 2012)
A dozen or so scholarly articles, essays, and book chapters concerning early modern French history published in the U.S. and France; the most recent contribution being "Une Contestatation évitée: La Prétendue lettre du Parlement de Paris, 1667," in Bernard Barbiche et al., eds., Pouvoirs, contestations et comportements dans l'Europe moderne (Paris, 2005), 659-73.
In connection with a scholarly interest in death and dying in history: "'Scant Excuse for the Headstone': The Memorial Park Cemetery in Kansas," Kansas History 25 (2002): 124-43; "Talking Tombstones: History in the Cemetery," OAH Magazine of History 17 (2003): 40-45; "Pictorial Headstones: Business, Culture, and the Expression of Individuality in the Contemporary Cemetery," Markers: Annual Journal of the Association for Gravestone Studies 23 (2006): 6-35; "Death and Dying in History," in Christopher Moreman, ed., Teaching Death and Dying (New York: Oxford University Press, 2008), 155-70; "Hidden Markers: Personalized Caskets," AGS Quarterly: Bulletin of the Association for Gravestone Studies 37, no. 2 (Summer 2013): 9-12 [folio]; "The American Cemetery," in Christopher Moreman, ed., The Routledge Companion to Death and Dying (New York: Routledge, 2018), chap. 26.
Courses Taught
History 101, Rise of Europe
History 297, Introduction to the Humanities Honors
History 520, Death and Dying in History
History 570, Seventeenth-Century Europe
History 583, France, 1400-1715
History 987, Writing/Publishing History
Additional Information
Three fellowships and one grant from the National Endowment for the Humanities, and grants from the American Council of Learned Societies and the American Philosophical Society; Resident Member, The Institute for Advanced Study, 1988-89; Elected Member, Société de l'Histoire de France; formerly, board of editors, French Historical Studies and the University Press of Kansas; four undergraduate teaching awards, and the distinguished graduate faculty award, KSU.