Explore the K-State campus
Are you considering K-State for graduate studies? The Graduate School provides year-round walking tours of the K-State Manhattan and Olathe campuses. Led by our Graduate Student Ambassadors, prospective students receive a general tour of campus.
Interested in attending K-State for an undergraduate (bachelor's) degree?
Please contact the Office of Recruitment and Admissions (k-state@k-state.edu, 785-532-1521) to schedule a campus visit.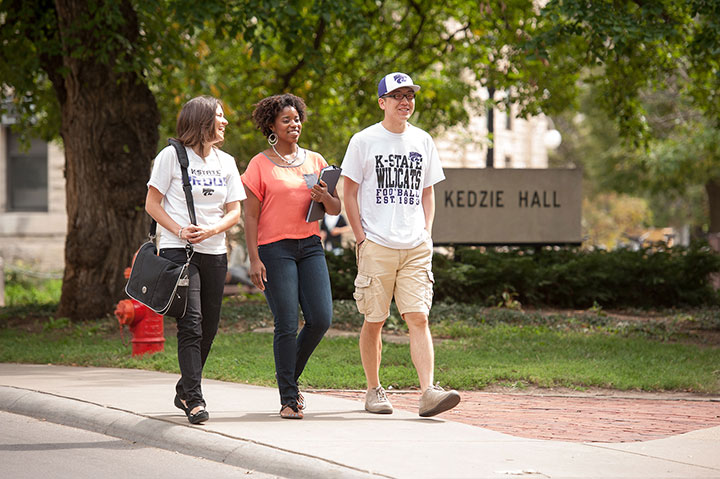 Schedule a graduate student campus tour
Prospective graduate students may request a tour of K-State's Manhattan or Olathe campus between the hours of 8:00am-5:00pm, Monday through Friday. Tours are not scheduled on weekends and university holidays. Tours are 40-60 minutes in duration, depending on how much you want to know and see!
For you to have the best experience at K-State, we ask that you submit a request for a campus tour at least one week prior to your desired tour date.
Explore Campus Virtually
If you are unable to visit campus in person, we have options for you to get acquainted with campus virtually.
Video tour of Manhattan campus
In this video, you'll get a good overview of the main K-State campus in Manhattan and will learn about some of the services and resources available to all K-State students. The video also provides a glimpse of the community surrounding campus.
Photo tour of Manhattan campus
This photographic tour introduces you to many of the Manhattan campus buildings and facilities and includes links to information about specific units, services, and resources to help you learn more. We recommend viewing the photographic tour on a desktop computer, laptop computer, or tablet.
Learn more about the City of Manhattan