Newsletter: Legal Briefings
Welcome to our newsletter, published approximately quarterly.
This newsletter is intended to serve as an informational tool, bringing you legal topics of interest and practical tips. Your feedback is important to us. Please contact our office with any comments or questions at 785-532-5730 or attys@ksu.edu.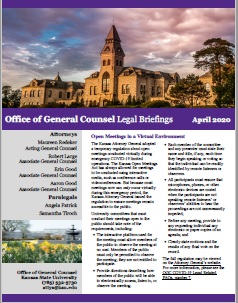 April 2020 (pdf)
In this issue
Open Meetings in a Virtual Environment
Creative Collaborations, Independent Decisions: Antritrust Law in a Pandemic Response World
Hosting a Virtual Summer Camp for Children?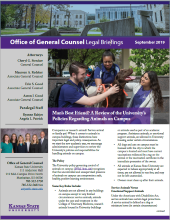 September 2019
(pdf)
In this issue
"Man's Best Friend? A Review of the University's Policies Regarding Animals on Campus"
Resource Reminder - Office of General Counsel's Website




In this issue
"It's a Deal" - How to Process University Contracts
Do You Know Your Rights Guaranteed by the First Amendment?
Resource Reminder - Office of Risk and Compliance



In this issue
Export Controls
Interns and FLSA — updated guidance from U.S. Department of Labor
In this issue
Traveling Abroad and Gifts: the Foreign Corrupt Practices Act and the Kansas Governmental Ethics Act
Student Trip Guidelines Updated
Dear Atty — Title IX
In this issue
In this issue
Records retention
Dear Atty — nepotism rules
In this issue
Free speech on campus
Election campaigns and other political activities
In this issue
Internships, externships, and the Fair Labor Standards Act
Resource reminders:

Office of Research and Sponsored Projects and
Copyright Consultation Service
In this issue
"Fair use" of copyrighted works
Resource reminder: Office of Employee Relations
Dear Atty — writing student letters of recommendation
In this issue
5 best practices for avoiding legal problems
Role of the Office of General Counsel
Consulting agreements
Processing University contracts
In this issue
Documentation of employee performance and conduct
Foreign Corrupt Practices Act
Case law updates:

Fisher v. University of Texas — race-conscious admissions
Lane v. Franks — government employee's testimony is protected speech

Political campaign activity rules
In this issue
International contracts and activities
Honor and Integrity System
Resource Reminder: Kansas Board of Regents policy manual
Dear Atty — registered student organization events on campus
In this issue
Liability for off-campus University-related activities
International trips
Students of concern
Dear Atty — relationship between the KSU Foundation and the University
In this issue
Holiday decor, religion, and the First Amendment
Raffles as fundraisers
Ethics rules for state employees on gifts, meals, transportation, and entertainment
Dear Atty — communications with outside attorneys on University matters
In this issue
Fisher v. University of Texas — race-conscious admissions and other programs
Lawyer as a fiduciary
DOMA ("Defense of Marriage Act") and the U.S. Supreme Court's Windsor decision
Resource reminders:

Student Access Center
Copyright and fair use guidance at K-State Libraries
In this issue
Liability for employment-related activities
FERPA and student records
Parade permits — city requirements
In this issue
Getting sued — minimizing litigation risks and exposure
Contracting with private, public and "zero" dollars
Handling requests for documents
In this issue
About the Office of General Counsel
Crime reporting, campus security, and the Clery Act
Tips for completing I-9s