Recreating Oz
Annual Convention of the International Wizard of Oz Club
Manhattan, KS - October 2-4, 2009
About the Conference
The Program in Children's Literature at Kansas State University is pleased to host the International Wizard of Oz Club's Annual Convention, October 2-4, 2009. The convention will run conjunction with OZtoberFest in near-by Wamego, Kansas.
All featured speakers are free to K-State Students:
Eric Shanower and Skottie Young, creators of the new Marvel Comic Wizard of Oz series. Speaking Oct. 3rd, 7:30 pm. Alumni Center Ballroom.

This talk is free and open to the public.

Mark West, University of North Carolina, Charlotte; author of Roald Dahl and Before Oz: Juvenile Fantasy Stories from Nineteenth-Century America. Speaking on "A Heroine's Unmaking: The Diminishing Role of Dorothy in Four Tales of Oz," Oct. 3rd, 1:00 pm.
A. Waller Hastings, Rutgers University. Joins Mark West for "Reflections on Oz," Oct. 3rd, 4:00 pm.
David Maxine, producer and musical theater historian. Presenting on "Walt Spouse and the 'Wonderland of Oz,'" Oct. 3rd, 4:45 pm.
---
More information
Information about the convention – including events, registration, housing, and transportation – will be available on this site.
For information about the International Wizard of Oz Club, visit <www.ozclub.org/>. For information about OZtoberFest, visit <www.oztoberfest.com/>.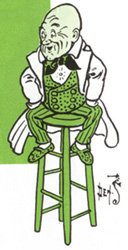 ---
Sponsors
Book sales by Claflin Books & Copies.