Imad Rahman
---
Email:
imadrahman@yahoo.com
Office: English/Counseling Services Bldg. 126A
Phone: (785) 532-2146
---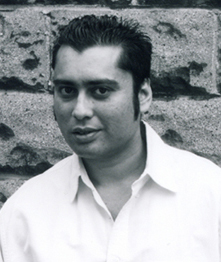 Assistant Professor
M.F.A. 2001, University of Florida; M.A. Ohio University, 1998.
Fields of interest:
Fiction Writing; The Short Story; The Novel; Screenwriting; Creative Nonfiction Writing.
Imad Rahman is an assistant professor teaching creative writing -- fiction and creative non-fiction. His stories have appeared in Gulf Coast, One Story, Chelsea, Bridge, The Sonora Review and The Madison Review. His first book, I Dream Of Microwaves, a collection of connected stories, was published by Farrar, Straus and Giroux in April 2004.
---
Faculty Links
&nbsp
&nbsp
&nbsp
&nbsp
&nbsp
&nbsp
&nbsp
Department of English
108 E/CS Building
Kansas State University
Manhattan, Kansas
66506-6501
english@ksu.edu
Phone (785) 532-6716
FAX (785) 532-2192