News Features
KSU Assistant Professor of Landscape Architecture, Regional and Community Planning Receives Award for Efforts with Learning Garden
by Leigh Luina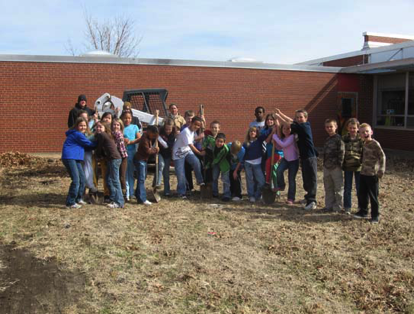 The UFM Community Learning Center has dedicated the 2010 Grassroots Community Education Award to Katie Kingery-Page, assistant professor of landscape architecture, regional, and community planning, for her efforts in the Northview Elementary School Learning Garden.
The Center for Engagement and Community Development (CECD) granted funds to Northview Elementary School in Manhattan, Kan., to construct a learning garden in a courtyard on the school grounds. Kingery-Page became involved with the Northview Garden design committee to create ideas for the garden, by developing a series of conceptual garden plans based upon the committee's design program. Kingery-Page explains her main purpose for becoming involved with the program, "I first heard about the program through a friend, then once I met with the folks and saw how sincere they were about getting their kids involved in nature based learning, I became inspired." The project was completed by fall 2009, where students are able to learn about nature first hand at school.
The UFM Community Learning Center gives out the Grassroots Community Education Award each year to individuals who are making a difference with the community by using different channels of leadership and those people who rise above and beyond what is expected of their role. Kingery-Page expresses her reaction to the award, "I was surprised by the honor and felt a lot of gratitude towards everyone who worked on the garden. It was a validation of the process of working with the community and the school." Kingery-Page wanted to thank everyone for their efforts with the garden; Jon D. Hunt, Linda Teener, Ron Donoho, Anna Wiehe, and Jeff Chaffe.