News Features
K-State Program for Developmentally Disabled
by Lauren Swirbul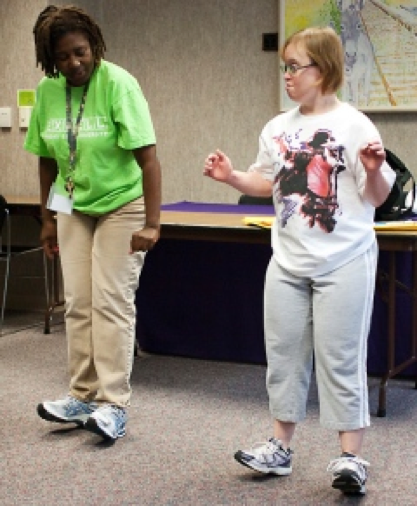 A year ago, the director of special education from Clay Center Community High School heard about a program that Johnson County Community College was incorporating that involved the developmentally disabled population and invited them to experience a college campus. The idea was brought to Warren White, professor of special education, counseling, and student affairs at Kansas State University in July 2009. White investigated how he could bring this novel idea to K-State. He began by talking to the Central Administration and Pat Bosco, vice president of student life at K-State, who agreed to fund the program.
The program Extending College Education for Lifelong Learning (EXCELL) started in the Spring of 2010 to provide adults with developmental disabilities the opportunity to experience the K-State campus on Saturday mornings in the Student Union. EXCELL is the first state school in Kansas to involve this population of people who haven't had access to a college campus before. Many departments including the Central Administration and the K-State Student Union agreed to invest their efforts and funds into EXCELL.
"I have been at K-State for 30 years and I have never worked with a group of people who are more cooperative and enthusiastic than the people that are a part of this program," said White.
Additionally, the program involves university students by providing them the opportunity to be EXCELL ambassadors; this prospect is an important link between the university and the adults attending EXCELL.
"The socializing between the university students and the adults attending EXCELL has been incredible," said White. "It's opened students eyes that the participants are just really cool human beings."
The newly found program has been so successful in the past year that it was recently submitted for consideration for the national 2011 C. Peter Magrath University Engagement Award and the regional W. K. Kellogg Foundation Engagement Award. Both awards recognize programs that have redesigned their learning, discovery, and engagement functions to become more involved in their communities.
EXCELL has shown considerable involvement and benefit to the Manhattan community. It has had a significant impact on the lives of the people it reaches. EXCELL prevents the developmentally disabled population from sitting at home and instead provides them with an opportunity to build life skills, which in return benefits their families and community.
"Project EXCELL is an outstanding example of how a land-grant university can express its mission of service to all people of our state," said Michael Holen, K-State professor and dean of education. "It is a creative and highly collaborative approach to enriching the lives not only of developmentally disabled adults in our communities, but also the education experience for our university students and faculty."
According to White, EXCELL has a bright future ahead, however, he would like to expand a few aspects of the program. Currently, there are 40 adults who regularly attend the program. EXCELL would like to reach an even bigger portion of the underprivileged population. Additionally, the program would like to expand and have a wider diversity of classes including more interpersonal, financial management, and vocational classes. In order for EXCELL to keep improving, it needs to continue its grant support and secure a financial basis.
A similar program was recently started on the K-State Salina Campus because of EXCELL's success. White hopes the program will continue to encourage other universities to create similar programs.