FAQ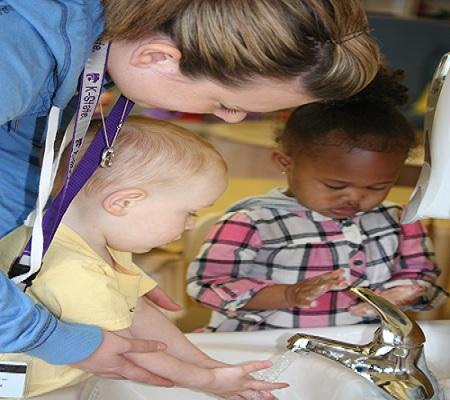 What ages does the Center serve?
The center provides care for children ages 6 weeks to 5 years. Infant rooms care for children 6 weeks to 12 months, walking; Toddler rooms provide care for children 12 months, walking to 2 years; Two's rooms provide care for children ages 2-3 years; Preschool rooms provide care for children ages 3-5 years (or until transitioned to Kindergarten). Our school-age summer program is held from mid-May to mid-August and provides care for children who are ages 5-11.
When is the Center open?
The Center is open-year round, Monday-Friday, 7:30 am-5:30 pm.
The Center is closed for Thanksgiving break, Martin Luther King, Jr. Day, Labor Day, Memorial Day, and for a week over Winter Break. We also close for two half-days a year to host Parent-Teacher conferences as well as twice a year for Teacher In-service Days.
What curriculum does the Center use?
All our classrooms use the Creative Curriculum as a foundation for learning. Teachers plan lessons that revolve around child and classroom interests. Creative Curriculum assists our teachers in planning classroom centers that promote wonder and facilitate new ideas and creative expression.
How many children and teachers are in each room?
Our infant rooms are equipped to provide care for 6 full-time children; toddler rooms provide care for 10 children; two's rooms provide care for 13 children; preschool rooms care for 18 full-time children. Each classroom is staffed by 2 teachers throughout the day.
Ratios for each room are as follows: Infant rooms- 2 teachers: 6 children; Toddler rooms- 2 teachers: 10 children; Two's rooms- 2 teachers:13 children; Preschool rooms- 2 teachers: 18 children.
How are the rooms staffed?
Each classroom is staffed primarily by two full-time teachers: one lead and one assistant. Throughout the day, part-time teacher aides come in to help support the full-time teachers. Typically, one teacher works an early shirt (7:15 am-3:15 pm) and one teacher works the late shift (9:45 am-5:45 pm).
Do you take part-time or drop-in care?
Part-time is only an option for our two's classrooms and preschool rooms. We do not provide any drop-in care at this time.
What kinds of activities will my child experience?
Each classroom provides numerous opportunities to explore, pretend, create, and socialize. Using the Creative Curriculum as a foundation for classroom learning, each room is set up with centers for different activities. Each classroom has an area for structure building, dramatic play, science discovery, art, music, library, and an area for child-initiated alone time. Toddler, two's and preschool classrooms also have classroom lofts for children climb. In addition, each preschool room has two touch screen computers for child use. Computer use per child is limited to 20 minutes per day.
We highly encourage nature discovery and outdoor play and view our nature-based playgrounds as an extension of our indoor classrooms. Each classroom has access to our outdoor playground at least twice a day and frequent trips to the man-made nature trail directly behind our building occur daily.
Can I visit my child's classroom during the day?
Our center has an open-door policy for all classrooms. Parents are welcome to stop in any time throughout the day and participate in any classroom activities. Parents are also welcome to participate in field trips or volunteer. Partnerships with families are essential to a child's learning and teachers always welcome parent input.
Questions about dates we are open?
Take a look at our important dates for Aug 2014-June 2015.