Donation Drive Ideas
Cats' Cupboard accepts unopened nonperishable food items, new, unopened hygiene products, and new or gently used and clean kitchen equipment.
Cats' Cupboard accepts new hats, gloves, and scarves during the cold months.
If you are considering hosting a donation drive please contact us for an up-to-date list of our biggest needs. We would also be able to share social media marketing if given enough notice.
Small donations may be dropped off during hours of operation.
For larger donations, please schedule a donation delivery by emailing catscupboard@k-state.edu or calling 785-532-0366. It is helpful for us to have volunteers scheduled to sort large donations.
Remember bigger isn't always better. Single serving items go a long way at the pantry.
We truly appreciate the campus and community helping keep our shelves stocked!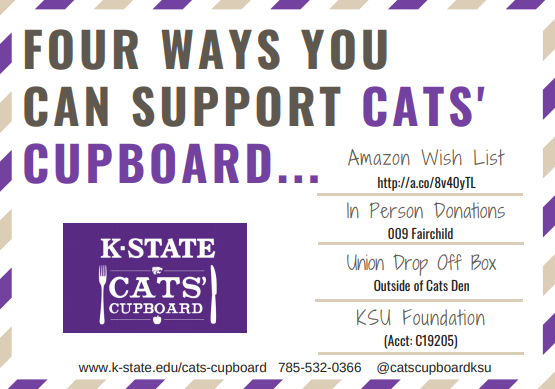 Donation Drive Event Ideas:
Item Specific Drives
Dress Down for Chapter Night
Wear Jeans to Work
Canned Goods as an Entry Fee
Loose Change Drive
Inter-departmental Competitions
Ask for Match Dollars/Items
Hygiene Drive
Catchy Food Drive Themes:
Meat the Need
Fill the Cantry
Let's "Spread" the Word
Hunger Doesn't Take a Vacation
Give Thanks - Give Food
Novembrrrr
Spread the Cheer this Time of Year