The Cats' Cupboard Ambassadors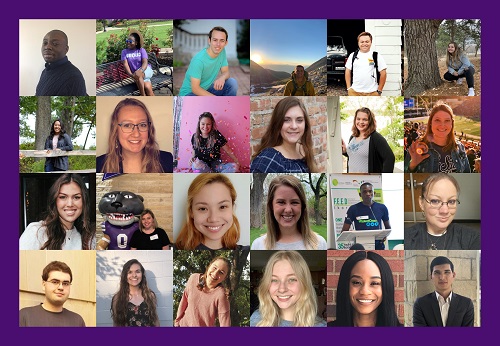 The Cats' Cupboard Ambassadors, a departmental student organization, will work to reduce the stigma associated with using food assistance and educate the K-State community regarding ways to support food insecure students and employees. Additionally, Cats' Cupboard Ambassadors will conduct food drives and host outreach events and speaking engagements.
The following students are the Cats' Cupboard Ambassadors for 2020-2022:
Jamie Trenary, junior in psychology, Arkansas City; Kenzie Horner, junior in marketing, Coffeyville; Rachel Fountain, junior in criminology, Manhattan; Lili Chen, freshman in computer science, and Sophia Hansen, junior in hospitality management, both from Olathe; Robert Foster, junior in theatre, Overland Park; Isaac Sunderland, sophomore in agribusiness, Sabetha; Kylie Rahmeier, freshman in agriculture education, Sylvan Grove; Jackson Willis, sophomore in political science, pre-law, Tonganoxie; Sydney Kirmse, junior in dietetics; Cole King, freshman in biology, pre-med; and Kinsley Searles, freshman in English, all of Topeka; Lila Kohler, junior in political science, Towanda; Lauren Scheufler, junior in dietetics, Wellington; Natalie Freed, sophomore in nutritional sciences, Wichita.
From out of state: Svea Knight, freshman in dietetics, Grafton, Massachusetts; Kasey Kerperin, junior in agronomy, Taos, Missouri; Jenika Hazelbaker, freshman in agronomy and global food systems leadership, Wentzville, Missouri; Keri Brock, freshman in dietetics, Omaha, Nebraska; Tiasia Saunders, graduate student in public health, Columbia, South Carolina.
From out of country: Adelaide Klutse, graduate student in applied family science, Ghana; Abdulhafiz Usman, graduate student in chemical engineering, and Olalekan Sipasi, graduate student in horticulture and natural resources, both from Nigeria; and Yslam Akmyradov, junior in entrepreneurship and organizational management, Turkmenistan.