Adam Ybarra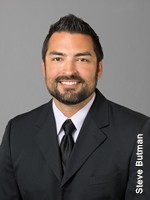 K-State graduation year: May 2007
Degree: BS Athletic Training, minor in Spanish
Other degree received: MS in Education, University of Missouri in Education and Counseling Psychology
Current employer: Abilene Christian University
Position: Head Athletic Trainer
How many times, if any, did you change your major during college?
Describe the process of choosing your major.
It wasn't really a process; I changed from engineering to athletic training. My dad kind of brought it up and said, "Hey look at this! It seems kind of neat!"
What activities/organizations were you involved in while in college?
Athletic Training

Multicultural Honor Society
Did you complete an internship or have related work experience prior to receiving your job?
Nothing, prior to graduation. I did all my internship experience after graduation. Athletic training also has an observation period, in which you shadow in the training room for a semester so you know what you're getting into.
Describe the process of finding your first job.
I would consider my first job to be my Graduate Assistantship at University of Missouri. I was able to obtain it by networking and creating a good impression on my future boss. He invited me to come work for him and he has remained a good connection to this day.
Briefly describe a typical day at your job.
It varies daily and whether or not we are in season or out. I am in season during football camp in August. I get to the training room at 5:30am. Eat breakfast make some coffee and prepare for the influx of athletes. That goes from about 5:45am until 7:30. The players have meetings until 8:30ish then we have practice from 9-11am. After practice we have post-practice treatments, which is taking care of any injuries that occurred during practice. We are icing down bruises and muscle strains and ligaments sprains. This goes till noon. Then from about 12:30-1 I get to go eat lunch. Then at 1 we start prepping for our second practice, which is the same routine for the first practice. Our second practice starts at 4 and will probably be about an hour and a half. Again post-practice treatments and icing down the players for about an hour. Then dinner is served around 630-7pm. If it's my night to stay late and do evening treatments, I wouldn't get home until 10:00pm, maybe later, but on my nights off I get home around 7:30 or 8:00pm.
What are the most challenging aspects of your job?
Time spent away from home and my wife, my profession is very time consuming.
What advice would you give someone interested in your field?
Learn as much as you can as fast as you can. Learn and apply yourself and learn how you can make yourself better on a daily basis. Every aspect of my job has been a stepping stone, my Graduate Assistantship, the two NFL internships. My first actual job of being a head athletic trainer has been pivotal in getting me where I am at today.
Has your career path taken any unconventional turns that you never would have expected?
No career changes I'm still trucking ahead trying to soak up as much information as I can and being the best at what I can be.
How have any changes in your life situation affected your career path?
I got married really young and I am lucky to have a loving, caring, compassionate, understanding wife that follows me everywhere I go. We've moved 4 times in 5 years and it looks like this current place and situation could be a place for us to settle down. So I'm happy and thankful for that.
What job have you enjoyed the most and why?
Helping kids out. My favorite part is taking a kid from a season ending injury and doing all the rehab and exercises and then after months of work and preparation seeing them play at their full potential again.
What were the major lifestyle changes your first year out of college that made the transition hard from college to the world of work and how did you adapt?
The change from undergraduate to graduate school was a big change. For me I took my national certification test from the Board of Certification (BOC) so after undergraduate I was Nationally Certified and State Licensed in my profession. In graduate school, the work load increases heftily, but so does your knowledge base. After graduate school, I was more immersed in an even more intense environment with a professional level team. When I finally got my first job it was pretty much a breeze because everything had prepared me to get to that point.
What was the one thing you did in college that has had the most impact on your life or career?
I made friends with the people that would help to shape and mold my career. I've had very good mentors and people to push and encourage me every step of the way.
What tips do you have for current undergrads about opportunities they should definitely take advantage of while they are in school?
Immerse yourself, dive head first, be all in. That's how you get the best experience. I was just lucky enough to find out exactly what I wanted to do early on. Take advantage of internships, NFL internships especially! Do it while you can.
Was there a specific class you remember that sparked your interest in your career direction?
I loved all of my athletic training classes. I like the upper and lower evaluation classes, which is where you learn how to find injuries and what to look for.
Was there a specific person in college who had a significant impact on your life or career?
Shawna Jordan is the best program director there is. She loves the profession and loved us back and helped us any way possible. I know for a fact she's the main reason K-States program is so successful. Then there are my two mentors and friends that were assistant athletic trainers there during my undergraduate time in Manhattan, Casey Hairston and Brandon Yoder. These guys really showed me the ropes of what athletic training was and they are still my very good friends to this day.
What didn't college teach you that you wish you would have known before you started your career?
Everything is much faster and more intense. Our patients really rely on us to know our stuff so we can help them out. We are their medical liaison, and for a lot of patients we have it is their first time having an Athletic Trainer in a collegiate setting.
Do you keep in touch with your college classmates? How have those relationships influenced your career?
Yes, absolutely. There are a few that I am still very close with and talk to on a weekly or monthly basis. We help each other out professionally where we can. Ultimately it would be a dream come true if we could all end up at the same place together, working together. I don't think we'd ever leave a place if that happened.