Gus Vazquez-Milan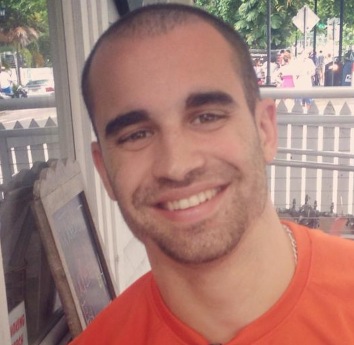 K-State graduation year: August 2012
Degree: Kansas State University. BS in Sociology
Other degree received: The Citadel. Masters in Social Sciences – Homeland Security, May 2014
Current employer: Department of Defense
Position: Security Specialist

How many times, if any, did you change your major during college?
I changed my major once during college.
Describe the process of choosing your major.
I started out in Kinesiology thinking I wanted to go the Sports Medicine route; mostly because most of my family was in the medical field. As I got older and began seriously contemplating what I enjoyed doing and could do as a career, I realized that protecting others gave me a sense of fulfillment. Ultimately, I changed my major to Sociology with an emphasis in Criminology and began my path to Federal law enforcement.
What activities/organizations were you involved in while in college?
Track & Field: Mid-distance Sprinter

Midwest Equity Assistance Center

Corrections Corporation of America

Graduate Assistant
Did you complete an internship or have related work experience prior to receiving your job?
Yes. I received a scholarship and internship opportunity with Corrections Corporation of America; this was a detention facility in Leavenworth, KS. During this internship, I was trained in security measures, PPC (defensive combat), surveillance, triage, and many more areas. This training benefited me greatly in gaining experience and knowledge in the security field for the future.
Describe the process of finding your first job.
After I graduated from Kansas State, I attended The Citadel to work on my Masters. During my time there, I was able to build some amazing professional relationships with professors and guest speakers that had previously worked for the United States Government and our military branches. Through these networks, I was referred to the Department of Defense and ultimately accepted a position in D.C with them.
Briefly describe a typical day at your job.
As a security specialist, I investigate individuals related to matters of National Security.
What do you enjoy most about your job?
I enjoy knowing that my job leads to the direct safety of the citizens of the U.S. We are proactive in preventing vulnerabilities and threats; and I believe that is more valuable than being reactive.
What advice would you give someone interested in your field?
It can be extremely difficult to be offered a position with certain security agencies. I would recommend that when applying for jobs, make sure to cast a wide net and be open to a variety of positions. Once you get your foot in the door in one federal agency, it will make it much easier to eventually shift into another.
What were the stepping stones that led to your current career?
My education was definitely the key factor that led to my position with the Department of Defense. Keeping my grades above a 3.5 GPA in my Bachelors and above a 3.75 GPA in my Masters allowed me to stand out among thousands of candidates. Along with that, I was assertive in building relationships with mentors and professors within my program to find the networks that eventually led me to my current career.
What were the major lifestyle changes your first year out of college that made the transition hard from college to the world of work and how did you adapt?
One major change is making money unlike any part-time jobs during college. It is important to live within your means and be smart with the new benefits provided to you.
What was the one thing you did in college that has had the most impact on your life or career?
It may sound cliché, but simply balancing all of my responsibilities was the biggest impact on my path. I was able to balance my studies, my track & field performance, and simply being a college student and having fun. It is important to keep your grades strong in today's world; but it is just as important to enjoy the journey.
What tips do you have for current undergrads about opportunities they should definitely take advantage of while they are in school?
I would highly recommend taking advantage of any Career and Employment Services office provided on campus. Even if you have no clue what to ask, just walk in the office and sit down with someone; they are there to help you!
Was there a specific class you remember that sparked your interest in your career direction?
I have two classes that clearly stand out for me. One was a Criminology course taught by Dr. Sue Williams and the other was a Sociology course taught by Andrea Button. More than the class itself, it was the way these professors taught that led me to the path I am on today. They connected so well with all of us students and taught us that our world is not black and white; and that it was up to us to ask questions and become leaders within our communities.
What didn't college teach you that you wish you would have known before you started your career?
Sometimes the majors that companies look for would not be easy to guess. For example, if someone wants to work for the FBI or CIA, one of the most sought after majors by those agencies are accountants. So if your goal is to work for that agency, it may be smart to start out in accounting and then shift to another position once already working in the agency. I now know how different seemingly-unrelated majors can connect to certain jobs; I was unaware of any of that during my college years.
Do you keep in touch with your college classmates? How have those relationships influenced your career?
Yes, I am actually marrying a former classmate and friend, Haley Lloyd, in May! I have also kept in touch with classmates who have joined the military and have reached out to them several times to ask questions related to the military.