Alan VanNahmen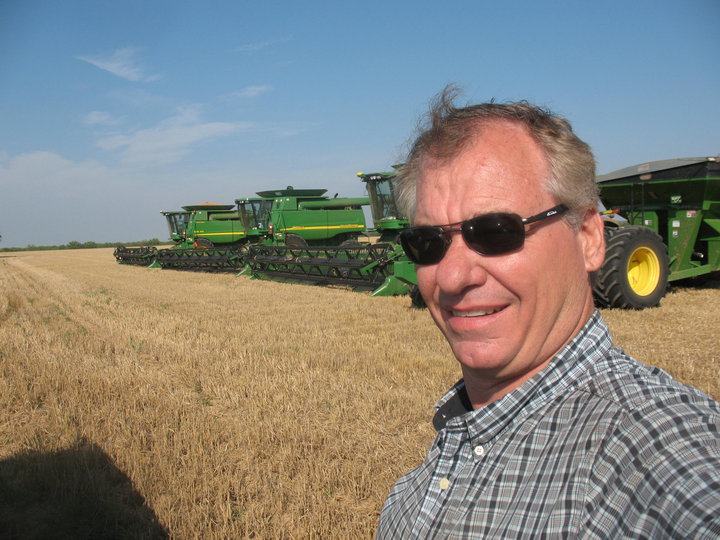 K-State graduation year: May 1977
Degree: B.S. Mechanical Engineering Technology
Current employer: Farm Buddy Co.
Position: President / Owner
How many times, if any, did you change your major during college?
I changed from Agriculture Engineering to Mechanical Engineering Technology.
Describe the process of choosing your major.
I went through college with the intention of returning to our family farming operations. I wanted college education that I could use to enhance my farming and machinery management skills.
What activities/organizations were you involved in while in college?
Resident Hall Judicial Board

Intramural Sports

KSU Flying Club
Did you complete an internship or have related work experience prior to receiving your job?
I spent my summers returning to work on our family farm and developing my Custom Harvesting business.
Describe the process of finding your first job.
I interviewed with the harvesting equipment and combine manufacturing companies (Hesston, New Holland, John Deere, etc.) that were most interesting to me.
Briefly describe a typical day at your job.
My winter season days are spent attending Ag Expos and Conventions. My summer season days are often spent in meetings, in the field. I also still spend about 5 -6 days per month on office related work, responding to emails, reviewing design projects and planning marketing programs.
What do you enjoy most about your job?
I enjoy the interaction with other business professionals; diversity in the agricultural business; and creating new products, solutions, or businesses.
What are the most challenging aspects of your job?
One of the biggest challenges is prioritizing all of the things to work on. Also, being patient when working with large companies or groups, as business developments can take time.
What advice would you give someone interested in your field?
The opportunities within Agriculture and Machinery design are tremendous. Attending Farm Shows and American Society of Agricultural and Biological Engineers (ASABE) conventions is a great way to meet the people who might be doing the hiring.
What were the stepping stones that led to your current career?
I had a farming background and developed my own business during high school and college. I added design projects and team leadership skills during my time at Junior College and Kansas State University.
Has your career path taken any unconventional turns that you never would have expected?
When a recession hit the agriculture industry in the mid 1980s, seven years of seniority was not enough to maintain my job at John Deere Harvester Works in 1984. The additional experience in marketing with the KC Branch John Deere and with Consumer Products Lawn and Garden Products added to my broader background and added more valuable skills and experiences.
If you made a complete career change, what has the journey been like?
It was scary leaving John Deere after having worked there from college, through to 1990, but in retrospect, that became the best moves in my life. Subsequently, I worked for German based Claas OHG and Caterpillar. I also started up a couple of my own business adventures along the way.
How have any changes in your life situation affected your career path?
After college graduation, there is often the challenge of adopting into a new location, city and culture. I, like many others, soon added marriage to my list of adjustments. Along with that comes the rewards as well as the biggest challenge of raising kids. We also relocated 5 times while working for John Deere. Those relocations are both challenging, but also new adventures and friends.
What job have you enjoyed the most and why?
Sales and Service Representative for John Deere Harvester gave me opportunity to travel throughout the US, as well as to Europe and China. The French Foreign Language classes required in High School were just the ticket that I needed to get ahead of the competition. Being in foreign countries helped me build on my global understanding of harvesting equipment designs.
What were the major lifestyle changes your first year out of college that made the transition hard from college to the world of work and how did you adapt?
It was difficult being relocated 700 miles away from family, friends and fiancé. This gave me a good opportunity to utilize my newly acquired pilot's license while also flying over a variety of farm ground between Moline, IL and Dodge City, KS. That also became the seeds of my subsequent LandLogo LLC business.
What was the one thing you did in college that has had the most impact on your life or career?
Our MET Senior Design project for General Electric gave me an opportunity to step up as Team Leader and "sell" my concept for the B936 Connector Assembly machine. Also, getting my Private Pilot License during college at KSU has been helpful to my career because aviation experience was applicable to the early adoption of GPS and UAVs.
What tips do you have for current undergrads about opportunities they should definitely take advantage of while they are in school?
Participate in Design Team projects and greek affairs could be a valuable source of networking, similar to student clubs.
Was there a specific class you remember that sparked your interest in your career direction?
Physics classes were very interesting to me. Equations could explain everything.
Was there a specific person in college who had a significant impact on your life or career?
Dr. John Lindholm was a good advisor. He also had a nice subtle way of explaining problems. He also offered good career options and advice for various degrees.
What didn't college teach you that you wish you would have known before you started your career?
It was interesting to see the stringent work hours and vacation schedules of a formal work environment, especially as a new hire. As a farm boy, we worked long days during the planting and harvest seasons, but took off when needed for family events, reunions, etc. It was a significant adjustment working "office" hours, five day weeks, but not having any days off for the first 6 months. Much to my chagrin, I had to take a "Leave of Absence" to go to my own wedding during my first year of work for Deere.
Do you keep in touch with your college classmates? How have those relationships influenced your career?
Yes, it is good to have a large network of friends around the country and around the world.