Lisa Treese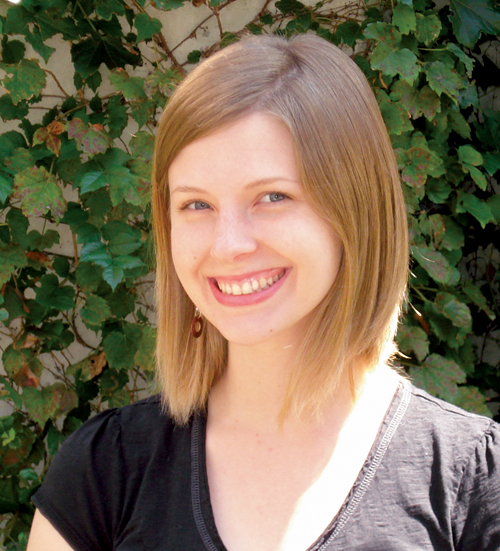 K-State graduation year: 2005
Degree: Bachelor's of Landscape Architecture, secondary major in Natural Resources and Environmental Sciences
Current employer: Patti Banks Associates, LLC
Position: Landscape Architect
How many times, if any, did you change your major during college?
I did not change my major in college, but I did think about it a few times when I was feeling especially stressed or sleep-deprived. [Editor's note: architecture students spend a significant number of hours in studio, often late into the night and early morning.]
Describe the process of choosing your major.
I intended to study architecture when I initially started college. The first year of classes in the environmental design studies program were designed to help the students decide if they wanted to study architecture, landscape architecture, interior architecture, or interior design. When I learned about landscape architecture, I was compelled to specialize in that field because of the opportunity to work with plant material and natural systems.
Did you complete an internship or have related work experience prior to receiving your job?
I interned at the same landscape architecture firm during the summers and school breaks for 3 years. My experiences there helped confirm that I was indeed interested in the career path I had chosen. I liked the type of projects they were working on, as well as the office environment.
Briefly describe a typical day at your job.
Many people are surprised that most landscape architects spend a lot of time in the office at the computer. The movies that portray landscape architects and architects do not represent the typical design professional! If you are looking for a career where you work hands-on with plants every day, a horticulture career path would be more appropriate. We spend a lot of time designing and re-designing projects at the computer, but we do also meet with clients, visit sites before and after installation, and have internal team meetings. In general, our work environment is similar to that of an architect or an engineer - though there are exceptions.
What do you enjoy most about your job?
The most enjoyable part of my job is seeing our designs realized in their 'built' form. After months, and sometimes years, of work it is very rewarding to see a project installed. This feeling is compounded by the fact that our projects have a regenerative, positive impact on peoples' lives and for the environment.
What are the most challenging aspects of your job?
If you had asked me 5 years ago, I would have said time management. At the time there was so much work to be done, and not enough time or people in which to do it. There were a lot of extra hours at work and less personal time. Now, in different economic times, it is quite different. The challenges now are keeping busy, helping to find new projects, and being extra efficient with my time to keep projects on budget. Currently, competition for projects is more concentrated, as there are fewer projects to go around.
What advice would you give someone interested in your field?
I advise visiting several landscape architectural offices and touring the landscape architecture department at K-State and other colleges to get a feel for the lifestyle. It is a rewarding career, but it can involve long hours and significant responsibility outside the standard 40 hours per week. The schooling is challenging and the job market is competitive at present. However, if you have a passion for landscape architecture and you work hard, you can find success in this profession.
What were the major lifestyle changes your first year out of college that made the transition hard from college to the world of work and how did you adapt?
The course load was hard for me in college and I rarely got enough sleep. When I started my first job after graduation, I felt like I had so much free time during evenings and weekends! It was great not to think about project deadlines for once. Though things did pick up at work and take up more of my free time, it still remains less intense than in school. Looking back at just how intense the program was, sometimes I think along the line of "Yes, I'm busy and stressed, but it's still not as stressful as it was in the landscape architecture program!" I know some of my classmates coped with the stress much better than I did, so perhaps mine is not the typical experience.
What tips do you have for current undergrads about opportunities they should definitely take advantage of while they are in school?
I recommend taking the opportunity to do a study abroad program. College is a great time in your life to take an extended trip abroad - before responsibilities like mortgages, children, and career obligations might make it difficult to travel for more than a week or two at a time. I participated in the Italian Studies program and spent a semester in Castiglion Fiorentino, Italy. It was financially challenging, but I will never regret making the decision to study abroad. Years later, I will always remember that special time in my life.