Jordan Sterling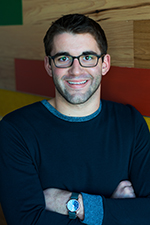 K-State graduation year: December 2012
Degree: Bachelor of Arts, Communication Studies (Organizational Communication)
Current Employer: Google (contracted through Nelson Staffing)
Position: Campus Engineering Recruiter
How many times, if any, did you change your major during college?
Surprisingly enough, I never changed my major during my time at K-State. That was due in part to my research of the major & curriculum prior to transferring to K-State from an in-state junior college. Luckily, I was pleased with the classes, professors & curriculum from start to finish so never had reason to change. I did however drop a minor I held for one year.
Describe the process of choosing your major.
Choosing your major can become a time consuming and agonizing process, especially when you're as indecisive as I am. Talk with and interview the professors, talk to current students and graduates of the major, look at the curriculum and try to picture yourself sitting in that class. Don't stress so much, I've since learned that even after you graduate and work for a few years; it's common to still not know what you want to do "when you grow up." The only way to ever know is through true work experience.
What activities/organizations were you involved in while in college?
This is the key. Get involved! Just being a student is not enough, it sounds cliché, but finding a job is still more about who you know. Join as many organizations as you can handle, can find the time for and any that you have a particular interest in. You may not realize it at the time, but the people you meet through all of those interactions slowly start to develop into your eventual network you can utilize for finding career opportunities. I was a transfer ambassador, got elected as a student senator for the College of Arts & Sciences, was involved in my major's honor society, and found a part-time job that eventually led into my post-graduate career.
Did you complete an internship or have related work experience prior to receiving your job?
Yes. As part of my major, I completed an (unpaid) internship over a summer that counted for three credit hours. With the communication studies major, that left the door wide open in terms of potential internship applicability to fulfill the requirement. Don't worry as much about your internships applying to exactly what you think you want to do, instead just focus on quality & quantity of internships you can add to your resume.
Describe the process of finding your first job.
Fortunately, I had been working for the same company part-time for 16 months prior to graduating. Upon graduation I received an offer to be hired on full-time so I didn't have to go through a formal interview process or spend any time searching at that point.
Briefly describe a typical day at your job.
While there are rarely "typical" days, each day involves a whirlwind balance of managing your email inbox, reaching out to prospective candidates, conducting initial phone interviews, partnering with internal clients and managing your overall pipeline of candidates throughout the interview process.
What do you enjoy most about your job?
The moment when a candidate formally accepts their dream job offer & you know you made a personal impact on them throughout the interview process!
What are the most challenging aspects of your job?
Learning to manage your time effectively across the various functions of your role at scale is the most challenging dynamic in my experience working at Google. The volume and scale at which you operate forces the need for efficient processes and attention to detail.
What advice would you give someone interested in your field?
Network, network, network. Figure out your weak points and take steps to strengthen them. Communication Studies is a vague major to some and you tend to get lumped into a broad communication spectrum that most don't know how to differentiate or properly utilize. Apply yourself to unique disciplines and industries and add specialization to complement the major.
What were the stepping stones that led to your current career?
Taking chances, networking, gaining work experience through internships, and focusing on building relationships.
Has your career path taken any unconventional turns that you never would have expected?
Yes. During my undergraduate degree I never closely considered any HR-related companies or roles and I've since ignited a passion around recruiting and finding people their dream job!
How have any changes in your life situation affected your career path?
I went through a breakup of a long relationship and I think my supervisor would agree that I wasn't the same employee during that time in my life. Find happiness and security at home and in your personal life, otherwise it is difficult to remain happy professionally.
What were the major lifestyle changes your first year out of college that made the transition hard from college to the world of work and how did you adapt?
Probably the most difficult thing initially was the abrupt change in schedule. I had the sleep schedule of most undergraduates, frequent late nights and sporadic naps. It was tough to adjust to more of an 8-5 schedule. Also, you still want to go out at night and have a social life, but remember there are new consequences at stake.
What was the one thing you did in college that has had the most impact on your life or career?
Without a doubt, the people I met along the way during college had the most impact on my life and career. Whether classmates, fellow majors, professors or members of a mutual organization, the people are who make the experience.
What tips do you have for current undergrads about opportunities they should definitely take advantage of while they are in school?
Go to as many campus events, sporting events and community events as you can! You will never get that experience back, so make the most of it.
For more information, Jordan can be reached at https://www.linkedin.com/in/jordanlsterling