Marc Shaffer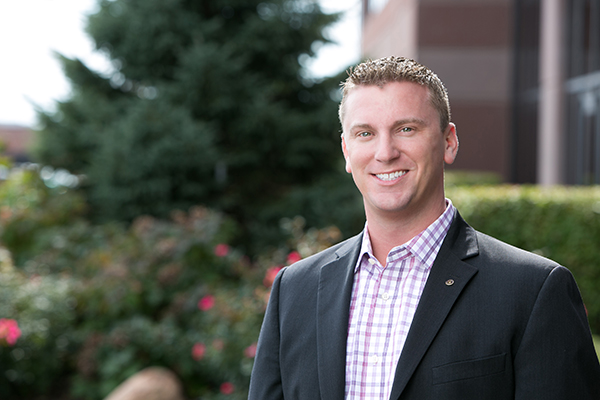 K-State graduation year: 2005
Degree: B.S. Personal Financial Planning
Other designations received: CFP®, AIF®, EA
Current employer: Searcy Financial Services, Inc. and Allos Investment Advisors
Position: Principal/Owner of Both Companies – See Websites for Differences if Interested – www.searcyfinancial.com – www.allosadvisors.com
How many times, if any, did you change your major during college?
I changed my major three times before settling into the Personal Financial Planning Program in the College of Health and Human Sciences. In fact, I lived in Marlatt Hall on the floor with all the other engineering students my freshman year and changed out of that major within the first semester!
Describe the process of choosing your major.
I was fortunate that my parents saved a little money for me to go to college. When I received nearly a full ride scholarship to attend K-State, my parents reviewed with me the money they had saved and how they did it. To teach me the basics of investing and saving, they gave me the small balance they had saved and suggested I meet with their financial advisor at Edward Jones to learn more about planning for the futures. They also warned me that the money the provided was the money available for college so it made me value my GPA and maintain my primary scholarship that covered most of my expenses. When I visited with my parents advisor I thought that the profession was very interesting in that they helped people set their goals and kept them accountable. The financial planning profession has emerged since then by holding clients accountable to more than just money goals. I'm glad the Personal Financial Planning major continues to be in the College of Health and Human Sciences. The knowledge and skills I acquired from the college as it relates to relationship management, family issues, counseling, money scripts, behavioral finance, etc. have been very useful in my role as my clients financial planner and investment advisor. Although I majored in business, the soft skills from Health and Human Sciences were very important in relating to people in a relationship based business.
What activities/organizations were you involved in while in college?
Silver Key
Chimes
Ambassador for the College of Health and Human Sciences
Intermural sports
Treasurer of Investacats
Treasurer of Future Financial Planners (FFP)
American Express Financial Planning Invitational Team - won first place in the competition in Minneapolis
National Financial Planning Association - traveled to Denver and Philadelphia
Financial Planning Association meetings in Kansas City
Did you complete an internship or have related work experience prior to receiving your job?
I had a part-time internship in Manhattan working two days a week for my junior and senior year for DC Hackerott with Edward Jones. I assisted her team with client preparation and follow up and learned more about how Edward Jones had assisted my family with their investments leading up to retirement.
Describe the process of finding your first job.
I met my current business partner as a student at a monthly Greater Kansas City Financial Planning Association meeting while in Kansas City. He interviewed me and indicated that he couldn't hire me without experience. I heard this before and realized that I may need to take an entry level job to gain experience for securing a longer term job with more responsibility. Knowing that I traveled to the Career Day in Dallas put on by their local Financial Planning Association meeting. While visiting the event, I met another graduate of K-State's Personal Financial Planning Program, Angie Herbers. At that time, Angie had a business assisting financial planning graduates with job placement. I stayed in contact with her and she connected me with job opportunities outside of the Kansas City market but still in the Midwest. While at that conference, I also uncovered opportunities at other firms so I interviewed with a handful my senior year and ended up landing my first job in St. Louis via an introduction from Angie. I also interviewed in Dallas, San Diego, Kansas City, Des Moines and Minneapolis. I kept all business cards and made sure to follow up after every introduction. I continue to do this today and can attribute a lot of my success from it. In fact, I still have the business card of my current business partner after meeting him at the GKCFPA meeting.
Briefly describe a typical day at your job.
My day is full of meetings in and out of the office. My role in the company is to support our clients goals by meeting with them regularly as well as to be visible in our community to uncover other professionals who can assist our clients with services we don't provide. We like to be a resource for our clients for everything, even if it has nothing to do with finances. I also work on business development so I typically have a lunch and coffee scheduled every day with someone new. It's been a good way to meet others and to stay engaged with the community. I also volunteer outside of the office with the GKCFPA and Rotary. The supports our company culture in that we encourage all employees to give back. We close the office once a quarter to volunteer together. It allows us time for team building and working on something bigger than ourselves together. I also support our staff in answer questions so that they have all the information they need to continue helping our clients. Because I also serve on the investment committee, I read about the market; typically before and after market close. Because I'm an owner in the company, I often find that my personal and professional life are intertwined so I don't really have regular working hours. Every relationship creates and opportunity so the outside work activities (i.e. sports, networking, volunteering) all point back towards growing the company and helping our clients and contacts.
What do you enjoy most about your job?
Now that I've been at my company for 10 years, I really enjoy seeing our clients go through the different stages of life. It has been awesome to see them set goals years ago that they achieved recently to allow them to live their ideal life or create something they never thought possible. Although I don't enjoy it, I've seen clients also go through touch transitions (death, divorce, transition, etc.). All things happen for a reason, so it is rewarding helping clients through these tough times to see them flourish as the setback makes them stronger. More than anything, I really enjoy the initial meetings when we bring on a new client. Our firm attempts to get to know more than their financial story. We help identify their money scripts and their vision for their life. Everyone is different but many of us want the same things in life; a happy family with the freedom to do things we love. I like hearing how these newer clients got to where they are (their success story) and what they want to do in the future.
What are the most challenging aspects of your job?
I often find myself frustrated with the things about my job that I cannot control. Although, we manage risk and investments for our clients, I cannot control the decisions of the FED, the President or owners of publically traded companies. My introduction to the industry included the stock market correction in 2008 and 2009. As you know, the market recovered but it was challenging to keep people focused on the long term and to maintain their investment allocation in a market that was volatile. Now that I've been through it before, I can share my experience reminding clients of the importance to focus on the long term rather than the short term volatility.
What advice would you give someone interested in your field?
I typically recommend that those interest in their financial planning field study and complete the requirements for the CFP. If they want to pursue financial planning, I suggest that they sit for the exam. This industry requires continual learning and the CFP provides the baseline. I would also suggest to others to determine what they liking doing best and to find a firm that supports that talent. In the past, success in financial planning was for those who were good at sales. Now that the industry has matured, people employed by financial planning firms can do many different things including business development, operations, relationship management, investment research, human resources, etc. For someone to enjoy a career, it is best that they find out where they can flourish. I also tell students to student and get their credentials as soon as possible after graduation before "life happens" (i.e. marriage, kids, more responsibility).
What were the stepping stones that led to your current career?
I was only at the first firm for a year following graduation from the Financial Planning Program at K-State. They encouraged me to study and get my studies out of the way. Since I moved to a city I didn't know anyone, I found this easy. I studied and passed the Series Licensing Exams prior to taking the CFP which I believe helped me pass it the first time.
Series 66
Series 7
Life, Health and Accident Exam
I also stayed in contact with as many people as I could. After passing the exams above and taking the CFP (pending passing) I called my current business partner and told him about my experience and moving back closer to home in Kansas City. Fortunately, there was an opening and I was able to make the transition to a firm that I would later buy into being an owner. You never know where your past contacts will take you but you must stay connected.
Has your career path taken any unconventional turns that you never would have expected?
Fortunately, we are a small company and the team has allowed me to grow into my current position. I have been able to learn leadership through volunteering in outside organizations like Rotary and by chairing Jazz in the Woods, a charity fundraiser that has raised over $1.5 Million the past 26 years in Kansas City. My team suggested I get out of my comfort zone and consider other leadership positions like President of the FPA. All of these things have led to developing our staff and mentoring others interested in financial planning. People did it for me and I'm grateful for it. When I started at my current firm, I was more interested in the behind the scenes work. Fast forward ten years, and I'm more interested in running client meetings, uncovering new opportunities and networking in the community. I never would have thought I would like it as much as I do now.
How have any changes in your life situation affected your career path?
Our firm encourages life balance. However, my personality type keeps me working all the time. For me to unplug, I need to take annual trips to escape. Fortunately, my team supports this and I've partnered with a company called Adventure to Serve to take annual international trips around the world. This has also let to opportunities for inviting clients, prospects and friends. I've had an awesome time seeing places all over the world as well as unwind from a schedule that I enjoy but requires me to always be available. I'm glad that I can take two to three consecutive weeks off a year to do this and I look forward to making international travel a priority in the future.
What job have you enjoyed the most and why?
Our firm continues to evolve and my responsibilities are different than they used to be. I'm very happy with my current role in the company to support our clients and staff but to work on the bigger projects rather than getting into the details. I now work more on vision for the company and how everyone can succeed rather than focusing on what I can do to be my best.
What were the major lifestyle changes your first year out of college that made the transition hard from college to the world of work and how did you adapt?
I moved to St. Louis after graduation and didn't know anyone. I worked at a financial planning firm with three partners and a secretary (all older). Therefore, I didn't have a network of friends that I had a K-State. I used my time to get my studying and exams out of the way early; a residency of sorts. I also worked at a bar down the street from my office to meet younger people and keep me busy. The extra money was nice too.
What was the one thing you did in college that has had the most impact on your life or career?
I was never afraid to try new things and I always stayed connected to those I met. This has allowed me to grow in my role and to expand my talents. It has also allowed me to maintain relationships with mentors and lifetime friendships. I also always made time to give back. It comes back 10 fold.
What tips do you have for current undergrads about opportunities they should definitely take advantage of while they are in school?
I definitely encourage all students to take advantage of traveling abroad or to consider doing it for a short period after college. I was never able to do it until I was in my late 20s. This creates perspective and allows time for reflection. EVERYONE should do it periodically but there's no better time to do it than in college with less responsibilities.
Was there a specific class you remember that sparked your interest in your career direction?
Not so much. I was initially interested in financial planning because of my relationship with my parents financial advisor at Edward Jones.
Was there a specific person in college who had a significant impact on your life or career?
Dr. Bill Meredith was the advisor for Silver Key. When I met him, I believe he was the assistant Dean for the College of Health and Human Sciences. He took a particular interest in me and quickly became a mentor. He also introduced me to the Personal Financial Planning Program and I transitioned out of Business Finance. He and I maintain a friendship today and we meet regularly. He was the person who encouraged me to travel internationally and to think bigger. I'm very thankful for his interest in helping me and attribute much of my success to his mentorship and friendship.
What didn't college teach you that you wish you would have known before you started your career?
I was weak in the tax area following college; likely because I took it in eight weeks in the summer. Regardless, I wish I would have learned more while in school because everything you do in financial planning has tax consequences. To make up for my lack of knowledge, I decided to pursue the Enrolled Agent designation, which required 70 hours of continuing education every few years. This caught me up and keeps me accountable to continuing my knowledge as it relates to tax and accounting. I also wish I would have taken a class in sales. Although, I didn't start in sales, I think a class in it might have helped me determine that I could be good at it if I had gotten out of my comfort zone earlier.
Do you keep in touch with your college classmates? How have those relationships influenced your career?
I maintain relationships with most of the people I graduated with; many of whom are best friends. K-State's Personal Financial Planning Program is known around the country. I attend the TD Ameritrade National Conference very year and it is fun running into old classmates who have jobs in the financial planning industry all over the country. I regularly meet others interested in financial services and this network of people form the Personal Financial Planning Program are great for connecting and finding jobs for these people. It is fun to watch what all of us have done since graduating. We're all successful in our own ways doing what we want to do, serving an industry in need of financial planning.
For more information, Marc can be reached at marc@searcyfinancial.com