Travis Rogers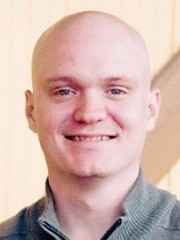 K-State graduation year: 2006
Degree: B.S. Chemical Engineering
Current employer: Chevron Phillips Chemical Company
Position:Production Planner
Describe the process of choosing your major.
I did not have a great idea of exactly what Chemical Engineering was, but I knew that I was good at math and science, and I knew that ChE was one of the highest paying bachelor's degrees.
What activities/organizations were you involved in while in college?
Ecumenical Campus Ministries - peer minister
American Institute for Chemical Engineers
Did you complete an internship or have related work experience prior to receiving your job?
I had an internship with Procter & Gamble in Kansas City the summer after my Junior year.
Describe the process of finding your first job.
I attended the Career Fair Junior and Senior years and applied with companies there. I interviewed with several companies that week and had a few offers for onsite interviews in the following months. I accepted a job with Chevron Phillips in December of 2005 and started working in August of 2006.
Briefly describe a typical day at your job.
In my current role, I work as a production planner at our corporate office. I have daily contact with the manufacturing plant and with our salespeople and customer service reps. I help ensure our plants are making the correct material, performing optimum transitions and that our sales forecasts are as accurate as possible. My job is a mix of day-to-day tasks and long-term planning.
What do you enjoy most about your job?
I enjoy the work schedule my company provides- a 9/80. This means I work 9 hour days, but get every other Friday off. I also enjoy the work environment and that most of my coworkers want to help each other and are not overly competitive.
What are the most challenging aspects of your job?
Since I am the go-between person between the plant and sales, there are very different and sometimes opposing demands that I have to balance. I have to be able to evaluate these demands and make the best decision for the company, and be able to communicate effectively to both parties when they did not get exactly what they wanted.
What advice would you give someone interested in your field?
The petrochemical industry provides many different types of career paths, especially for Chemical Engineers. You can remain technical and use the detailed learnings provided by your degree, or move into business or management roles and use the interpersonal skills gained in college.
What were the stepping stones that led to your current career?
I began my career at Chevron Phillips' Pasadena, TX facilty as a Process Engineer, which is a very typical starting role for a Chemical Engineer. This was a good opportunity for me to learn about the plant and its equipment and to manage small improvement projects. After about one year I transferred into Operations as a Production Engineer, where I was responsible for the day-to-day running of two polyethylene reactors and finishing lines. This job was very hectic, but provided me countless learning opportunities.
I spent three years as Production Engineer, in two different units, when the opportunity came to fill in as my boss' interim replacement when he left on what was to be a temporary assignment. I covered both his role (Operations Superintendent) and my own for about 6 months before being permanently promoted to Superintendent. As a Superintendent I had all of the Operations staff, including shift supervisors and engineers, reporting to me. I was responsible for all of the plant metrics and budget.
Three years later, in 2013, I accepted a job assignment at our joint venture in Saudi Arabia as Operations Manager for the polypropylene and polystyrene units. This job role was very similar to the Ops Superintendent role I had in Pasadena, only over larger units and an international workforce. After a year and a half I transitioned to be Operations Manager for the polyethylene units, where I stayed until January of 2016.
Has your career path taken any unconventional turns that you never would have expected?
The two most unconventional turns I have taken were accepting the international assignment in Saudi Arabia, and transitioning from the manufacturing environment to our corporate headquarters this year. Both of those experiences have proven very valuable to me. I encourage any changes, as diversity in your experiences can build skill sets and networks that you cannot create otherwise.
How have any changes in your life situation affected your career path?
One of the main reasons I wanted to pursue a business job was due to the increased flexibility it would give me to be able to spend time with my family. I now have two children, ages 2 and 4, so my career decisions are not only based on what is good for me but also for my family- both present and future.
What were the major lifestyle changes your first year out of college that made the transition hard from college to the world of work and how did you adapt?
The biggest change (aside from having money to spend on things) was getting used to there being no seasons- you don't get a spring, summer or winter break. When the year ends, another begins and you continue as normal. Time certainly moved differently!
What was the one thing you did in college that has had the most impact on your life or career?
I studied abroad twice- once for a semester in Prague, and once for a summer in Mexico. These experiences certainly shaped my attitude and views on travel and culture, and made the decision to accept an expat experience much easier.
What tips do you have for current undergrads about opportunities they should definitely take advantage of while they are in school
I highly encourage students to study abroad, preferably as early in their college career as possible. Don't worry about whether it will extend your time in school- that experience is one that you cannot replicate. You will not have another opportunity like that to see the world and gain new friendships. Do it now!
Was there a specific person in college who had a significant impact on your life or career?
Dr. Larry Glasgow was a very influential professor. What I remember the most about his teaching was that he always focused on practical application of the subject matter. He made sure that we knew that learning the material was only good if you could think about how it might apply to a real situation. This teaching style certainly prepared us for and translated well to working in the field.
Do you keep in touch with your college classmates? How have those relationships influenced your career?
I wish I kept in better touch with my classmates, but I am able to stay up to speed with several of them. I don't know that there have been many career influences from these relationships yet, but it is good to see them move and adjust to their own life changes.