Jonathan Propheter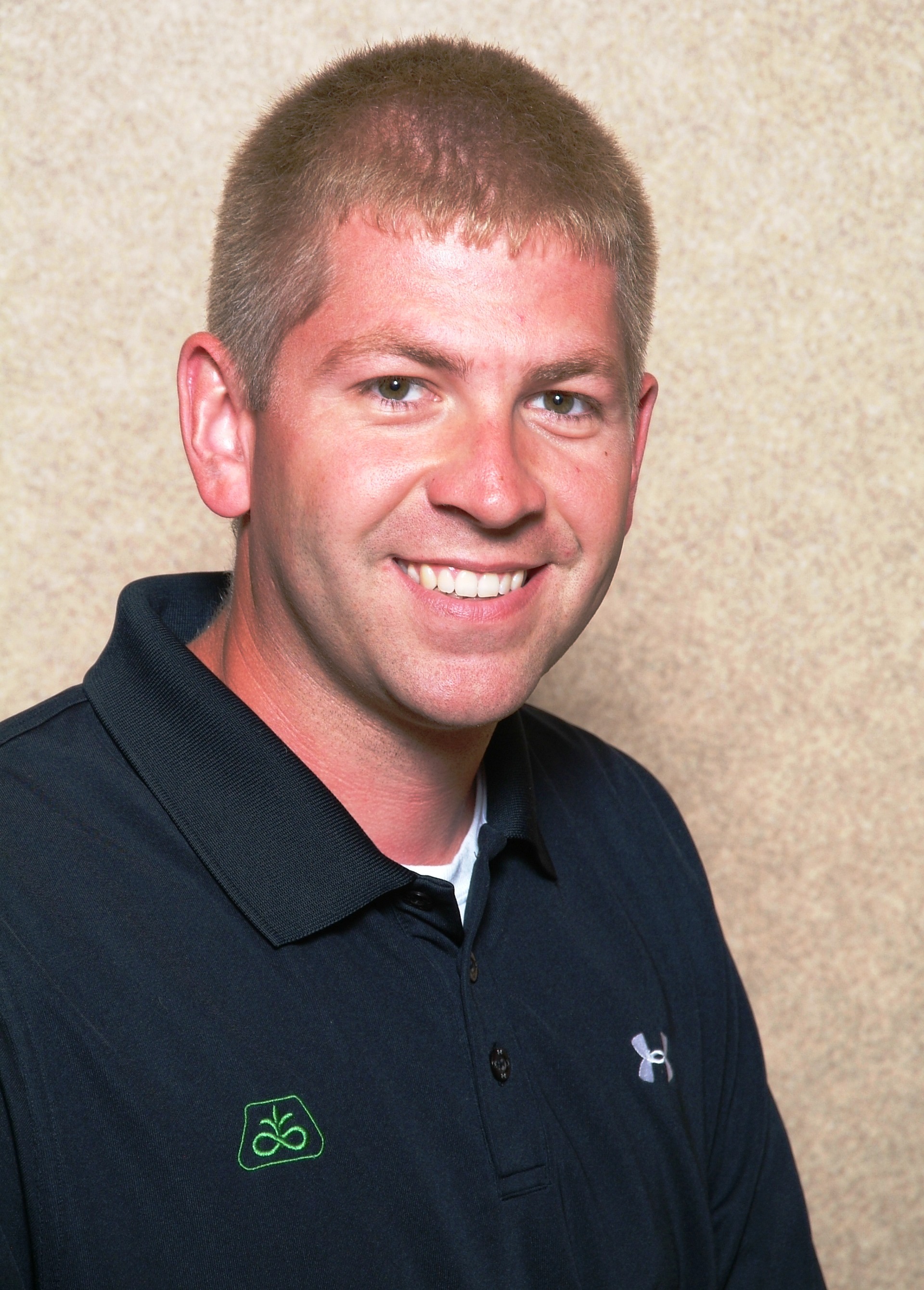 K-State graduation year: BS 2007
Degree: BS in Agriculture Technology Management with Minor in Agronomy
Other degree received: MS in Agronomy from K-State 2009
Current employer: DuPont Pioneer
Position: Field Agronomist
Describe the process of choosing your major.
The selection process to choose my major involved an evaluation of my key interests, courses I was most interested in gaining experience and knowledge from, and ultimately what jobs would be available for me with the degree I selected. I ultimately asked myself, "Am I going to enjoy the job I can get with this degree? This was really the driving factor for the major I selected.
What activities/organizations were you involved in while in college?
Agriculture Technology Management Club

Quarter Scale Tractor Design Team
Did you complete an internship or have related work experience prior to receiving your job?
My base experience came from working around my family farm in addition to working with a larger local farm operation to develop my own custom forage harvesting business and to expand my row crop farming acres throughout college. The "real-world" experience gained from these opportunities stays with me today and helps me to make decisions for the farm operations I work with on a daily basis.
Describe the process of finding your first job.
My first job was a result of an interview and contacts made during one of the K-State career fairs. I interviewed for a job position that was open at the time, but I ended up turning the job offer down after the interview because I chose to begin graduate school instead after finishing my bachelor's degree. Two years later when I was finishing my Master's Degree, I was able to make a call to the same company contacts who had previously interviewed me, and they had a job position open which I was more interested in. I interviewed once again and was hired for the position.
Briefly describe a typical day at your job.
There are no "typical days" with my job, which is one of the main reasons I enjoy it. Every day brings a new challenge. As a Field Agronomist, the job role changes throughout the growing season. Spring-time allows for a lot of time in the field working closely with growers to plant research trials, take field & trial evaluations, and to help make agronomic management decisions. Summer involves continued field and trial observations, as well as product and agronomic training for local sales teams. Fall involves working with growers to harvest trials, analyze harvest information, and summarizing of data for informational and training purposes. Winter involves planning activities for the upcoming year and meeting organization to present agronomic information to local sales teams as well as customer and crop consultant groups to help with management decisions for the upcoming growing season.
What do you enjoy most about your job?
The part of the job I enjoy most is working with growers to utilize new technology on their farms to improve their cropping systems and farm management activities. The job brings new challenges continually, so I don't become bored with doing the same thing over and over.
What are the most challenging aspects of your job?
Time management is the most challenging aspect of my job. There are always a lot of things that "need" done, but prioritizing the most important items day-to-day, and planning ahead as much as possible while leaving flexibility into the schedule for unexpected things is crucial to being productive and efficient with time.
What advice would you give someone interested in your field?
The best advice I would give for someone interested in my field of work is to obtain some job or work experience with an internship. I would encourage doing multiple internships to gain experience with multiple aspects of the field of work you are interested in.
What were the stepping stones that led to your current career?
Looking back, my involvement around my family's farm growing up, high school FFA, and ultimately my work experience with a farm operation for several years while in high school and college were the stepping stones to my choice of college majors, and ultimately my career path in agriculture. I have always had a passion for growing crops and working with machinery to do so, and now have a job where I am able to work with the best of both worlds.
How have any changes in your life situation affected your career path?
As our family has grown in size with three small children, it has made me appreciate the flexibility within my current job to have time for family, as well as being able to be home most nights and not have to travel for extended periods of time. Personal time is a very valuable asset to have with a job that I never fully appreciated until I was married and had children.
What job have you enjoyed the most and why?
I would have to say my current job as a Field Agronomist has been the most enjoyable and rewarding. I have been fortunate enough to work with some excellent people and to gain excellent experience, as well as be a part of some cutting edge technology advances that have been fun to be a part of.
What were the major lifestyle changes your first year out of college that made the transition hard from college to the world of work and how did you adapt?
Although the transition from graduate school to the world of work was a bit of a change, it wasn't a drastic change for me as I was doing very similar work with both "jobs". It was a pretty easy transition.
What was the one thing you did in college that has had the most impact on your life or career?
The biggest college decision I made which has impacted both my life and career the most was the decision to go to graduate school to earn my Master's degree. Obtaining my Master's degree has opened many opportunities that would have not likely been available otherwise.
What tips do you have for current undergrads about opportunities they should definitely take advantage of while they are in school?
The biggest suggestions I have for undergraduates is to seek out good internship opportunities and make the most of them. Get away from your comfort zone and go to some areas you have never been before to look at things from a different perspective. I also strongly suggest looking for graduate school opportunities after finishing your undergraduate degree. I would have never thought about going to graduate school when I started college, but it is one of the best decisions I made to rapidly advance my career out of college.
Was there a specific class you remember that sparked your interest in your career direction?
Agronomy 655 – Site Specific Agriculture was one of my favorite classes that opened up my eyes to the many potential career opportunities available in the industry which I had a deep interest in.
Was there a specific person in college who had a significant impact on your life or career?
I was very fortunate to have a few excellent faculty advisors while I was an ATM undergraduate and during Agronomy graduate school. One thing common among my advisors were their challenge to constantly "think outside the box" and become a problem solver. I use the values and experiences gained from these challenges almost every day.
What didn't college teach you that you wish you would have known before you started your career?
Effective public speaking is one area that I really had to focus and improve upon after college. I took the bare minimum amount of public speaking and presentation classes during college on purpose because I didn't like them. Once I was out of college, I realized how much improvement I needed, and had to force myself to work on my presentation skills continually to be where I needed to be for my job
Do you keep in touch with your college classmates? How have those relationships influenced your career?
I stay in touch with some college classmates, but not all of them. It is always nice to stay in touch with others in the same career field to get their perspective on the industry from their career point of view. It is easy to have your perception of things molded around the interactions you have with your everyday coworkers, and the environment you work in. Having classmates in similar, but different fields of work, provides a source of perspective which has proven to be very valuable over the years.
For more information, Jonathan can be reached at jpropheter@gmail.com