Whitney Pollock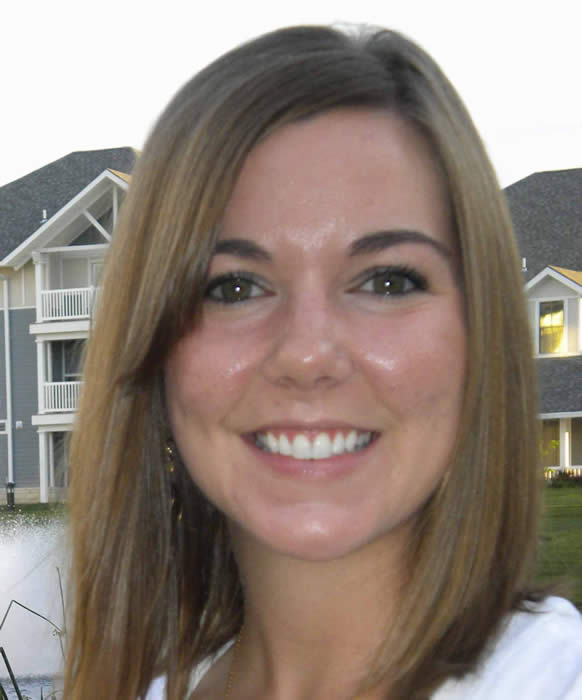 K-State graduation year: May 2009
Degree: BS in Psychology/Pre-Optometry
Current Employer: Southern College of Optometry, Memphis, Tennessee
Position: Student
Describe the process of choosing your major.
In high school I thought I wanted to be a psychiatrist. I chose psychology because I thought it would best prepare me for that particular job. After talking to a psychiatrist, though, I felt like it wasn't what I was looking for. I ended up shadowing an optometrist a couple of weeks later and fell in love with it.
I kept my psychology major but switched from pre-medicine to pre-optometry. This way I could still stay in a major I was interested in and have a balance between my science and psychology classes. It worked out wonderfully for me, and I learned a lot of skills from my psychology classes that have helped me with optometry school.
What activities/organizations were you involved in while in college?
Alpha of Clovia Scholarship House
Habitat for Humanity
Pre-Optometry Club
Psi Chi, international honor society in psychology
Did you complete an internship or have related work experience prior to receiving your job?
I worked at an optometry office for three years before being accepted into optometry school. At the office I was trained to adjust and fit glasses, help patients to learn to insert soft and rigid contact lenses, run visual field tests, and much more. I was also able to shadow the doctors periodically which helped me gain knowledge of how an exam is run effectively and I got to see some very interesting diseases. Not only was I able to gain experience by working at an optometry office, I also made some great contacts for the future and was able to get some wonderful reference letters from the doctors I worked for at the office.
Describe the process of finding your first job.
Getting into optometry school is a stressful process. I was constantly trying to build my resume by joining clubs, holding officer positions, keeping my grades up, and working in an office to gain experience. I was so happy I did all these things because it really paid off in the end. You just have to keep concentrating on your ultimate goal.
When deciding on a school I mostly looked at the different schools' websites and contacted the admissions office if I had any questions. I then applied online and happily received interviews at the three schools I applied to. I went to each of the schools and interviewed with staff doctors, admissions representatives, and current students. They did ask questions about optometry, but mostly it felt like they were just trying to get to know me and make sure I would be able to communicate with patients well.
I ended up choosing Southern College of Optometry because I felt the most comfortable there, loved the people, and really enjoyed the atmosphere. I am very happy with my decision.
Briefly describe a typical day at your job.
I wake up at about 6:30 a.m. every day. We start class as early as 7:45 a.m. and on late days we start at 8:30 a.m. I sit through about four hours of lecture, ranging from topics about the anatomy of the human body to binocular vision issues and ophthalmic optics. I then enjoy lunch with friends and then head to lab.
We have lab three of four afternoons a week for two to three hours a day. It is there that we learn how to do the procedures necessary in an eye exam and how the visual system really works.
Then I go to work at the school's eye clinic for a couple of hours and head home around 5 p.m. I usually hang out at home for a little while, make some dinner and work out, and head back to school around 7 p.m. to get in some study time before bed. I get home around 11:30 p.m., and then it's time for sleep. Then I wake up and start the whole day over again!
What do you enjoy most about your job?
I really enjoy learning about optometry. My favorite thing is when we get to actually do the procedures on each other and put what we've learned into action. It's great to start learning about what you're really going to do in your profession.
What are the most challenging aspects of your job?
Professional school is not for everyone. You must be able to manage your time wisely because you have so much to learn. We take 23-credit-hour loads each semester, have school almost year round, and have two to three tests every week. It's hard to stay caught up with everything, but somehow we all do it. It's very challenging, but also very rewarding in the end.
What advice would you give someone interested in your field?
If you're interested in optometry I would highly suggest getting a job at an optometry office. You gain so much experience, and you have a chance to make sure it's a field you want to go into. I love it, but it's not for everyone. You need to make sure it's what you want to do before you get to optometry school and suffer through mountains of schoolwork.