Albert Oko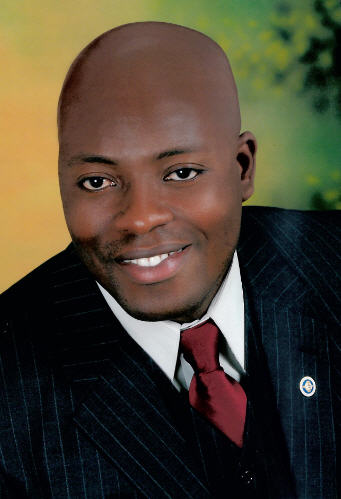 K-State graduation year: May 2006
Degree: MS in Geology
Other degree received: MBA, University Of St. Thomas –Houston, December 2011
Current employer: Chevron
Position: Development Geologist
Describe the process of choosing your major.
My decision was largely influenced by my geologist mentor from around my little town.
What activities/organizations were you involved in while in college?
Geography Department Research Assistant

American Association of Petroleum Geologists (AAPG)

Society of Exploration Geophysicists (SEG)

Geological Society of America (GSA)

American Geophysical Union (AGU)

Gulf Coast Association of Geological Societies (GCAGS)

National Association of Black Geoscientists (NABG)
Did you complete an internship or have related work experience prior to receiving your job?
Yes, I did two summer internships prior to my full-time job. First experience was with Murphy Oil. I was offered a full-time job at the end of my second summer internship with Chevron. In addition to many obvious advantages of an internship, such as hands on training, practical experience, pay, etc., it also creates a win-win situation for the company (potential employer) and the student (potential employee). In other words, the student is subjected to a "three months interview process" by the company, whereas the company's corporate culture is scrutinized for an equal amount of time by the student. The essence of which is to figure out if an intern is a fit for the company or not; and vice versa.
Describe the process of finding your first job.
The first step I took was to prepare a concise resume (2 pages), highlighting my academic and internship accomplishments. I had it reviewed by a couple of people before sending it out to all the major Oil & Gas companies in the United States for job or internship consideration. I also attended many geoscience conferences/meetings (e.g. AAPG, GSA) to network and present my thesis results to peers and industry representatives. Got interview opportunities with Shell, Bp, and Chevron. Started internship with Chevron seven days after graduation and hired on three months later.
Briefly describe a typical day at your job.
Each day, I get to work at 7:30 AM and leave my office at 4:30 PM. Majority of tasks are performed on a workstation with multiple 22" desk top computer screens. I read morning reports daily about activities (drilling, completion, workover, logging etc.) on oil/gas wells from six different fields. After reading the reports, I update my working projects with these new data when necessary. My primary role is to mature potential new locations to drill for oil wells. It involves both technical and business components that must meet certain established standards to receive execution approval. Depending on pressing business needs, I work daily on seismic interpretation, prospect maturation, making maps/cross-sections, calculating oil/gas in place, drilling wells, and mentoring new hires.
What do you enjoy most about your job?
I enjoy working in a cross-functional and diverse team environment where collaboration yields superior results. One of the pillars of career development at Chevron is mentoring. I have benefited from it and it gives me joy to mentor others. I truly feel very comfortable behind the workstation generating filed- and reservoir-scale geologic products. In addition to excellent pay and amazing benefits, the 9/80 work schedule (off every other Friday) does a whole lot of good to my work-life balance.
What are the most challenging aspects of your job?
There is a persistent quest to meet project deadlines and targets (budget, safety, etc.).
What advice would you give someone interested in your field?
Keep an eye on your GPA and try to get as much summer internship exposure as possible. Hone in on your team playing skills, and be willing to embrace cultural diversity.
What were the stepping stones that led to your current career?
I was fortunate to have a mentor who emphasized the need to keep my GPA up and be an active member of geoscience societies. In graduate school, I worked with a professor whose research is Oil & Gas focused.
How have any changes in your life situation affected your career path?
My wife and I are geologists and have been able to juggle both our careers and raising two little boys very well.
What job have you enjoyed the most and why?
I place equal weighting of joy on all my assignments thus far. From seismic interpretation, static 3D modeling, prospect maturation to drilling of oil wells, all have their specific challenges and pure satisfaction that comes with accomplishing them "The Chevron Way".
What were the major lifestyle changes your first year out of college that made the transition hard from college to the world of work and how did you adapt?
Having to wake up so early (5:30 AM), as opposed to my usual 7:00 AM in collage proved a bit difficult for the first few weeks. But I adjusted my daily activities to go to bed early enough to get between 7-8 hours of sleep each night.
What was the one thing you did in college that has had the most impact on your life or career?
Summer internship in the oil industry.
What tips do you have for current undergrads about opportunities they should definitely take advantage of while they are in school?
Endeavor to gain at least one summer internship experience in your chosen industry or area of practice. This is an opportunity to test the waters and probe your true feelings about your potential future career.
Was there a specific person in college who had a significant impact on your life or career?
I benefited immensely from the guidance of Dr. Matt Totten. As my thesis advisor, he kept my motivation high by encouraging my research initiatives, sending me to present my work at geological conferences, and offering invaluable pieces of advice which resulted to three significant research grant awards for my thesis work (AAPG, GCAGS, and KGF).