Cameron Longabaugh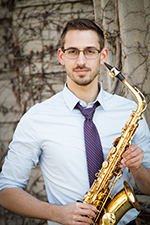 K-State graduation year: 2011
Degree: Bachelors of Music Education
Other degree received: Master of Music, University of Minnesota, 2015; Doctor of Musical Arts, University of Minnesota, 2017
Current employer: University of Minnesota
Position: Admissions & Recruitment Administrative Fellow (Assistantship)
Describe the process of choosing your major.
I remember having many discussions with my family and academic mentors about (1) where my true passion resided and (2) in what areas I excelled. These two factors contributed greatly to my decision to pursue a degree which combined music and teaching.
What activities/organizations were you involved in while in college?
Music ensemble at the K-State (marching band, concert bands, orchestra, jazz ensemble, etc.)
Kappa Kappa Psi Honorary Band Fraternity
Did you complete an internship or have related work experience prior to receiving your job?
Beyond the student teaching requirement as partial fulfilment of my undergraduate degree, I found many opportunities to work with young students grade 5-12 by working at area band camps, teaching university summer camps, and observing classes throughout Manhattan.
Describe the process of finding your first job.
Assistant Director of Bands, Blue Valley West H.S. (Overland Park, KS)
During my penultimate semester of my senior year, I met the Director of Bands of Blue Valley West High School at a marching band event in St. Louis. I heard that the Assistant Director was retiring, and I wanted to make a point to introduce myself to the current director. After our first meeting, I made sure to keep in contact with him throughout the remainder of the fall term as well as during my time student teaching in Topeka, KS. During this time, I prepared a flawless resume and an engaging cover letter which allowed me to demonstrate my passion for teaching, music, and working with young students.
When the job was posted, I submitted all of my job application materials and was subsequently invited for a first round interview with the Performing Arts Coordinator of the Blue Valley School District and the Director of Bands at Blue Valley West High School. My father, who is a middle school principal in the Goddard School District, worked with me to prepare for my first job interview. He gave me valuable insight into the interview process, and guided me through the type of questions I should expect.
After my first round interview, I was invited back as a finalist for the position. I had a second and third interview with the Performing Arts team at Blue Valley West and the high school administration. Additionally, I was observed in a rehearsal with a concert band at Blue Valley North High School to demonstrate my teaching abilities and style. The next day I received a phone call and was invited to District Office, where I was officially offered the job.
Briefly describe a typical day at your job.
Since I'm a current graduate student, I'll speak about a typical day at my first job (mentioned above).
Typically I would wake up at 5:00 am so I could be at school by 6:00 am. Although school began at 7:45 am, I usually taught sectionals at 7:00 am or used the mornings to answer e-mails, organize the rehearsal space, or take care of logistical matters. From 7:45 – 3:00 I taught various courses at four different schools including Blue Valley West High School and three elementary schools. After 3:00 pm, I usually took care of a variety of issues or taught various sectionals. Most days I worked until 6:00 pm (some days even later depending on the time of the year or the schedule). Because of the long days I had most days of the week, I made sure to find time where I could leave school at 3:30 to take care of personal matters or do some professional development on my own time.
What do you enjoy most about your job?
I loved interacting with young students while sharing my passion for music and performance. Seeing their daily progress on their individual instruments is an experience unlike any other!
What are the most challenging aspects of your job?
I spent much of my time serving others, and at times I struggled to take care of myself. There is certainly a good work/life balance that must be achieved so that one continues to grow and manage a successful program without burning out of the position.
What advice would you give someone interested in your field?
When you make decisions, be sure that it reflects that the priority is on the students. You will encounter push back from some of the decisions you make. This can come from parents, administration, the community, etc. If you truly believe that this decisions is the best for the students, be polite, stand your ground, and use time of push back to challenge your own beliefs, consider all possibilities, and learn from the experiences. So often people will believe they are right. Question others, question yourself. Because that is how progress is made for the better. Always be professional and courteous in the process!
What were the stepping stones that led to your current career?
Excellent networking will get you far. So often, you will not get an interview because they simply do not know who you are. It does not matter how great a musician you are, or how wonderful of a teacher you are, or how inspiring of a person you will become. If they do not know you (or know of you), then you may not be able to even show them your abilities. Have a flawless resume. Grab their attention in your cover letter – show your passion!
Has your career path taken any unconventional turns that you never would have expected?
Leaving a steady paying job in Kansas City was one of the toughest decisions in my life. Now I am currently working on a second graduate degree, I am experiencing the woes of student debt, and I live paycheck to paycheck as I work tirelessly to complete my doctoral degree. Although I have more financial stress, I am realizing through graduate school how much room I have to grow as an academic and a musician. I feel as though I am more prepared than ever to teach at a post-secondary institution and perform professionally as I continue to learn and grow beyond school. Learning is a lifelong endeavor, and took me three degrees to realize that your diploma means nothing unless you continue to find ways to learn more, understand empathetically, and remain curious throughout your professional career.
How have any changes in your life situation affected your career path?
I always saw myself as an individual who would move every few years in order to truly experience the world. After living in Minneapolis, Minnesota for three years, I believe I have found a place where I can envision myself settling down into a permanent home. I would not have this feeling had I not decided to quit my job and go back to school. When you live in a great place that fits you and your lifestyle, you will know it (and you will never want to leave it)!
What job have you enjoyed the most and why?
The one I explained above. Working with young people, and helping them develop into great human beings, is one of the most rewarding experiences I believe anyone can have.
What were the major lifestyle changes your first year out of college that made the transition hard from college to the world of work and how did you adapt?
Leaving college and starting my first job, I found myself having to figure everything out on my own. I found myself forced to make decisions by myself, rather than with friends or family. Moving to a new place, you have to start over – making friends, developing your support network, finding decent restaurants, knowing when to drive home so you can avoid rush hour. That first year away, you learn about yourself, your dreams, your goals, your priorities. It's a different, complex, wonderful, and scary time!
What was the one thing you did in college that has had the most impact on your life or career?
I participated in everything I could. Being busy beyond capacity taught me to manage my time, be efficient in my work, and make room for my own personal hobbies and enjoyments. I find that my colleagues who didn't stay involved had a more difficult time in the real world because they didn't have a plethora of experiences use as a springboard for the challenges posed when you leave college.
What tips do you have for current undergrads about opportunities they should definitely take advantage of while they are in school?
When I was in college, I thought knowledge was this thing you could have and own. I believed that truth meant one right answer, and if I believed it, then it must be fact. Challenge yourself to question what you know. Don't be afraid to healthy dialogue between colleagues who disagree with you. Let teachers challenge the way in which you view the world. Use the experiences of others to gain an empathy you never thought you could possess. More importantly, listen. Use the time people speak to acquire another viewpoint. Too many people in this world believe what they want and refuse to challenge one another (as well as themselves).
Was there a specific person in college who had a significant impact on your life or career?
My saxophone professor, Dr. Anna Marie Wytko, believed that I could be a great saxophone player. I didn't believe it, but she did. And she pushed me to be a better musician, and more organized student, and a more professional individual in the saxophone community. It was a combination of her passion for music and saxophone with her exceptional instruction that prepared me to go to graduate school.
What didn't college teach you that you wish you would have known before you started your career?
You will work with impossible people. You will be put in impossible situations. You will undergo tremendous stress and happiness. You will not know how to handle it. At the beginning you make mistakes, and that is okay. I was always afraid to make a mistake in college. The real world taught me that mistakes are essential to success. No one gets where they are because they are perfect. They get there because the screw up…a lot. They use those opportunities to learn and grow and become better. So when that situation comes up again, they can handle it with care.
The bird does not land on a branch and worries that it might break, because the bird has learned to fly. Many branches will break in your life. Learn mental toughness and the ability to adapt in any situation, so that you may be successful regardless of the circumstances.
Do you keep in touch with your college classmates? How have those relationships influenced your career?
Yes! There is a small group of people who stay in touch. Although I don't seem them as often as I would like, we continue to chat on social media and visit each other when we can. They are the people I go to when I have a tough situation and I need an outside opinion, or someone to just tell me that everything is going to be alright.
For more information, Cameron can be reached at 612-624-5740 or longa012@umn.edu