Jarred Leis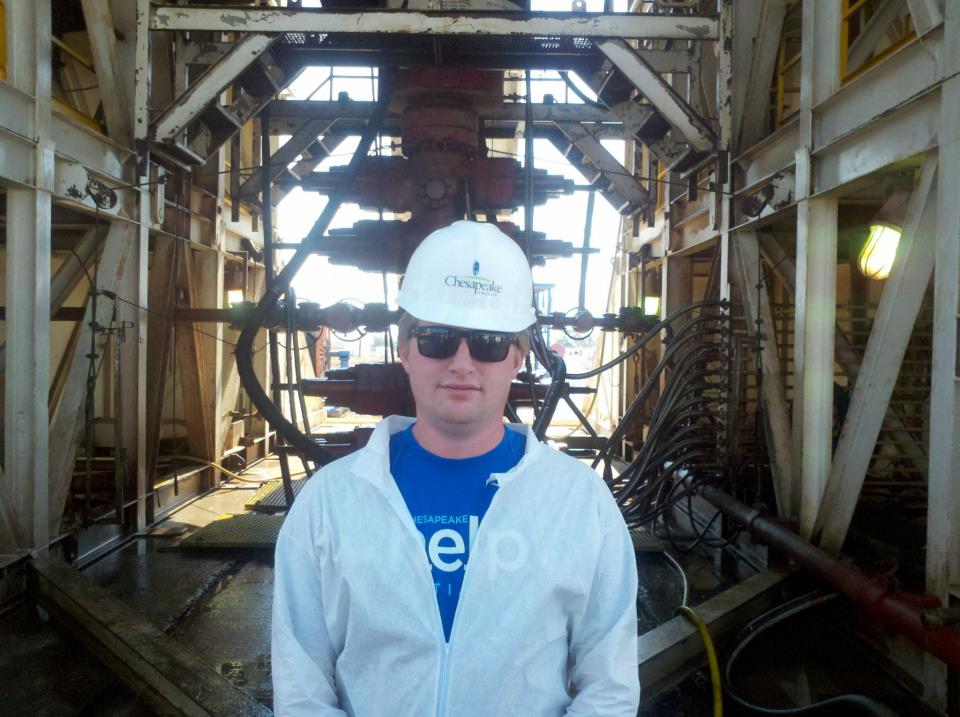 K-State graduation year
: Fall 2010
Degree
: Bachelor's of Science in Geology
Other degree received:
Master's of Science in Geology, Kansas State University Spring 2012
Current employer
: Self-Employed at Jarred Leis Geology
Position
: Petroleum Geologist
How many times, if any, did you change your major during college?
I changed my major once at the end of my first semester freshman year. I switched from Biological Agricultural Engineering to Geology.
Describe the process of choosing your major.
I chose my major because I had interest in Geology when I was young and also because I wanted to work in the Petroleum Industry.
What activities/organizations were you involved in while in college?
American Association of Petroleum Geologist's K-State Chapter - President

Williston Geology Club

Alpha Gamma Rho Fraternity
Did you complete an internship or have related work experience prior to receiving your job?
I completed two internships while in graduate school. One was with Mewbourne Oil Company in Midland, TX; I also completed an internship with Chesapeake Energy in Oklahoma City, OK. Also I had general oilfield experience from working summers as a general laborer in the oilfield that helped me get where I am.
Describe the process of finding your first job.
I went through all the interviews, and decided that I had an opportunity to go out on my own and be a private consultant and I decided to do that.
Briefly describe a typical day at your job.
A typical day at my job usually consists of me going to a drilling rig and logging the rocks (drilling cuttings) that they have drilled though, and assessing the possibility of profitable amounts of oil or gas being present. And days when I'm not going to drilling rigs I will work on mapping projects to help customers or myself find new locations to drill.
What do you enjoy most about your job?
I enjoy being self-employed most about my job, having the flexibility of making your own schedule is extremely satisfying.
What are the most challenging aspects of your job?
The most challenging aspects of my job would be making sure I will have enough work to stay steadily busy and having to work long hours and weekends occasionally.
What advice would you give someone interested in your field?
If you want to be a Geologist in the oil business I think it is very crucial to get internships with oil companies, I learned so much during the two internships that I completed. It takes what you have been learning in classes and applies it to real world applications, which to me was very useful.
Has your career path taken any unconventional turns that you never would have expected?
Yes it has taken unconventional turns, I thought the whole time that I was going to college I wanted to work for a large oil company and after working two internships I decided I wanted to try going out on my own. I never thought that I would be doing that while I was in college.
What were the major lifestyle changes your first year out of college that made the transition hard from college to the world of work and how did you adapt?
The biggest challenge for me was getting used to going to work everyday and having to work weekends occasionally, which I very rarely had to do in college. I adapted by basically pushing though and making sure that I got used to it and reminding myself that this was part of growing up.
What tips do you have for current undergrads about opportunities they should definitely take advantage of while they are in school?
Once again I feel like internships are really important for geologists and I would definitely advise going after as many as you can while and undergrad. I did not have an internship when I was an undergrad and I wish that I would have experienced that.
Was there a specific class you remember that sparked your interest in your career direction?
Petroleum Geology was the class that really made me want to pursue a career in the oil industry as a geologist.
Do you keep in touch with your college classmates? How have those relationships influenced your career?
I keep in touch with a lot of my college classmates either through phone conversations or meeting up for football games in Manhattan. It has influenced my career because I have a network of people in the same field as I am in that I can compare work to. This makes some projects easier for me to complete properly and efficiently.
For more information, Jarred can be contacted at jarredleis@gmail.com.