Adam Koch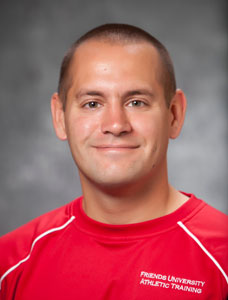 K-State graduation year: May 2007
Degree: Bachelor's of Science in Athletic Training
Other degree received: Associate's of Science in Athletic Training, Cloud County Community College, 2005; Master's of Science in Applied Exercise Science, Oklahoma State University, 2010
Current employer: Friends University, Wichita, KS
Position: Associate Athletic Trainer
Describe the process of choosing your major.
Through high school I knew that I wanted to do something with sports, but wasn't sure exactly what direction to go. Our high school didn't have an Athletic Trainer, so I knew nothing about the profession. I was lucky enough to have a sister who started her education in the Athletic Training field. Once I discovered what the job entailed I was hooked. I'm lucky to be able to help people and be around sports which I love.
Did you complete an internship or have related work experience prior to receiving your job?
In the summer of 2006 I had an internship with the Dallas Cowboys, I worked through training camp doing treatments, setting up for practices, worked practices, and pre-season games. I did the same work the next summer with the Kansas City Chiefs through an internship with them.
Describe the process of finding your first job.
I applied at 5 or 6 schools starting in early April and ending in early July. I had interviews with most of the schools I applied to. I interviewed at Friends University in early July and knew immediately that this was the place that I wanted to work. Luckily a few weeks later I received a call that they wanted me to come work for them.
Briefly describe a typical day at your job.
Every day usually includes cleaning the whirlpools, writing rehabs, documenting injuries, rehabbing/treating injured athletes, setting up for practices, taping ankles, and watching practices. When needed I schedule doctor's appointments, schedule scans, and take athletes to appointments. There always seems to be something to do and the only thing that is a guarantee is that practice will start on time.
What do you enjoy most about your job?
Being able to see student-athletes succeed both on and off the field is what I enjoy most! Seeing an athlete who gets injured, works hard to return, and the joy that comes across their face when they're able to re-join their teammates on the field to play.
What advice would you give someone interested in your field?
There are a variety of settings in which someone with a Bachelor's in Athletic Training can be placed, so talk to as many professionals and students as possible. The long hours of a collegiate setting aren't for everyone, so a high school or clinic where the hours are more manageable might be a viable option. If you enjoy helping people and have an interest in the human body and how it works, this is a career that might interest you. Athletic Training is filled with people willing to help if you just ask questions.
Has your career path taken any unconventional turns that you never would have expected?
I didn't feel like there was much of a transition for me, since I received my master's degree while also working Oklahoma State Baseball. As a graduate assistant, it felt like a full time job. I was on my own for the most part and I was in charge of the health and well-being of the team.
What was the one thing you did in college that has had the most impact on your life or career?
I made sure that when my name was spoken by other people, it was to say something positive rather than negative. I did well in the classroom, worked as hard as I could in the Athletic Training Room, and was willing to ask questions and be around people who could help me learn. Through that people have been willing to call others on my behalf, give me opportunities to better my career, and teach me how to succeed in this profession.
What tips do you have for current undergrads about opportunities they should definitely take advantage of while they are in school?
Take advantage of the amount of time you spend with the Certified Athletic Trainers as well as your fellow classmates. Get to know them. Build relationships with them. Those are the people who you will rely on later in your career for advice and possible job interviews.
What didn't college teach you that you wish you would have known before you started your career?
Although the mental aspect of an injury is discussed slightly in your college classes, I don't feel like it was emphasized as much as it should have been. With every injury you not only have to rehab the body, but also the student-athletes mind. Every athlete is different. Many student-athletes hit a wall when it comes to getting back on the field. Their body is ready, but their mind tells them that they can't do it. Fear of re-injury can be career ending, so focus not only on the body, but also on the mind.
Do you keep in touch with your college classmates? How have those relationships influenced your career?
One good thing about going through an Athletic Training program is you are able to spend a lot of time with your classmates outside of the classroom. I've made countless lifelong friends. I'm always able to ask them for advice if a rehab isn't going the way I'd hoped and it's nice to know we can call each other to vent a little, because we all know how much of a grind a season/school year can be.