Sandy Klein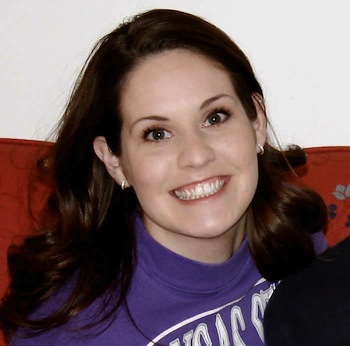 K-State graduation year: 2006
Degree: BS in Agricultural Education
Other degree received: MS in Curriculum and Instruction, Kansas State University, December 2010
Current employer: College of Agriculture, Kansas State University
Position: Events and Projects Coordinator
Describe the process of choosing your major.
I initially began in agricultural communications and journalism. I knew I wanted to stay in the College of Agriculture, but I wasn't sure what area to pursue. I took the Discover assessment at ACIC, and it reaffirmed my interests in education and working with people, so agricultural education seemed like a good fit.
What activities/organizations were you involved in while in college?
College of Agriculture ambassadors

Agriculture Education Club

St. Isidore's Catholic Student Center

Kansas FFA

Study abroad: I traveled to Germany, Austria, and Italy during my freshman year at K-State. I spent just over two weeks visiting different agricultural industries, touring, and staying with a host family.
Did you complete an internship or have related work experience prior to receiving your job?
Education majors are lucky to be able to "test drive" our potential teaching careers through a student teaching intern experience. I spent a semester at a small school in south central Kansas teaching full time with an experienced teacher.
I also worked at the Academic Career and Information Center and the College of Agriculture Academic Programs office, both of which gave me experience working in higher education in a student-focused area.
Describe the process of finding your first job.
After returning to K-State to pursue a master's degree, I was working as a graduate student for two different areas in the College of Agriculture when this interim position became available. I knew the college administration from previous employment and work experience, and decided to step into this role.
Briefly describe a typical day at your job.
Usually I am working on several events at any one time. I coordinate logistics, communicate with stakeholders, recruit attendees, consult faculty members, and design promotional materials, as well as update the college website. I also analyze and report college enrollment and placement data; advise a student organization; work closely with our alumni board; design print materials; and engage in other projects as they arise.
What do you enjoy most about your job?
My favorite part of my job is working with students! It is so fun to watch students grow during their time at K-State, and incredibly exciting to get to be a part of that growth. I am lucky to get to work with students on a day to day basis.
What are the most challenging aspects of your job?
The most challenging part of my job is managing various projects and events at any given time. Each project comes with its own challenges and tasks, and I am always seeking to improve, which usually means I am adding time and energy to already busy timelines. It can be a challenge to keep everything moving forward at the same time!
What advice would you give someone interested in your field?
Seek out opportunities to coordinate events and facilitate activities, both individually and as part of a group. Many volunteer organizations are looking for people willing to step up and take the lead. Don't be afraid to ask people for help or advice; be ready to work hard; and details matter!!!!
For more information, Sandy can be reached at sandy@ksu.edu