Eric Kientz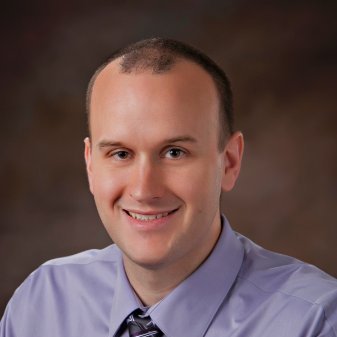 K-State graduation year
: 2006
Degree: BS Accounting
Current employer: Varney & Associates, CPAs
Position: Sr. Staff Accountant

Describe the process of choosing your major.
I knew that I was going to purse an accounting degree when I was in high school. Several of my friends were sitting around wondering how we would spend one of our elective hours and we all picked accounting. I was always good at math and this class put some practical relevance to how math skills can be applied in the real world.
What activities/organizations were you involved in while in college?
Intramural Sports

National Society of Collegiate Scholars
Describe the process of finding your first job.
I spent three to four months after graduating working a part time job at a local grocery store while I was searching for my first career job. Eventually, I went to a job fair in Wichita and met with some recruiters from CCH who thought I would be a good candidate for employment as a tax analyst. I called them after the job fair and they were eager to schedule an interview. After the interview, they called me within a week and offered me a job.
Briefly describe a typical day at your job.
A typical day on the job is working hard and managing a tremendous workload to meet the expectations of my clients and my employer. Spreadsheets and work papers are a part of the everyday process and are used to produce tax returns, financial statements and reports.
What do you enjoy most about your job?
My employer allows us the flexibility to work from home and to set our own hours, which as a parent is of tremendous value.
What are the most challenging aspects of your job?
I'll never forget what Dr. Deines taught me in Accounting Theory & History class, which was something to the effect of "the value of an accountant is in presenting data in the form of information that is useful for decision making." He was right, but what is not mentioned in that statement, however, is that the informational needs of most people is different, and can often be significantly different. This makes accounting such a challenging job and evidences the necessity a college education to properly prepare a person for the profession.
What advice would you give someone interested in your field?
Be involved with activities and organizations as much as you are able. The relationships that you develop will last a lifetime and will benefit you in all areas of life, including your career.
What were the stepping stones that led to your current career?
My stepping stones were getting started in private accounting as a tax analyst at CCH, then effectively rebooting my career by entering public accounting.
Has your career path taken any unconventional turns that you never would have expected?
I started in private accounting and transitioned to public accounting. While in college, I had never even considered public accounting as part of my future. Once I actually tried it, I knew it was for me and I've been working as a public accountant for nearly five years.
How have any changes in your life situation affected your career path?
I started my career in Wichita but my wife was offered a job in Manhattan. We made the decision to move our family there which meant that I had to quit my job in Wichita and hope to find a new job in Manhattan. I was very fortunate to have been referred to a reputable public accounting firm with great leadership, Varney & Associates, where I now work.
What job have you enjoyed the most and why?
Each of the jobs I've had in my career have had pros and cons. However, my current job allows me a great deal of work/life balance through flexible scheduling and work from home arrangements.
What were the major lifestyle changes your first year out of college that made the transition hard from college to the world of work and how did you adapt?
Transitioning from college to work was an interesting part of my life. This was the first time in my life that I was truly independent of my parents, family and friends and I was responsible for every aspect of my life. I think the most impacting change came in the form of having less time spent with family and friends as the focus of my time shifted from fun and leisure to business and career.