Jim Hohenbary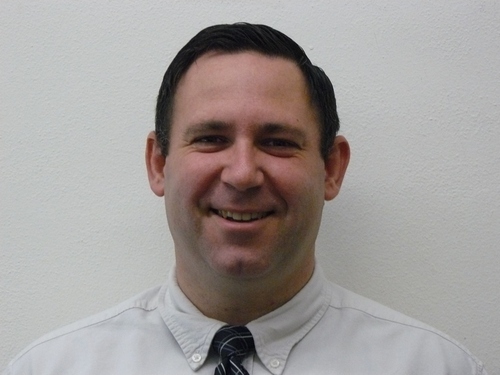 K-State graduation year: May 1995
Degree: Masters in English Literature (emphasis in Creative Writing)
Current employer: Kansas State University
Position: Director of the Office of Nationally Competitive Scholarships/Associate Director of the University Honors Program
How many times, if any, did you change your major during college?
I started as an undecided student and declared English Literature at the end of my freshman year.
Describe the process of choosing your major.
It was actually a clerical error that switched me into English (my advisor confused my roommate and I after we both stopped by his office at the same time). However, I figured that the universe was trying to tell me something so I decided to try it out. I stuck with it because I liked the classes, and although I had no career goal in mind, I did want to pursue a major in which I enjoyed the intellectual work associated with that curriculum. In addition, I knew that reading and writing skills could be a powerful asset no matter what direction my career went.
What activities/organizations were you involved in while in college?
Resident Assistant

Student Activities Board
Did you complete an internship or have related work experience prior to receiving your job?
As an undergraduate, I interned for the Missouri state legislature. As a graduate student at K-State, I taught Expository Writing courses and worked in the K-State Writing Center. I liked the one-on-one aspect in the Writing Center better than I liked teaching in the classroom. I had also enjoyed the kind of "student support" activities that I had participated in during my undergraduate years, so I decided that I might like working in a student advising setting.
Describe the process of finding your first job.
I started working at "Manpower" (a temporary employment agency). On one of those temporary gigs, I was offered a job with the Sears Paint Department. I did that for a year (so don't despair if your first job is not exactly what you wanted) and then spent another year teaching Expository Writing classes for K-State. My first career-path job was being hired as an Open Option advisor at K-State. I am sure it helped that several of my references were current K-State faculty in the English department and that I had been a student at K-State. It probably gave them some confidence that, if they hired me, I would not start from zero in my knowledge of the campus.
Briefly describe a typical day at your job.
I help K-State students compete against students from other universities for national awards: Rhodes, Fulbright, Truman, etc. I frequently meet with students one-on-one, either helping them identify competitions that might be a good fit for them or serving as a resource for them in the application process. I read a lot of personal statements and resumes for the scholarship competitions and give advice on how to improve those documents, which uses my writing background quite a bit. I also type a lot of e-mails to answer questions, publicize competitions, etc. In short, while the specifics vary, most days involve kaleidoscopic permutations of critical reading, written communication and verbal communication.
What do you enjoy most about your job?
I get to meet top students from all across campus, learn about their interests and aspirations, and help them pursue opportunities that will help them reach those goals. The variety of academic interests that I see in the course of a week means that I am constantly learning new things.
What are the most challenging aspects of your job?
Juggling many competing priorities and deciding what has to be done and what can be delayed is challenging (and I know that is an omnipresent challenge in many jobs). Related to that, there are lots of scholarship deadlines to worry about and keep track. In addition, when you invest time in working with a student and believe in them, you do also feel the disappointment when they are not successful.
What advice would you give someone interested in your field?
Writing skills and interpersonal skills are vital to most jobs in the advising realm. You should like talking to people and want to help students grow and succeed. Cultivating breadth of knowledge is important too since you have to work with students from diverse backgrounds and with diverse interests.
What were the stepping stones that led to your current career?
I applied for the "nationally competitive scholarship advisor" position as an Open Option advisor, so being able to demonstrate advising experience generally, and an understanding of K-State, helped me overcome a lack of experience with the national scholarship arena per se.
Has your career path taken any unconventional turns that you never would have expected?
Well, I did not even know that this job existed when I graduated from college. It was only the fact that I worked in the same office with the prior scholarship advisor that introduced me to the opportunity.
What was the one thing you did in college that has had the most impact on your life or career?
It is hard to select a single thing, but I don't think the advising opportunities I have had would have been possible if I had not gone to graduate school, so I would say that deciding to come to K-State for graduate school in English Literature has been the thing that most strongly colors the path I have followed since.
What tips do you have for current undergrads about opportunities they should definitely take advantage of while they are in school?
The more you diversify your experiences and push yourself to be involved in meaningful activities and co-curricular experiences, the more data you will have about the kinds of things you like doing.
The single most important determinant for success in college is whether you can make yourself do the small things each day that you know you ought to do to be successful as a student.
Stop thinking of the classes you take as hurdles to get over in order to get the degree. What you learn in the classes IS the valuable thing that the degree is supposed to be a proxy for. Every class you take has the potential to build and diversify your knowledge and/or thinking skills.
I regret that I did not study abroad. There is no time in your life that more easily accommodates an extended international experience. I was also interested in some other courses that I took outside of my English major (like Macroeconomics, for instance) but never really considered adding a second major or minor. Even though I am happy with the opportunities that have presented themselves to me, I wish I would have more actively explored my major options and the career possibilities that were out there.