Amy Greenstein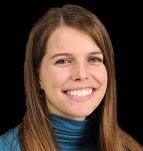 K-State graduation year: 2009
Degree: BS in Marketing
Current employer: KU School of Medicine, Wichita
Position: Candidate Relations Coordinator with the Rural Health Education and Services Department
Describe the process of choosing your major.
I knew that I wanted to do something in business, and I thought that marketing sounded like the major that fit my skills and matched what I wanted to do.
What activities/organizations were you involved in while in college?
College of Business Ambassadors

Career Center
Did you complete an internship or have related work experience prior to receiving your job?
I had an internship at the American Royal in Kansas City. It was not directly related to my major, but it was experience in a nonprofit organization
Describe the process of finding your first job.
It was a long process, but I searched for position openings on online websites and in the newspaper. I found the position opening and looked at the website to find out more information about the organization and the position. I then reformatted my cover letter and resume to be specific to this position. I sent it in and then was called for a telephone interview with the human resources personnel. I was then called in for a face-to-face interview, followed by a second interview. They called me and offered me the position. Overall, the entire process took three to four weeks.
Briefly describe a typical day at your job.
I post job openings on our sourcing websites. Once a week I search sourcing databases for new clinical professionals who are looking for positions. I have email/telephone contact with these professionals to see if they would be interested in positions in rural Kansas. I respond to interested candidates, schedule phone screens with our recruiters, and prepare the necessary paperwork on these candidates. I assist in exhibiting at career fairs, participate in staff and marketing meetings and visits to our clients' facilities, and assist with residency visits and educational programs.
What do you enjoy most about your job?
I enjoy knowing that the job I do helps rural communities recruit and retain doctors to care for their healthcare needs. I feel it is something important and something that makes a difference.
What are the most challenging aspects of your job?
Finding candidates who are willing to relocate to a rural community. We have to help candidates overcome stereotypes and misconceptions about rural communities and help them realize the benefits associated with these positions. Another barrier is the fact that many foreign physicians are willing and eligible to move to and practice in rural communities, but because of strict visa regulations many of the facilities cannot sponsor their visas.
What advice would you give someone interested in your field?
I would say that it helps to always keep learning about trends in healthcare and issues in medicine. Professionals in my field need to understand the issues with recruitment and retention, benefits, and specifics like call coverage. You need to be willing to find new and innovative ways of reaching candidates and educating students and residents about rural medicine.