Andrew Friesen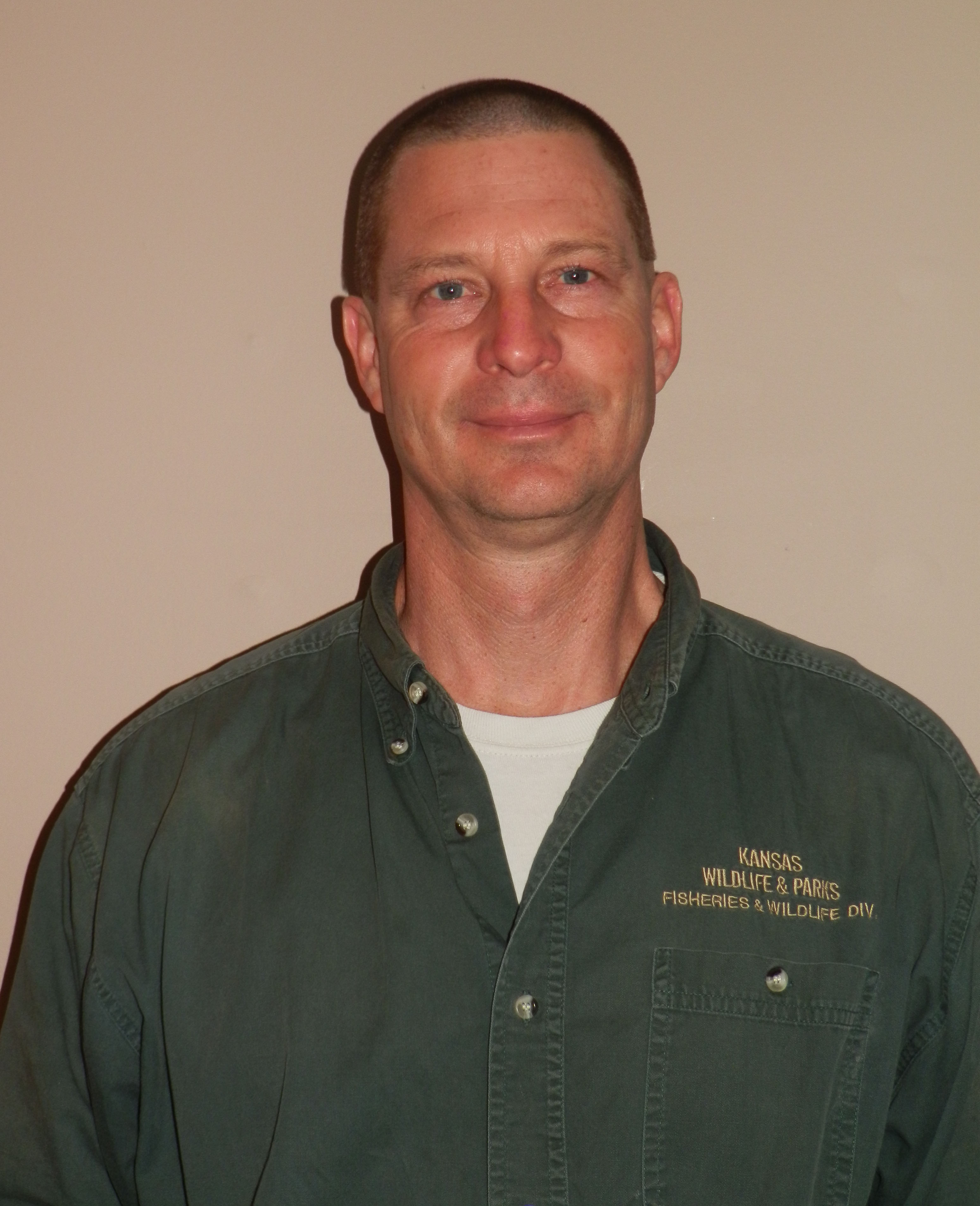 K-State graduation year: May 1990, 2003
Degree: B.S Secondary Education – Biological Sciences, B.S Wildlife Biology
Current employer: Kansas Dept. of Wildlife, Parks & Tourism
Position: District Wildlife Biologist
How many times, if any, did you change your major during college?
I initially started my college course work at Sterling College in Sterling, Kansas while participating on the Men's Basketball Team. After taking various biology courses, I transferred to Kansas State University to pursue a degree in Wildlife Biology, since this specific degree was not offered at Sterling College. After taking several classes in Wildlife Biology, I changed majors to Secondary Education to enhance my opportunity to secure a full-time job upon graduation. I taught Middle School Science and coached football, basketball, and track at Riley County for eight years and then went back to Kansas State to complete my Wildlife Degree in the Spring of 2003.
Describe the process of choosing your major.
I have always had a desire to be involved with wildlife related activities as I enjoy hunting, fishing, and bird taxidermy. I also, enjoy sharing my knowledge of natural resources with others, and that is the primary reason for obtaining my Education Degree. My Educational Degree in the Biological Sciences, set the stage for following up the completion of a Wildlife Degree.
What activities/organizations were you involved in while in college?
KSU Student Chapter of the Wildlife Society

Member of Ducks Unlimited
Did you complete an internship or have related work experience prior to receiving your job?
I had several seasonal positions with Kansas Wildlife & Parks while working on both degrees. I was a summer seasonal worker at Kanopolis State Park for three seasons where most of my time was spent mowing, picking up trash, cleaning restrooms, and selling park permits as well as any other general maintenance that needed attention. In addition, I was a seasonal aide for the Fisheries Biologist at Tuttle Creek State Park for a season and then became a seasonal worker for the Public Lands Manager at Jefferies Energy Center for several seasons. The main responsibilities working for the Public Lands was establishing and maintaining food plots, spraying noxious weeds, planting shrubs, maintaining kiosks areas and parking lots.
Describe the process of finding your first job.
My first formal position upon graduation was acquiring the Middle School Science Instructor position at Riley County. I had multiple interviews with school districts throughout the state and was willing to go anywhere that I could secure a full time position. I was lucky to obtain this position close to Manhattan. After terminating my teaching career, I began interviewing for several Conservation Officer positions with Kansas Wildlife & Parks prior to receiving my Wildlife Degree. This was very significant as it provided a different perspective and array of questions that would benefit me in future wildlife related interviews. In addition, I participated in several Wildlife Biologist Technician positions within the northeast region, which were unsuccessful. However, this provided an opportunity for me to become introduced to some of the wildlife staff that ultimately hired me for my current position as a District Wildlife Biologist in the Kansas City District. I was made aware of the position openings by being involved as a seasonal worker and following the job announcements on the Department's website. One of the keys in obtaining my current position was my persistence to keep interviewing, while learning to improve on my interview skills. However, the most significant element of this process was my seasonal work experiences and my reference mentors that were able to speak highly of my abilities and demeanor.
Briefly describe a typical day at your job.
I don't have a "typical day" at work as my work responsibilities vary seasonally and go in many different directions. As a Wildlife Biologist in a major metropolitan area, a significant amount of time is spent addressing animal damage concerns and general wildlife related questions throughout the year. Landowner site visits for habitat enhancements increase as weather conditions improve in the spring and continue throughout the fall. I'm also involved with various wildlife surveys that need to be completed within a prescribed time frame and under specific environmental conditions. In addition, I also have the opportunity to give multiple wildlife presentations to school groups and these presentations range from elementary classes through college level courses. Another significant component of my work responsibilities centers around hunter recruitment and retention efforts.
What do you enjoy most about your job?
The part that I enjoy most about my job is the flexibility to determine my work schedules and the ability to work with the natural resources of the state on a daily basis. This involves balancing outdoor work with indoor administrative tasks. I also enjoy working with a diverse group of constituents and all the challenges that provides. It is through my people management skills that the resources are actually managed.
What are the most challenging aspects of your job?
Probably the most challenging aspect of my position is trying to actually make significant impacts on improving and enhancing wildlife habitats on a large scale within my fragmented Urban District. It is also very challenging to try and increase private land hunter access programs and provide "quality" hunting opportunities.
What advice would you give someone interested in your field?
My advice that I would offer to anyone interested in becoming a Wildlife Biologist is that they should first enjoy all aspects of our natural resources and not just enter the field "because they like to hunt and fish". This is an important component, but you need to possess a desire to promote the management of the resources through your "people skills". The wild resources get managed through interactions with a diverse public. This is where one will get the opportunity to educate and inform constituents on the various aspects of Wildlife Management. My other advice is to be persistent in obtaining this degree (mostly in reference to the course work) and to establish as many reference/mentors as possible. These will be folks that can vouch for you on behalf of your work ethics and character when it comes time to obtain a full-time position. It is likewise imperative to establish a positive respectful relationship with all supervisors within your seasonal/internship experiences.
What were the stepping stones that led to your current career?
The stepping stones that led to my current position would be my 8 year Middle School teaching and coaching career, as well as my experiences with seasonal work within the Kansas Dept. of Wildlife and Parks. It was within these capacities that I began developing my communication skills with the public while gaining practical wildlife management experience. In addition, I learned how to work both within a "team" framework, as well as individually.
Has your career path taken any unconventional turns that you never would have expected?
I don't consider my career path to have taken any unconventional turns, although my initial desire to become a Wildlife Biologist was diverted towards education for a few years. However, that teaching experience was very instrumental in providing me the skill sets that I currently need as a Private Lands Wildlife Biologist within the Urban Kansas City District. Learning how to interact with students, parents and administration on a professional level, is similar to the attributes I use on daily basis addressing wildlife issue to our constituents.
How have any changes in your life situation affected your career path?
My wife Julie, as always, has been very supportive of anything that I have wanted to pursue and she was very instrumental in helping me make the difficult decision to stop teaching school and go back to K-State to get my Wildlife Degree. She was also willing to quit her teaching position at Blue Valley-Randolph to come to Kansas City and support my wildlife career. We have two great children and we live outside of Basehor, Kansas. I initially tried to obtain positions back around Manhattan and central Kansas, but now that my children are well established with their friends and my wife and I have a wonderful group of church friends, I'm very content and not looking to move geographically at this point. As you become established in a career and start a family, the desire to move to new job opportunities will take on different perspectives, as it's not just a single career decision that affects only one person, but rather a decision that has implications for all the family members. My advice is to take advantage of as many work experiences and travel to various locations while you have the opportunity and are perhaps not obligated to multiple people, other than yourself or your spouse.
What job have you enjoyed the most and why?
I have enjoyed all my career positions and seasonal jobs while I was engaged in them. However, I knew when it was time to stop teaching school and pursue my life-long goal of becoming a Wildlife Biologist. I currently have "best job in the world", in my opinion, and I don't consider what I do "work". I have the opportunity to work with wildlife related issues throughout the week and things change seasonally, so there is always something new to focus on.
What were the major lifestyle changes your first year out of college that made the transition hard from college to the world of work and how did you adapt?
The most challenging aspect of my first year of teaching middle school science was trying to manage my time to prepare for my class work while coaching three sports. It was not uncommon to put in 12 hour days and sometimes even more with late night high school basketball games. Things got a little easier as I gained confidence in what I was teaching and my interactions with the students and parents developed. The same was true for my first couple of years as the District Wildlife Biologist for the Kansas City District. It took time to understand the responsibilities of my position and again I put in long hours that were not compensated financially. I just did what I needed to do to be successful. I also had several mentors who were willing to assist me with both my teaching career and my wildlife management. Therefore, I'm always willing to offer any assistance that I can to anyone interested in either of these fields of work.
What was the one thing you did in college that has had the most impact on your life or career?
The one thing that probably has had the most impact on my career was my involvement with the KSU Chapter of the Wildlife Society and my relationships with my fellow students and my professors. Establishing a network of resource individuals is essential in becoming successful in any career. Working to enhance your people skills and communication capabilities will set you in a favorable position for success within any field of study.
What tips do you have for current undergrads about opportunities they should definitely take advantage of while they are in school?
I would advise current students to become involved in various organizations or groups, such as the KSU Student Chapter of the Wildlife Society. I would also suggest that anyone wanting to become a Wildlife Biologist, should get involved with as many internships or work experiences as possible, in an area of specific interest such as waterfowl, upland birds, or non-game species. This may involve volunteering and giving up of your time to gain valuable work experiences. Decide on an area of interest and get excited about this research and learning opportunities. It would be wise to travel and gain these experiences while you are single and can make decisions that only affect you and not a spouse and children.
Was there a specific class you remember that sparked your interest in your career direction?
I did not have a specific class that sparked my interest in becoming a Wildlife Biologist. This was just something that I have always wanted to do. I did have many challenging and interesting courses that got me to think about various aspects of wildlife management.
Was there a specific person in college who had a significant impact on your life or career?
I did have several instructors who showed a particular interest in my abilities and who were instrumental in helping me achieve my goals. Dr. Brett Sandercock and Dr. Donald Kaufman were two instructors, who went beyond the required efforts to understand my situation and both were more than willing to provide guidance and support whenever I needed it. I still have a great deal of respect and admiration for both of these men, and I'm very thankful for all their dedication to the University and their students.
What didn't college teach you that you wish you would have known before you started your career?
I guess one of the aspects that was not covered in my college courses would be the "people management" side of my job. We were instructed in the biological components of wildlife management, but had very little practice in managing "people." I believe that this just comes with experience, trial, and error. Along with people management, is the political component, where politics often trumps sound wildlife management practices. This is especially true in urban settings where the diversity of the publics is enhanced by the sheer volume of constituents, and their general lack of biological knowledge. It's unfortunate that often times economic influences can drive the biological management of the resources.
Do you keep in touch with your college classmates? How have those relationships influenced your career?
I do try to keep in touch with some of my classmates, but not on a regular basis. Some of my friends have even obtained positions within our Department and that provides opportunities to assist each other on various projects, similar to our days on campus. I'm very thankful for all my experiences and relationships at Kansas State University and I'm proud to be a Wildcat! I'm more than willing to visit with anyone who may have questions about this line of work.
I can be contacted at 913-422-1314 Ext.110 or email at andy.friesen@ksoutdoors.com