Elizabeth Oko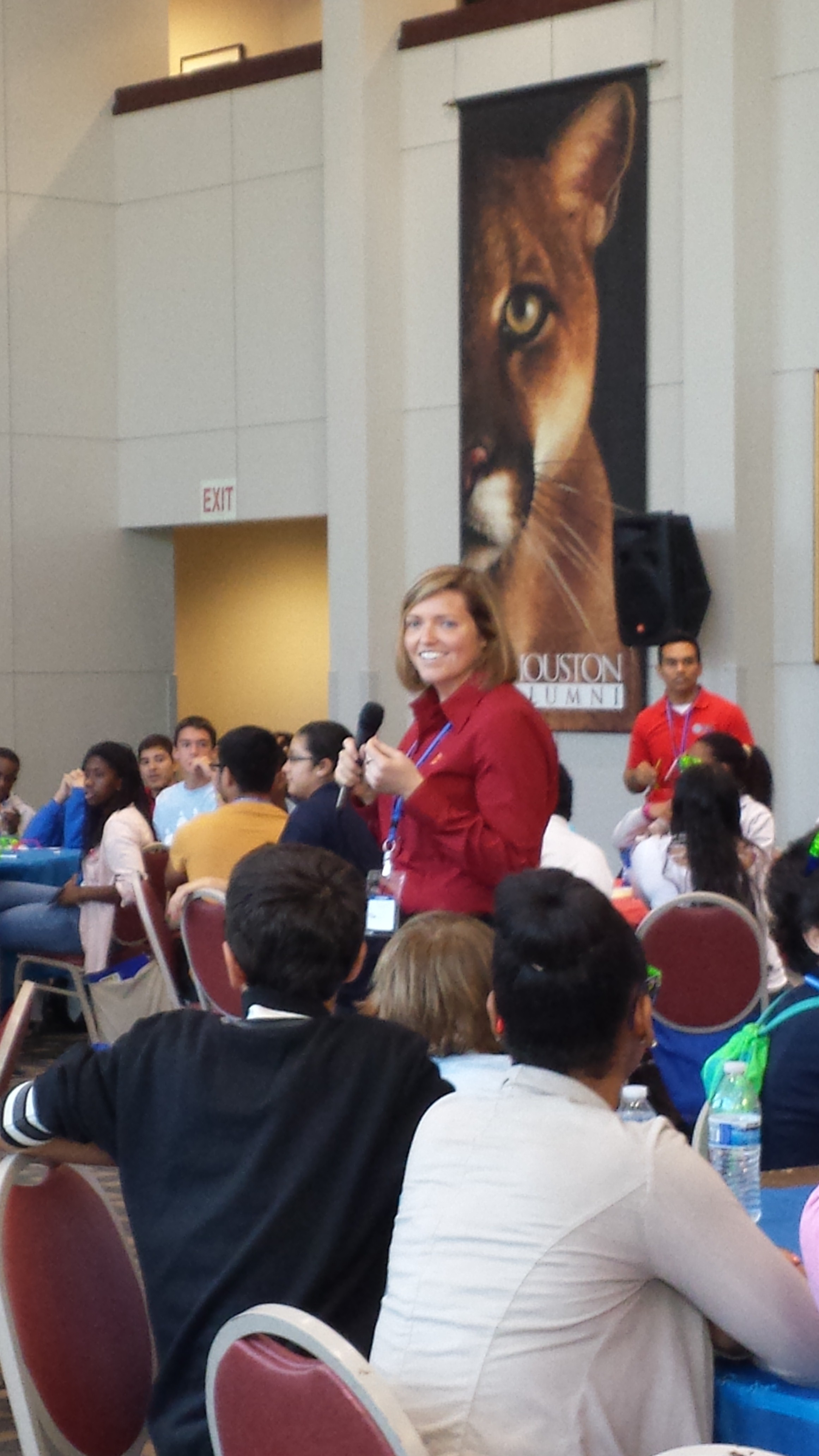 K-State graduation year: May 2006
Degree: Bachelors of Science, Geosciences Southeast Missouri State University 2004
Other degree received: Masters of Science, Geology Kansas State University 2006
Current employer: Shell Oil
Position: Senior Exploration Geologist
Describe the process of choosing your major.
In high school I was tired of Chemistry, so I decided to take Earth Science as any easy way out of Chemistry II. It ended up being the best class I ever took in Science. Geology combines all of the sciences in a practical and artistic way. It was eye opening and I decided at 17 I was going to work in oil and gas as a petroleum geologist.
What activities/organizations were you involved in while in college?
Geoscience Club

Intramural Volleyball

Campus Ministry
Did you complete an internship or have related work experience prior to receiving your job?
During my Masters program I had two internships with Chevron in New Orleans. One was at a geochemistry lab in the Summer of 2004 and my second internship was with a Gulf of Mexico shelf producing asset in the Fall of 2005.
Describe the process of finding your first job.
I applied online to oil and gas companies as I was finishing my Masters Degree. To be a petroleum geologist you need a Masters of Science in Geology/Geophysics. After the initial screening online I then did phone interviews and then did a face to face interview.
Briefly describe a typical day at your job.
I work at Shell Oil in the Gulf of Mexico Exploration team. We work in teams, typically pairing a geologist/geophysicist. I recently was the operations lead for the deepest well in Royal Dutch Shell history (33,838', measured depth below the seafloor). That daily routine involved monitoring the wells progression with a live feed of data from the rig to the office, sending out daily reports to management of progress and constantly updating the geologic model depending on what we found in the well bore.
When I'm not doing operations, I am updating our geologic model with new well or seismic data, suggesting potential drill sites, and suggesting for Shell to invest in potential projects operated by other companies that might make Shell money.
What do you enjoy most about your job?
Working and collaborating with different engineering/science disciplines and making the complete picture. I take bits and pieces of information and observations and I tie them together to make a complete story; which has an immediate impact to the business. Also working in the Gulf of Mexico the environment is very energetic with new data acquisitions and competitor monitoring. It's never a boring day.
What are the most challenging aspects of your job?
The challenges are related to the most enjoyable parts. You are constantly getting new data and ideas. To be able to focus on the most impactful issue is the trick to success in the chaotic world of oil and gas.
What advice would you give someone interested in your field?
There are many STEM (science, technology, engineering and mathematics) programs available. Use those opportunities to see if you would enjoy this type of career. Also find a mentor for any field you want to enter. The mentor will have fantastic advice on how to enter their field and is a great networking contact.
What were the stepping stones that led to your current career?
Taking my Earth Science class in high school is the first thing that put me on this path. Another key was getting an internship in oil and gas. Internships are the first foot in the door.
Has your career path taken any unconventional turns that you never would have expected?
I started off in production geology working heavy oil in Canada. I felt that I needed a bigger challenge and the most complex basin in the world is the Gulf of Mexico. I was a little hesitant leaving my safe bubble but it has paid off handsomely.
How have any changes in your life situation affected your career path?
Luckily working at Shell they have many advantages for working Mom's. I have two children, 2.5 years and 4 years old. Given our work, we have the flexibility to work from home which helps immensely when they get sick. Also at Shell they have a program for an in home nanny service at a discounted rate for sick children, which I use quite frequently. They also have a daycare on sight, which I don't use but I know most working moms use.
What job have you enjoyed the most and why?
The most enjoyable part of my job is making a big impact on the world. I can give advice to enter into a new basin that can add many jobs to the local economy. Drilling wells in the Gulf of Mexico cost on average $200 million. As a petroleum geologist I am the person who advises if we should drill and where we should drill.
Also we have annual lease sales in the Gulf of Mexico, this is the second highest income generator for the U.S. government. Bid levels are quite high, recently Shell bid on a block I recommended for $25 million; unfortunately we lost it as another company bid $85 million.
Being someone who has a key role on these major decisions is somewhat addictive and incredibly empowering.
What were the major lifestyle changes your first year out of college that made the transition hard from college to the world of work and how did you adapt?
The biggest challenge was the schedule. We work 10 hours a day and have every other Friday off. Those are very long days and the weekends and Friday's off allow me to go to finish up things I can't do during the weekdays.
What was the one thing you did in college that has had the most impact on your life or career?
Marinating a high GPA (3.3+) opens almost every door in the industry. The sciences require proven performance, collaboration and having a good GPA makes inroads.
What tips do you have for current undergrads about opportunities they should definitely take advantage of while they are in school?
Have a diverse set of friends. I had my geoscience group, volleyball group and campus ministry group. Having people around you with different views and perspectives will only add to your life and empathy of others. Also make sure to plan for fun time. Nobody wants to study all the time!
Was there a specific class you remember that sparked your interest in your career direction?
In college it was Physical Geology, it only reiterated my love for Geology.
Was there a specific person in college who had a significant impact on your life or career?
My advisor Matt Totten had tremendous impact. He had contacts at Chevron which helped me network to an internship opportunity. Also he has worked in oil and gas previously and had great advice on course work and my Master's Thesis which helped me to be noticed by oil and gas companies.
What didn't college teach you that you wish you would have known before you started your career?
You have to find ways to work with even the most difficult people. In a group project there is always someone who doesn't pull their own weight (yes even in the real world). But what you have to learn in your career is how to get the best out of those people. Shockingly, it is possible!
Do you keep in touch with your college classmates? How have those relationships influenced your career?
I mainly keep up with people on Facebook (career and kids take up most of my time). Recently one of my classmates applied for Shell and received a job. I gave her tips and advice on what to expect in oil and gas. I get to see her every now and then when she comes to Houston for training. I also run into previous classmate and professors at Geology conferences.