Michael A. Herman, Professor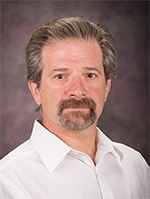 Associate Dean of Academic Affairs and Research, K-State Graduate School
Co-director, Ecological Genomics Institute
Contact information
266 Chalmers Hall
(785) 532-6741
mherman@ksu.edu
Lab website: http://www.ksu.edu/hermanlab
Education
Ph.D. 1991, Massachusetts Institute of Technology. Biology.
Area(s) of Specialization
Developmental Genetics and Ecological Genomics.
Research Focus
There are two very different projects ongoing in the Herman laboratory.
The first concerns the control of cell polarity in developing systems using the nematode, C. elegans as a model. We are studying cell polarity in the free-living soil nematodeCaenorhabditis elegans because it has a small number of cells, all of which can be seen in the light microscope, and is amenable to genetic analysis. The overall goal of this project is to understand how cell polarity is generated and maintained during animal development. Our approach is to identify and study genes involved in the control of cell polarity by identifying mutations that disrupt the polarities of individual cells. Much of our work has focused on the role Wnt signaling pathways play in the control of cell polarity.
The second project is very different and aims to link responses of living systems to environmental change at the genetic level. The question is, which genes are most important for how organisms respond to the environment. Our approach is to implement projects that meld the disciplines of genetics and ecology in the relatively new discipline of Ecological Genomics. The Herman Lab is part of a multidisciplinary group that is investigating the genetic basis for the changes in nematode species composition in response to environmental cues. The long-term goal of this project is to discover which genes are induced or repressed in response to variations in resource availability.
Selected Publications
Darby, B.J., Todd, T.C., Herman, M.A. 2013. High-throughput amplicon sequencing of rRNA genes requires a copy number correction to accurately reflect the effects of management practices on soil nematode community structure. Mol. Ecol., in press.
Coolon, J.D., Jones, K.L., Todd, T.C., Blair, J.M., Herman, M.A. 2013. Long-term nitrogen amendment alters soil bacterial diversity and assemblage in tallgrass prairie. PLoS One, Jun 28;8(6): e67884
Wheeler, D.C., Darby, B.D., Herman, M.A. 2012. Several grassland soil nematodes species are insensitive to RNA-mediated interference. Journal of Nematology, 44:92-101.
Darby, B.J., Jones, K.L., Wheeler, D., and Herman, M.A. 2011. Normalization and centering of array-based heterologous genome hybridization based on divergent control probes. BMC Bioinformatics 12, 183.
Coolon, J.D., Jones, K.L., Carr, B.C., Todd, T.C., Herman, M.A. 2009. C. elegans genomic response to soil bacteria predicts environment-specific genetic effects on life history traits. PLoS Genetics, 5(6): e1000503. doi:10.1371/journal.pgen.1000503.
Herman, M.A, Coolon, J.D., Jones, K.L., Todd, TC. 2009. Ecological Genomics of Nematode Community Interactions: Model and Non-model Approaches. In Evolutionary Biology from Concept to Application II, ed. by Pierre Pontarotti, Springer: Heidelberg, Germany, p. 303-321.(PDF)
Kammenga, J.E., Herman, M.A., Ouberg. N.J., Johnson, L.C., Breitling, R. 2007. Microarray challenges in ecology, TREE., 22, 273-279.(PDF)
View the complete publication list