Anna Larimer, Teaching Assistant Professor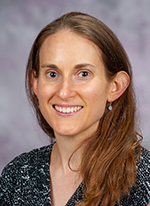 Contact information
213 Ackert Hall
785-532-6633
larimera@ksu.edu
Education
Ph.D. 2012, Indiana University. Ecology, Evolution, and Behavior.
Area(s) of Specialization
Plant community ecology, plant-microbial interactions, symbiosis
Courses
BIOL 198 Principles of Biology
Selected Publications
Larimer, A.L., K. Clay, and J.D. Bever. 2014. Synergism and context dependency of interactions between arbuscular mycorrhizal fungi and rhizobia with a prairie legume. Ecology 95 (4): 1045-1054.

Larimer, A.L., J.D. Bever, and K. Clay. 2012. Consequences of simultaneous interactions of fungal endophytes and arbuscular mycorrhizal fungi with a shared host grass. Oikos 121 (12): 2090-2096.

Larimer, A.L., J.D. Bever, and K. Clay. 2010. The interactive effects of plant microbial symbionts: a review and meta-analysis. Symbiosis 51: 139-148.