Training Youth Water Advocates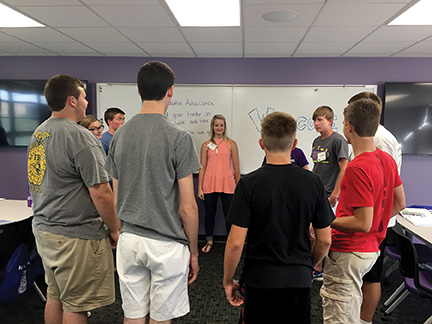 Katelyn Bohnenblust received the 2017 Marjorie J. and Richard L.D. Morse Family and Community Public Policy Scholarship from K-State Libraries.
Bohnenblust, an agricultural education student from Clay Center, will use the $3,000 scholarship to support her work as a mentor and undergraduate assistant for a new program called Training the Next Generation of Kansas Water Advocates, a conservation initiative and conference for Kansas teens.
She helped develop the program, write curriculum, and mentor 11 high school students during their year of service. She also helped secure expert speakers for the Kansas Youth Water Advocates Conference.
The program will teach innovative high school students to embrace and promote water conservation. Long-term, Bohnenblust and program leaders Gaea Hock, assistant professor of agricultural education, and Susan Metzger, assistant secretary of the Kansas Department of Agriculture, hope the initiative results in industry, community, and educational partnerships that will promote water-related careers, thereby securing Kansas' long-term water supply.
"I grew up on a farm, and I'm passionate about preserving our way of life," Bohnenblust said. "In rural Kansas, maintaining irrigated agriculture and livestock production is directly linked to a community's ability to maintain its schools, hospital, and even its future."