A Tale of Two Presidents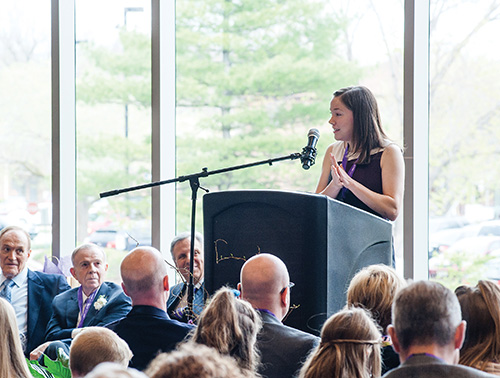 Rylee Bergh likes to keep busy — really busy. In addition to classwork, the food science and industry student serves as president of the Wefald Hall governing board. She was one of the featured speakers at the dedication of K-State's newest residence hall.
"I wanted to get involved with Wefald Hall because I wanted to be involved in a place that affected many different people in many different ways every day," said Bergh.
As president, she presided over weekly meetings with updates from each of the eight floors and helped organize hall-wide events. She also had regular interactions with the hall's namesake.
"I had many long lunches with President Wefald," Bergh said.
He also was the special guest at the hall ping pong tournament.
"I was not intimidated speaking at the dedication because I have a lot of public-speaking experience," said the former 4-H'er from Louisburg, Kansas. "I was more honored that Pres. Wefald wanted me to speak at the dedication side-by-side people he felt were important distinguished individuals."
Other speakers included Pres. Richard Myers, Sen. Pat Roberts, Coach Bill Snyder, and current and former Kansas Board of Regents members Dennis Mullin and Clay Blair.
Bergh's schedule didn't slow down over summer. She worked at the K-State Food Science Lab, Housing and Dining Services, and the USDA Hard Wheat Laboratory.
After graduation, Bergh would like to work in an international company or overseas with a focus on worldwide sustainability and earn a master's degree.
Wefald Hall, next to Marlatt and Goodnow halls, houses 540 students in one- and two-person rooms. It also includes academic spaces for student learning.
The newly constructed Kramer Dining Center services the three halls with multiple dining options seven days a week.