Notes
Maria Martinez, senior in animal sciences and industry from Queens, New York, was chosen to join the K-State Student Alumni Board and was selected for the 2018-2019 class of the Snyder Leadership Legacy Fellows program.
Jayden Meyer, junior in agricultural economics from Athol, is one of 10 U.S. students selected as a Cargill Global Scholar. The program, administered by the Institute of International Education, provides scholarships, leadership seminars, and a Cargill mentor.
The Staley School of Leadership Studies, in partnership with Cargill, selected 20 students as the inaugural cohort of Cargill Fellows. Nine are from the College of Agriculture: Kinzie Alexander, agribusiness, Logan; Sara Gammon, agricultural economics and global food systems leadership, Drexel, Missouri; Jenna Goetzmann, agribusiness and global food systems leadership, Gardner; Katheryn Gregerson, food science and global food systems leadership, Herman, Nebraska; Hector Rojas, animal sciences and industry, South Elgin, Illinois; Noah Scrimsher, agribusiness, Oskaloosa; Ingrid Silva, feed science and management, Kansas City; Mardi Traskowsky, milling science and management and global food systems leadership, Herington; and Clara Wicoff, agricultural economics and global food systems leadership, Iola.
Agricultural Education Club members volunteered more than 50 hours building and painting beehives to help the Kansas Department of Agriculture with a service project for Servicemember Agricultural Vocation Education Farm. Proceeds from hive sales help hire veterans and support the farm.
American Society of Animal Science regional meeting: Roger Cochrane, doctoral student in feed safety, was named a Midwest Young Scholar. K-State students won first place in six of eight research abstract categories. Bachelor's posters – Abbie Smith, Ethan Sylvester, Haley Wecker; Bachelor's oral – Katelyn Thomson; Ph.D. poster – Henrique Cemin; and Ph.D. oral – Mariana Menegat.
Ag Media Summit awards: K-State Agricultural Communicators of Tomorrow (ACT) chapter was named best overall chapter; Jill Seiler, senior in agricultural communications and journalism/animal sciences and industry, earned one of four Agricultural and Applied Economics Association ACT scholarships.
The Midwest Poultry Consortium awarded a 2018 Center of Excellence scholarship to Lindsey Leiser, junior in animal sciences and industry, Burlington. She will study avian health, poultry nutrition, and poultry enterprise management.
Students who earned scholarships through K-State's Office of International Programs to study abroad: Kendra Christman, animal sciences and industry, $250 University Study Abroad Consortium K-State Scholarship for Costa Rica, Kansas City; Savannah Langley, animal sciences and industry, Lansing, $5,000 Goss Discovery Scholarship for Ireland; Molly Roach, animal sciences and industry, Rantoul, $5,000 Goss Discovery Scholarship for Ireland; and Sara Gammon, agricultural economics, Drexel, Missouri, $500 Doris Hays Fenton Memorial Scholarship for Kenya.
Maridee Weber, junior in food science, natural resources and environmental sciences, and global food systems leadership, Shawnee, has been awarded the Blue Key Study Abroad Scholarship. Abbey Nutsch '93, '98, is her advisor.
---
Competition Teams
A team from the Center for Risk Management Education and Research took second place in an intensive four-week competition organized by the Chicago Mercantile and Exchange with 500 teams from 37 countries. The team included seniors Del Adcock (leader), agricultural economics; Nils Bergsten and Trenton Covington, agribusiness; and Kyle Rogers, finance. They took on graduate and undergraduate students in a trading competition played out on a global scale. For second place, each student earned a $1,000.
The combined placing of nine competition teams earned K-State reserve champion in the Sweepstakes Award at the North American Colleges and Teachers of Agriculture, or NACTA, Judging Conference. They placed first in Equine Judging and Precision Agriculture, second in Crops, Soils, Knowledge Bowl, Dairy Judging, Agriculture Sales/Communications, and Computer Applications, and third in Livestock Management. Several students competed on multiple teams.
---
Graduate Students
Larry Corah Outstanding Graduate Student Award winners: Cashley Ahlberg, Longmont, Colorado, is pursuing a Ph.D. in animal breeding and genetics. Her research project is related to water intake and water efficiency in beef cattle. Allie Hobson '15, Hermiston, Oregon, is a graduate teaching assistant pursuing a master's degree in meat science. Her research efforts focus on bacon quality.
Three students earned North American Colleges and Teachers of Agriculture graduate student teaching awards: Doctoral candidates Tiffany Carter '14 and Che-Jen "Jerry" Hsiao and master's student Erin Bush '16. All three taught lab sections of an introductory soil science course under the supervision of Colby Moorberg. Bush also serves as a coach for the soil judging team and helps teach a class in soils judging.
A team of food science graduate students — Yuda Ou, Priyamvada Thorakkattu, and Karthik Sajith Babu — earned the $8,000 first prize at the National Dairy Council's annual New Product Competition. They created two flavors of Quick-Quark a creamy, German-style drinkable quark (unripened cheese) packaged in a flexible, spouted pouch. The students worked together on formulation, processing, packaging, pricing, and marketing. Associate professors Jayendra Amamcharla and Kelly Getty mentor the team.
Ashley Kelly and Andres Leon-Reyes, park management and conservation graduate students, earned two of three Freeman Tilden Graduate Student scholarships from the National Association for Interpretation at the organization's annual conference in Dallas, Texas.
Stuart Sprague, doctoral student in horticulture, received statewide recognition at the 15th Capitol Graduate Research Summit at the State Capitol in Topeka. His research focuses on increasing heat tolerance in corn. His adviser is Sunghun Park, associate professor of horticulture and natural resources.
Danny Unruh '12, '18, was named the National Beef Packing Company's 2018 Outstanding Food Science Graduate Student. He recently completed his Ph.D. at the Olathe campus focusing on food safety research and food safety policy. He accepted a position in the meat safety and quality group at Corbion in Lenexa, an international provider of ingredients and processing aids to the food industry.
---
2018 Richard Elmore Brown Outstanding College of Agriculture Graduate Student Teaching awards:
Braden Hoch '15, horticulture master's student advised by Associate Professor Chad Miller and Professor Jason Griffin; Tiffany Carter '14, agronomy doctoral candidate advised by University Distinguished Professor Chuck Rice.
---
It's a three-peat!
K-State's Meat Animal Evaluation Team earned national champion honors for the third consecutive year at the 2018 Collegiate Meat Animal Evaluation Contest in Lubbock, Texas.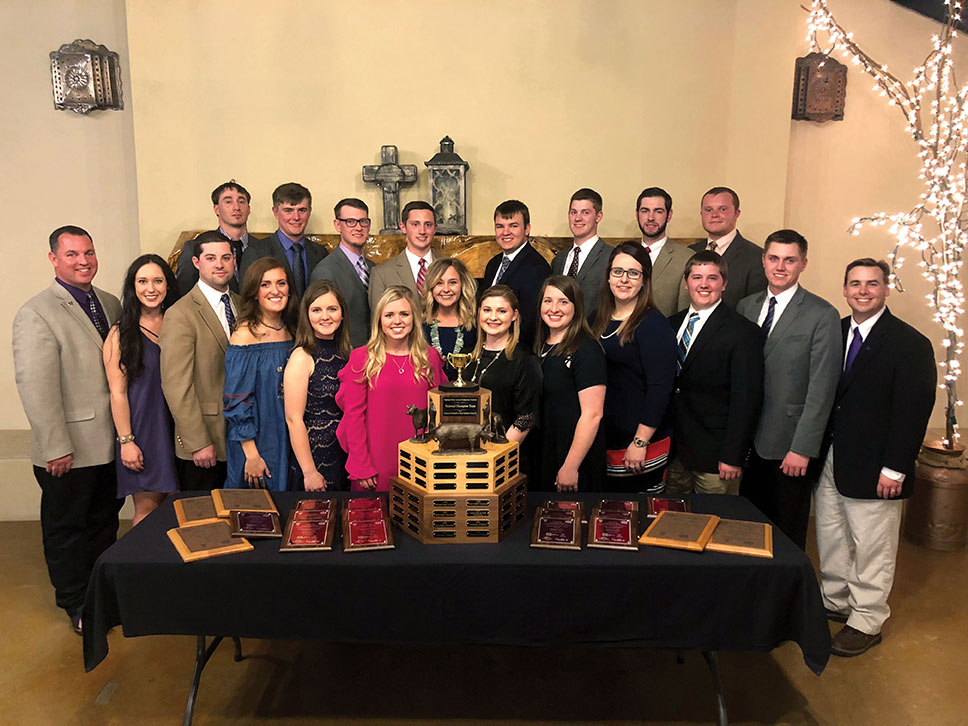 Team members: (front row, l-r) Chris Mullinix, coach; Lauren Prill, assistant coach; Wyatt Durst, Morrowville, Kansas; Shayne Myers, Colusa, California; Cara Comstock, Deerfield, Missouri; Whitney Whitaker, Templeton, California; Hannah Frobose, Pemberville, Ohio; Nicole Kibler, Edinburg, Virginia; Emilee Holt, Caldwell, Idaho; Rachel Footit, Meriden, Connecticut; Jake Pettigrew, Columbia City, Indiana; Cody LaFrentz, Bienfait, Saskatchewan, Canada; and Travis O'Quinn, coach; (back row, l-r) Kolton Aubuchon, Trinidad, Colorado; Dean Klahr, Holton, Kansas; Cameron Hayden, Cassopolis, Michigan; Payton Dahmer, Nevada, Missouri; Trevor DeHaan, Taylor, Missouri; Shilo Schaake, Westmoreland, Kansas; Cody Boden, Clear Brook, Virginia; and Lucas Tuck, Bowling Green, Ohio.