Test driving a career
College promotes internships to help students find their chosen field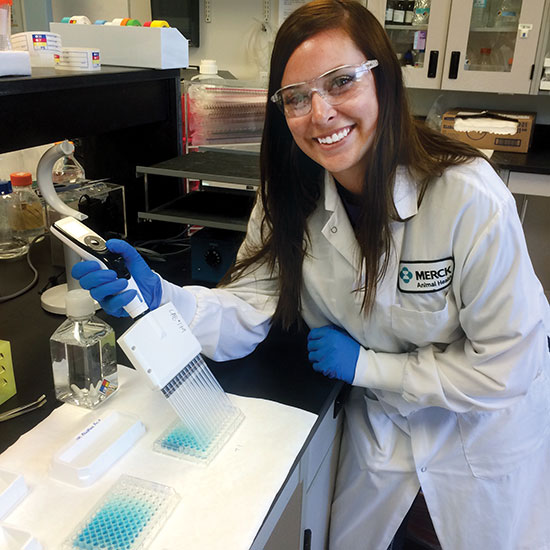 Students use summers, winter and spring breaks, and sometimes an entire semester to gain real-world experience in their chosen career fields. Opportunities and requirements for internships vary among departments. Not all majors require students to participate in an internship, but advisors in all departments highly recommend them.
Faculty advisors see internships as a win-win situation for both the employer and the intern. According to Greg Davis '79, '88, '93, associate professor of landscape design, "Employers evaluate the intern continuously and can gauge whether the student could be a good fit for a career in the operation."
"Students gain confidence and develop clarity in their own career path and goals," said Karol Fike, associate professor and internship/career coordinator for the Department of Animal Sciences and Industry. "Sometimes the internship solidifies their plans and sometimes it causes them to re-evaluate their career goals. Either way they gain real-world work experience, which earns them credibility with future potential employers and helps them clarify their career path."
Cherie Hodgson, undergraduate program coordinator for the Department of Agricultural Economics, added, "Probably the biggest plus is that 80 percent of internships lead to job offers for our students."
Agricultural economics students jump into a wide variety of internships: the banking industry, Farm Credit, K-State Research and Extension, local area co-ops and elevators, feedlots, commodity brokers, state and national government agencies, plus the finance, accounting, marketing, management, and human resources divisions of large companies and corporations.
Career fairs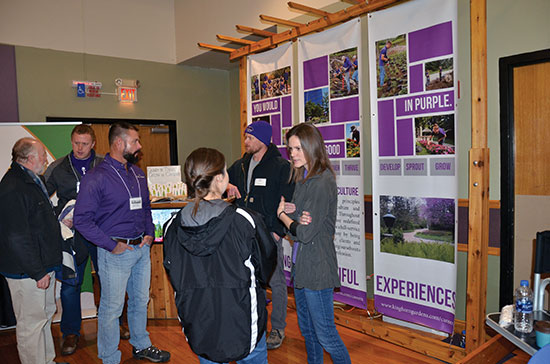 Talking with company representatives at a career event is a popular way for students to find an internship or job. The K-State Career Center hosts the All-University Career Fair in September and the Agri-Industry Career Fair in January. Despite single-digit temperatures, the Jan. 30 event brought 94 employers to campus with 272 students attending,
"K-State's Agri-Industry Career Fair started in January 2007," said Mary Ann Barkley, Career Center assistant director. "From its beginning, the fair has been an important way for students and employers in the ag industry to connect in person.
At the fair, students have the opportunity to learn about a diverse array of agriculture-related jobs and internships as well as ask questions about what a career in the industry or with a particular organization is like. A large number of alumni attend to represent their companies and connect with current students."
Most departments require students to take an orientation class early in their college career. In addition to its orientation class, animal sciences and industry offers a career preparedness class for juniors and seniors. Barkley often speaks to those classes about preparing an internship portfolio, updating résumés and writing cover letters. She also critiques portfolios and offers mock interviews.
Campus visits
Because it's the only department in the U.S. that offers degrees in milling science, feed science and bakery science and management, K-State's Department of Grain Science and Industry frequently receives requests from companies when they are looking for interns. The companies schedule student interviews in Shellenberger Hall.
"Twenty-five companies held on-campus interviews last fall," said Brenda Heptig, the department's academic programs support coordinator. "We don't have as many during the spring semester because most students have already accepted a summer internship by that time."
The department requires all majors to do two to three internships. Freshman orientation class helps prepare students for the interview process and what to expect while on the job. Some organizations offer international experience. For example, the Swiss Milling School offers a semester-long internship in Switzerland.
Encouraging participation
"All horticulture and natural resources students are required to have at least a summer internship," said Cathie Lavis '93, '05, professor and extension specialist in landscape management. "Some will do six months, and most of these come with a nice scholarship at the end. Our golf and sports turf students do two internships, which allows them to get both a clubhouse, inside experience and an outside experience."
Lavis posts a weekly newsletter for students in the Department of Horticulture and Natural Resources with upcoming events, announcements and opportunities for scholarships, internships and employment called The Week in Preview. Other departments use listservs, alumni networks and Facebook to alert students about upcoming opportunities. Most departments require students to take an orientation class early in their college career.
Agricultural economics lists internships as an important college experience in its undergraduate recruitment brochure. "We talk about internship opportunities and benefits with all prospective students," said Cherie Hodgson.
"In our Freshmen Orientation class (AGECC 105) we have upper-class students present programs about their internship experiences. In this class, students are also introduced to the Career Center and their services by completing a tour of their facility."
About 25 percent of agricultural technology management students complete internships. John Slocombe '77, professor of biological and agricultural engineering and coordinator of the ATM program, talks with students at enrollment and throughout the year about participating in quality internships.
"I meet with students during dead week of the spring semester and present the internship course requirements, said Slocombe. "Students provide an information-and-contact sheet, description, objectives and a monthly journal of activities. Students are evaluated twice by their direct supervisor. We ask all students to present their internship to the ATM Club and, in some cases, faculty and our freshman-orientation course."
Clubs and organizations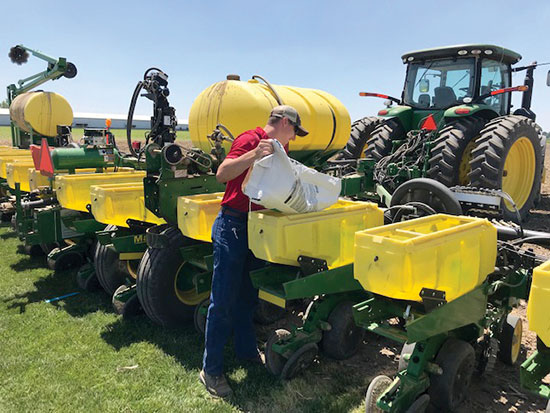 The college offers more than 35 clubs and organizations. Club meetings provide the perfect opportunity to discuss the importance of internships and allow students to give presentations about their specific experiences.
Assistant Professor Katherine Burke '10, '15, advises the Agricultural Communicators of Tomorrow Club. At an ACT meeting, a four-member panel from commodity groups discussed career fair preparation with students.
Members of the Wheat State Agronomy Club attend professional meetings, where they make presentations and compete in contests, said Kim Hay '12, '14, agronomy instructor and academic coordinator.
"It expands their network and allows them to interact with potential employers and students and faculty from universities across the country. The experience helps with professional development and improves their communications skills, which in turn helps them in their internships.
"Five of the six options in the agronomy program require an internship, so the majority (95 percent or more) of our students complete at least one internship," added Hay.
College credit
To qualify for credit toward a degree, internships must meet specific criteria. For example, agricultural communications and journalism majors must choose an internship where 50 percent or more of their work duties relate to communications such as editing, writing, social media, marketing or event planning.
Jason Ellis '98, head of the Department of Communications and Agricultural Education, teaches Careers in Agricultural Communications that deals with professionalism, cover letters, résumés and ethics in the workplace.
Agricultural education majors often complete a "traditional" summer internship with K-State Research and Extension, a business or industry; however, they are required to participate in a 12-credit-hour, student-teaching block.