The Search for the Perfect Meal
K-State program seeks quality nutrition for companion animals
One food for the day. That's all you get, and that food has to contain all your nutrients, vitamins, minerals, protein, carbohydrates, and healthy fats — everything.
For many companion animals, that's typically what they get. The family dog gets a bowl of food and maybe a few small treats throughout the day. Kansas State University's Pet Food Program is looking to make the next meal better than the last.
"The purpose of our laboratory is to evaluate the process effects on manufacturing pet food, as it relates to safety, nutrition, and shelf life," said Greg Aldrich, research associate professor and the Pet Food Program coordinator in the Department of Grain Science and Industry.
A growing industry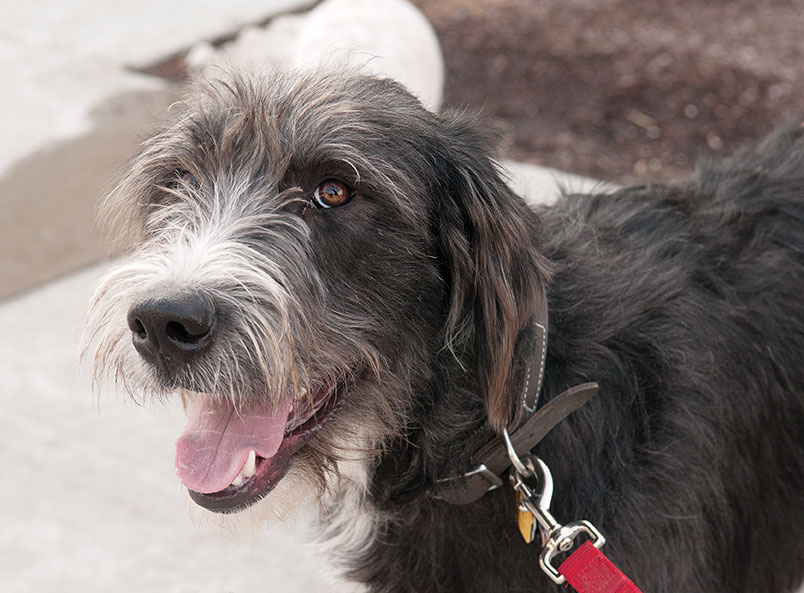 The program began in 2011 as a way of reaching into different areas. "In regard to feed manufacturing, the companion animal foods area is very, very popular — it's growing significantly," Aldrich said. "I started by teaching one class every couple of years, and that evolved into a part-time faculty position. Just this last year, we made it official: It's a full-time program housed within grain science as part of the feed science and management group."
This parallels Kansas' former "niche industry" of pet food, which is on the verge of exploding into serious trade (see sidebar). In 2017, Tuffy's Pet Foods, based in Perham, Minnesota, made an investment to create the Tuffy's Pet Foods Leadership Fund for Faculty and Program Development in Pet Food Science in the department.
The pet food project focuses on understanding what happens in the process of formulating, manufacturing, and packaging pet food.
One process involves extrusion, in which a set mixture of ingredients is forced through a plate or die, and then cut into pieces of a set size. Making corn curls would be a good human food example: the mixed flour dough is forced through an extruder, which produces a long ribbon. Then it's cut into small pieces, resulting in a curl or puff. Same thing happens for dog and cat kibbles.
"Something like 70 percent of pet food is extruded," Aldrich said. "So, we're looking at ways that we can adjust the ingredient mix and extrusion process, to make sure that we're fortifying the diets properly. For example, we're trying to minimize vitamin degradation, or conversely, we're evaluating things like resistant starch as an alternative fiber in the pet's diet.
Pet food is a complete nutritional package — 100 percent of their daily requirements in one bowl. "It's a lot like infant formula," Aldrich said, "so we have an extra responsibility to make sure we get it right."
Nutritional needs
Digging even deeper, concerns over specific vitamins, nutrients, and minerals must also be addressed.
"We could add certain types of minerals into a canned food that may accelerate the degradation of the vitamins, so we have to be cautious of the type of trace mineral pre-mix that we're adding," Aldrich said. "They need to be protected properly so they don't interact with the vitamins — especially things like B vitamins — and degrade them before they get to the animal."
Student involvement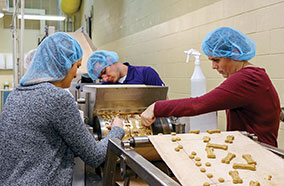 Virtually all research projects are conducted at K-State with student involvement, and the Pet Food Program employs a dozen or more students. Some are working on graduate degrees, and some are undergraduates. "They're conducting that research," Aldrich said. "They're the ones who are actually doing the work, and I'm providing the direction and guidance to them."
One of those students is Spencer Smith, from Overland Park. Smith is completing a master's degree in grain science. She chose K-State because she wanted a career with animals and was impressed by what the College of Agriculture had to offer.
"This is an opportunity to gain hands-on experience with animals and their food, instead of just learning about it in a classroom," she said. "My research has mostly been on the use of plant-based proteins in companion-animal foods, so I have done some work with protein quality, digestibility, and food production."
Smith said after completing her work at K-State, her career goal is a job developing new products with a pet food company. "I think this is going to open a lot of doors for me because I'm really getting to experience all aspects of food from formulation to production, to feeding it, and seeing how animals respond to it."