Fifty Years of Living the Dream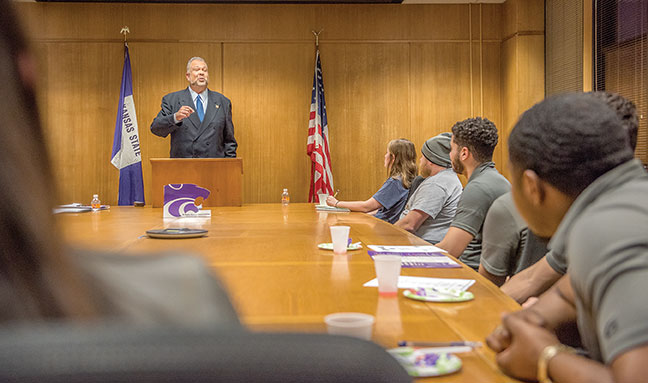 On January 22, the College of Agriculture hosted the 14th annual Diversity Student Leader Reception. This year's theme, Fifty Years of Living the Dream, commemorated the 50th anniversary of Dr. Martin Luther King Jr.'s 1968 speech at K-State.
Students in K-State's Minorities in Agriculture, Natural Resources, and Related Sciences (MANRRS) Chapter hosted the event.
Kevin Burnett, chief operating officer of Richardson Plano Guide Right Foundation in Texas, was the guest speaker.
Burnett, a Kansas native, earned bachelor's degrees in business administration and political science from K-State in 1979. He held leadership positions in Blue Key, the Union Governing Board, Student Government, Kappa Alpha Psi Fraternity and was a member of Alpha Kappa Psi.
"Mr. Burnett talked about how Martin Luther King Jr. motivated him to pursue his degree and become involved," said Lonnie Hobbs Jr., agricultural economics graduate student who introduced Burnett. "He also shared how he and his peers faced diversity issues as students at K-State."
Burnett spent more than 30 years working for the telecommunication industry. In semiretirement, he coaches football and girls' basketball at the Shelton School.
Hobbs especially liked the basketball analogy Burnett used to describe when and how to lead. "In basketball everyone wants to shoot, but leaders are willing to pass."
Hobbs participated in the 2017 K-State Research and Extension Multicultural Summer Research Fellowship. He is now a graduate assistant working with Aleksan Shanoyan, assistant professor of agricultural economics. Hobbs and Zelia Wiley, assistant dean for diversity, are co-advisors for MANRRS.
Makinsey McIntosh, MANRRS president, Melissa Riley, and Hector Rojas, all animal sciences and industry majors, and Jordan Bailey, general agriculture, also spoke at the reception.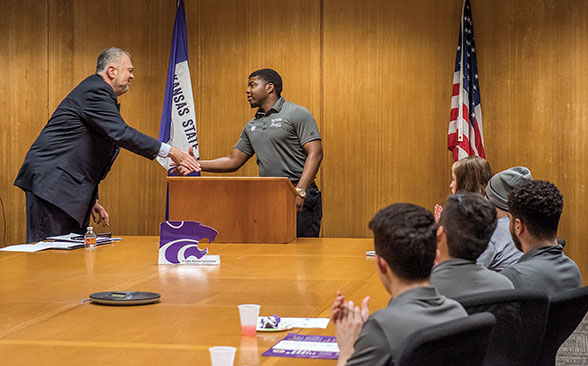 For the fourth year in a row, K-State earned the Higher Education Excellence in Diversity Award from INSIGHT into Diversity magazine. K-State was the only higher education institution in Kansas recognized for demonstrating an outstanding commitment to diversity and inclusion.