Data Driven
As a freshman working with the K-State swine nutrition group, Cassandra "Cassie" Jones had no idea how that experience would shape her career and the future of hundreds of students. As undergraduate research coordinator for the Department of Animal Sciences and Industry, Jones helps pair the research interests of students with faculty mentors.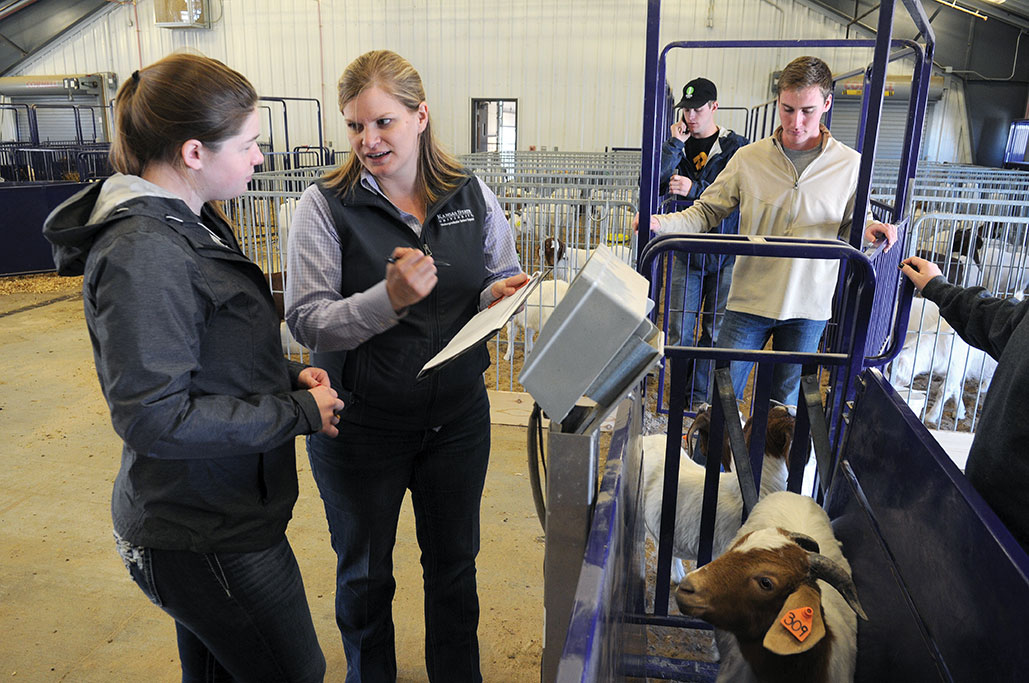 After earning bachelor's and master's degrees at K-State and a Ph.D. in swine nutrition at Iowa State University, Jones returned to K-State in 2012 as assistant professor of feed technology in the Department of Grain Science and Industry. When the coordinator position was created in 2016, she welcomed the challenge.
Jones describes undergraduate research as an opportunity to perform in-depth study, gain transferable skills, develop critical thinking and problem-solving abilities, define academic and professional interests, and form relationships with other students, mentors, and professors.
"Students work with faculty and graduate student mentors on a project that is rewarding and helps them prepare for their next goals," Jones said.
"The College of Agriculture promotes undergraduate research because it helps students understand the value and constraints of data," said John Floros, dean of the College of Agriculture and director of K-State Research and Extension.
"Whether they go on to graduate school, return to the ranch, or venture into industry, these students will use data every day to make decisions.Overall, research experience will make them more productive scientists and more successful professionals."
Strong interest
Jones surveyed freshmen enrolled in animal sciences and food science about their interest in undergraduate research — 78 percent expressed strong interest.
To address the growing need for research projects, she created a database with students' interests and faculty mentors. Jones compares the student's time commitment, calendar, and project scope to find a compatible mentor.
She teaches Undergraduate Research in Animal Science and Undergraduate Research in Food Science classes.
This semester's animal science project compares substitution of distillers grains for another ingredient in sheep and goat feed and its effects on the animal's growth. Projects in the food science course vary by student.
Whether the undergraduate student shadowed a graduate student, helped collect data, or was in charge of the project, he or she is required to create a poster that demonstrates knowledge of the research and its results.
Students can present their posters at department, college, and university poster sessions. Some are chosen to exhibit their posters at national and international professional conferences.
Additional resources
Conducting the research, creating posters, and attending conferences require faculty time and financial resources. To help cover department research expenses, Mark and Kim Young recently established the Dr. Mark and Kim Young Undergraduate Research Fund through an endowed gift.
"It is the generosity and foresight of people like the Youngs that help us improve the educational experience of our students and facilitate their scholarly and professional success," said Dean Floros.
For Mark Young, undergraduate research contributed major benefits to his career — during and after college. As a student, he worked with Professor Keith Bolsen.
"I learned a tremendous amount from assisting in conducting research with Dr. Bolsen's group, and that morphed into an opportunity to attend grad school, which changed everything for me," Mark said.
"Receiving my bachelor's, master's, and doctorate from Kansas State University has allowed me to pursue my dreams and become the president and owner of a successful feed additive business."
According to Jones, the fund will be used for supplies to support undergraduate research projects, to fund travel to scientific meetings, and for awards at the department's Undergraduate Research Forum each semester.
At the fall forum, the top five students received $1,000 scholarships based on their scientific abstract, poster, and data presentation. Winners were: Gage Nichols, Russell; Madison Smith, Hutchison; Alexis Pedrow, Richmond; and Katelyn Thomson, Riley. The People's Choice Award was presented to Carrie Cromer, Churchville, Virginia.
"I hope the undergrad research program allows the students to have a more well-rounded education — teaching them that research is important and is part of a real-life decision-making process," Mark said. "The opportunities given to me by K-State have truly changed my life. The connections I made at K-State have helped forward my career as well."
Project example
Gage Nichols, senior in animal sciences and industry who plans to pursue a master's degree in feed science, chose to do his research project on the effects of medium-chain fatty acids on broiler growth performance with Chad Paulk, assistant professor of Grain Science and Industry.
"I chose to get involved with undergraduate research as I look toward a future in graduate school and a career in animal nutrition," Gage said. "Research allows me to hone the skills required when conducting research and to learn how to effectively manage and analyze data."
He credits learning to design projects and how to look for novel ideas for future projects as the most important thing he learned.
"It will allow me to hit the ground running when I transition to grad school. I will be able to plan and design research with little to no learning time."
Nichols added: "Regardless of future career plans, I would encourage all students to consider undergraduate research. Being able to understand research results allows everyone to make decisions that can affect the profitability and performance within any career plan they choose based on facts not feelings."