Giving Back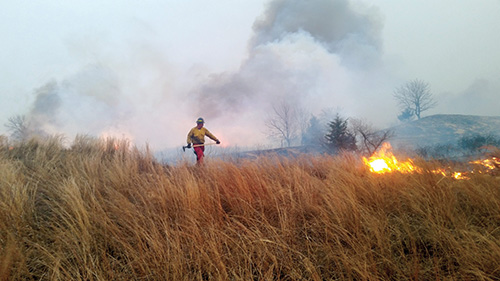 On March 8, wildfires raged across the Oklahoma–Kansas border, burning nearly 660,000 acres, destroying more than 30 homes, and killing thousands of cattle. Clark, Comanche, and Meade counties were hit the hardest.
Truckloads of hay for surviving livestock, milk replacer for calves without mothers, food, clothing, fencing materials, and people willing to help poured into the area. As resilient residents struggled to save injured animals and evaluated losses, help came from near and far, including the Kansas State University campus.
The Sigma Alpha chapter decided they wanted to help. "As a professional agriculture sorority, we found it extremely important to give back to the agricultural community that has provided for us for so long," said Celine Beggs, senior in agricultural communications and journalism and agricultural economics.
They initiated a T-shirt campaign with all proceeds from the $20 "Praying for the Plains" T-shirts going to families affected by the fire. Their original goal was to sell 150 shirts. Within two days, they had nearly hit that target.
Beggs was president at the time and Topanga McBride, senior in agricultural communications and journalism and agricultural economics, is the current president. Sydney Bigger, senior in animal sciences and industry, served as fundraising chair and spearheaded the T-shirt campaign.
"We were truly stunned by the support from our classmates throughout the College of Ag and at K-State," said Beggs. "We started selling T-shirts expecting our family and close friends to purchase or donate money. Little did we know that by sharing our message from the Sigma Alpha Facebook page that we would have such a great response.
"The link was shared by so many people that our content was spread across the United States, and T-shirts were ordered from coast to coast. We wouldn't have been able to do this without our College of Agriculture family and their ability to share the fundraiser to their networks!"
Messages poured in from College of Agriculture students who had seen the shirts at a Jackpot Show in Illinois, the Colorado State University campus, the National Junior Angus Show in Des Moines, Iowa, and many others.
The final T-shirt count was 1,595. The sorority received a thank you note from Matt Teagarden (B.S. '91 agricultural economics), secretary/treasurer of the Kansas Livestock Foundation.
"Thank you for your donation of $20,111.14 received on April 18, 2017, by the Kansas Livestock Foundation (KLF) for the benefit of victims of the wildfires in Kansas. Every dollar received by KLF will be distributed to farmers and ranchers impacted by the fires."
For additional fire-related stories and videos, click here.