Supporting Growth
K-State dairy program boosts industry progress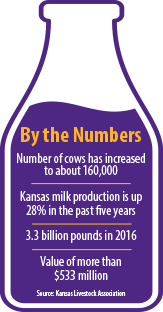 As Mike Brouk drives up to the Hildebrand Farms Dairy in Junction City, he's greeted by a familiar face.
Operations manager Melissa Hildebrand-Reed is keenly aware of how valuable Brouk, a K-State dairy specialist, is to the family business, which has operated since 1930 and currently provides milk to 120 stores in Kansas.
"Our family has always relied on the information we get from K-State," said Hildebrand-Reed, a 2007 agricultural communications and journalism graduate.
For the past 15 years, Brouk has advised Hildebrand Farms Dairy on feed rations for the 150-cow herd, symbolizing a time-tested and valued relationship between the university's dairy faculty and the state's nearly 300 dairy farms.
Brouk noted that over the past 20 years, the university has directly or indirectly helped develop innovations in the dairy industry such as soaker lines and ventilation systems to combat heat stress, diet formulations and pen designs.
The program's research focuses mostly on reproductive management, nutrition and heat stress. Brouk also spent most of a sabbatical year looking at the pros and cons of robotic milking.
"We've got lots of examples of where we've worked with the industry in Kansas and the United States to solve problems and get those solutions out to dairy producers," he said.
Dairy in Kansas
The university's work is one reason the state's dairy industry has seen steady growth over the last two decades.
Barry Bradford, professor of animal sciences and industry who specializes in dairy nutrition, said the university's dairy, north of the main campus, is a key component to the assistance K-State gives to the state's dairy industry.
The university's dairy is considered the most productive university dairy in the country, reporting a rolling herd-average milk production of 31,390 pounds in 2018.
According to the Dairy Records Management System, that places K-State's dairy in the top 20 of commercial herds tracked by that organization. No other university dairy is in that range.
The DRMS tracks data only for U.S. dairies listed in the Dairy Herd Improvement Association, which includes 10,323 herds and 2.85 million cows.
"It certainly gives us some credibility when we talk to dairy producers in our state," Bradford said. "I think we do have a strength in terms of identifying little things that influence cow comfort and cow health and productivity. We share that information regularly."
Bradford noted that about 300 undergraduate students take some coursework through the K-State dairy program each year; many of them also work at the dairy.
For some of the students — such as pre-vet students whose primary experience is with companion animals — the dairy often is their first on-farm experience.
Looking to the future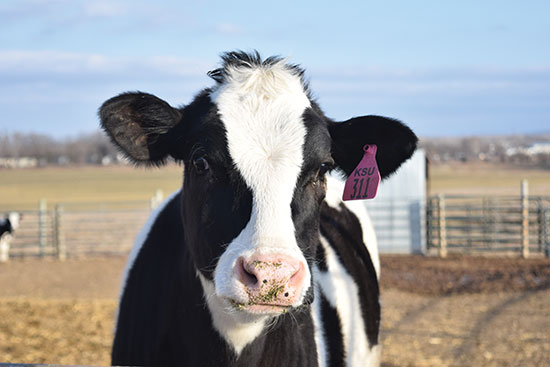 The K-State dairy, however, is 40 years old and showing signs of aging. Bradford is among those looking at ways to secure future funding to update the facility so it could eventually be used not only as a full-scale dairy, but also as a teaching facility for short courses and other educational opportunities.
Dairy extension specialist Luis Mendonca provides information and training to the state's producers in Spanish and English. He also leads an internship program for students who want to work in dairy.
"We have labor issues in agriculture, so we are trying to engage students and motivate them to get involved in the dairy business," Mendonca said.
The university's program, called Dairy Leaders of the Future, is in its second year. Mendonca said students typically tour dairies in western Kansas, and are encouraged to take internships at larger, family-operated dairies.
"It's trying to connect what's happening at large dairies in western Kansas and the students here at K-State," Mendonca said. "We are trying to bridge the two and facilitate discussions, and hopefully we can have some superstar students working at dairies in western Kansas."
More information on the program is available at dairyleaders.com.
K-State has also established the Dairy Records Intelligence Network — drinkdairy.com — which establishes benchmarks allowing producers to compare their production and reproduction records.
Mendonca said 107,000 cows in Kansas and Nebraska are currently enrolled in the program.
Bradford noted that the K-State dairy program has solid relationships with the Kansas Livestock Association, Kansas Dairy Association and the Kansas Department of Agriculture among others.
And, as Hildebrand-Reed well knows, producers appreciate the one-on-one assistance that has become commonplace in Kansas.
"We thrive because K-State is in our backyard," she said. "No doubt about that."