SAVE FARM - "Today's soliders; tomorrow's farmers"
Organization trains veterans for careers in agriculture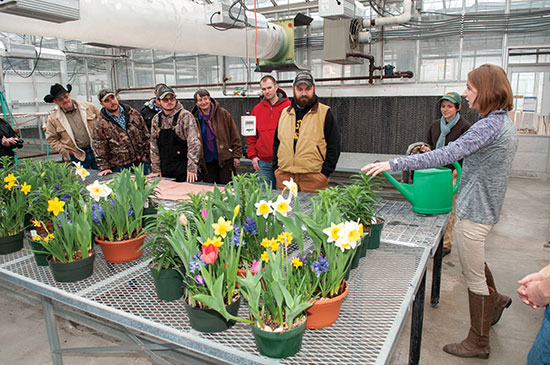 Candice Shoemaker, a professor in the Department of Horticulture and Natural Resources, saw how a new idea might work during a harvest tour with military veterans last year.
"The host farmer had this late-model combine with all the latest precision agriculture technology on board — computerized controls, automatic steering, and GIS (geographic information systems). One soldier asked if he could have a seat at the controls," Shoemaker said. "Maybe half an hour later, this soldier had figured everything out and was driving it through the field. He ended up harvesting several rows all by himself!"
Shoemaker '82 is one of several K-State professionals working with SAVE — Servicemembers Agricultural Vocational Education. The nonprofit organization aims to guide transitioning members of the U.S. military from the battlefields to the crop fields. One of the initial steps is a farm tour to expose military personnel to their options in agriculture.
SAVE and K-State are working toward mutually beneficial results. Shoemaker noted more than half of all farmers are 60 or older, and many of their children and grandchildren would rather not carry on the family farm.
"At the same time," she said, "we have this growing population of highly skilled soldiers, sailors and airmen transitioning out of the military. They've served our nation and are looking for their next career."
Through hands-on training and internships, SAVE can help farmers and ranchers pass on their operations to disciplined, skilled men and women with some unique advantages.
Shoemaker stresses that it doesn't take 1,000 acres to yield these benefits. Smaller farms, often situated closer to urban areas, provide a comfortable fit.
"Reports from recent SAVE farm tours show veterans respond more positively to smaller, diversified operations," Shoemaker said. "Adjacent urban areas also increase the likelihood that veteran families are close to military bases, where they can take advantage of Veterans Administration hospitals, commissaries and post exchanges."
SAVE is beginning to gain attention at the national level as a potential model for partnership between a nonprofit and a land-grant university. "The USDA really wants K-State to be the leader in figuring this out and introducing this to other land grants around the country," Shoemaker said.
K-State Research and Extension agents are crucial connecting points, because they have close working relationships with local farmers and ranchers. "In fact, we have more requests for SAVE trainees and interns than we can fill," Shoemaker said.