Please note: This story has been updated. The open house, which had been scheduled for June 4, has been postponed due to the wet weather, which has delayed planting at the center. When normal operations resume, the open house will be rescheduled.
Research center stays open, adds industrial hemp test plot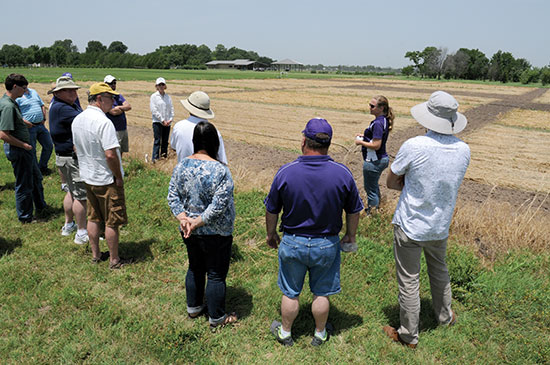 The John C. Pair Horticulture Center in Haysville remains open for extension-outreach and research after being slated for closure.
Following feedback from stakeholders, a Kansas State University task force proposed a number of ideas to broaden and modify the scope of work, while simultaneously improving operational efficiencies at the center. One proposed change included making it Kansas' primary site for industrial hemp research.
"It's not one, two or even three things — it's several small steps that will lead to a new, sustainable future," said Cheryl Boyer, K-State associate professor and extension specialist for nursery crops. "It's a lot of work, but we are up to the task."
Staff members are making plans for a field day and tour of the center.
"This will be the public's opportunity to experience firsthand the research being conducted at the Pair Center and see how it connects to our everyday lives," said Sedgwick County horticulture agent Matthew McKernan '15.
"Whether you are purchasing a bag of local grass seed or buying a new tree from a local garden center or nursery, it is the research conducted at the Pair Center that helps our local horticulture industry provide you with plants that are best adapted to our local growing conditions," he said.
For now, seed buyers, nursery owners and fans of the Pair Center's nationally known organic sweet potato slips can count on service continuing and expanding.
Yet for those involved in efforts to keep the center open, the time for celebration still has not arrived.
"We've been given a Band-Aid for the short term," Boyer said. "But we still need to arrive at solutions for the medium- and long term."
The center opened in 1970 as the K-State Horticulture Research Center with a focus on research and extension activities related to woody ornamental crop production and utilization. It was renamed for John Pair '61, center director, in 1998.
In addition to woody ornamentals, research crops at the center have included grapes, peaches, strawberries, asparagus, sweet potatoes, pumpkins and tomatoes. The center currently evaluates trees, shrubs, flowers, turfgrass and bulbs.
Tumultuous 2018
Last June, the College of Agriculture announced the center, as well as the Pecan Experimental Field, an 80-acre stand of native pecan trees in Chetopa, would be closed as a budget-cutting measure. Officials noted that difficult decisions had to be made because of reductions in base support from the state as well as recent enrollment declines that led to reduced tuition revenue.
After news of the closure decision spread in June, K-State President Richard Myers and Interim Dean of the College of Agriculture Ernie Minton were contacted by private citizens, members of the garden and nursery industry, political leaders, Extension Master Gardeners and others concerned about the loss of the Pair Center.
McKernan said the groundswell of support shows the Pair Center's importance "not just to our local gardeners and garden centers, but its impact on the horticulture industry across the United States."
Responding to the public, Myers, Minton and other K-State leaders charged faculty and staff with finding ways to keep the center open without reversing the budget cuts.
"We appreciate the administration for rethinking this decision," said Jason Griffin, director of the Pair Center. "We have to give a big shout-out to local- and national-level industries that stepped up to voice their concern about the decision."
New directions
Griffin, Boyer and McKernan were part of a task force formed to solicit and generate ideas and then submit a detailed plan to help the center become self-sustaining.
Topping the list of initiatives factoring into the Pair Center's new operational reality is industrial hemp research.
Minton made it clear from the beginning that he wants K-State to lead in this area of research because of its potential value to the agricultural marketplace.
Industrial hemp is closely controlled by federal and state regulations because it comes from the same cannabis species as marijuana. But instead of getting people high, it is grown for fiber, seed or oil — each of which leads to a variety of end products.
In April 2018, the Kansas legislature's Alternative Crop Research Act was signed into law by then-Gov. Jeff Colyer, allowing the Kansas Department of Agriculture to oversee research into the cultivation of industrial hemp.
Griffin, who leads K-State's efforts in building expertise on the crop, said K-State Research and Extension is at the earliest steps in trying to answer these questions. The University of Kentucky and Cornell University are the current research leaders in the United States, and they are getting ready to start only their fifth year of growing test plots.
K-State's agricultural research will likely include test plots at the Pair Center near Wichita, the K-State Olathe Horticulture Research and Extension Center outside Kansas City, and the Northwest Research-Extension Center in Colby.
Growing concerns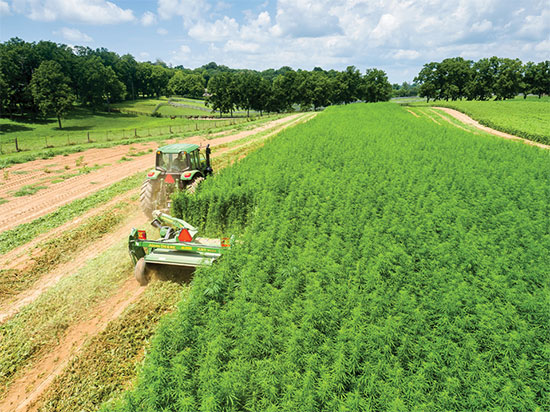 Several questions loom large over this burgeoning industry, including whether hemp is an agronomic or specialty crop. Griffin says it's both, depending on where it's grown.
Industrial hemp is different from marijuana plants that are used for their intoxicating chemical tetrahydrocannabinol (THC). Industrial hemp contains little THC at all. Hemp can be used in the manufacture of a wide array of products such as paper, clothing, industrial textiles, insulation, body-care products and much more.
Currently, a high-profile use of hemp is for cannabidiol or CBD oil, which is touted as a possible treatment option for a number of health issues. Most of those claims, however, are unsubstantiated because it has been illegal to conduct research until recently.
The 2018 Farm Bill loosens regulations on industrial hemp research and production, removing it from the Controlled Substances Act, thus moving regulation and enforcement from the Drug Enforcement Agency to the U.S. Department of Agriculture. Still, to be legal, hemp plants must contain less than 0.3 percent THC content.
And any crop that grows incorrectly and ends up "hot" — with a THC level above the limit — must be completely destroyed.