Keeping Agriculture Sustainable
Researchers and farmers work together to grow food and protect the environment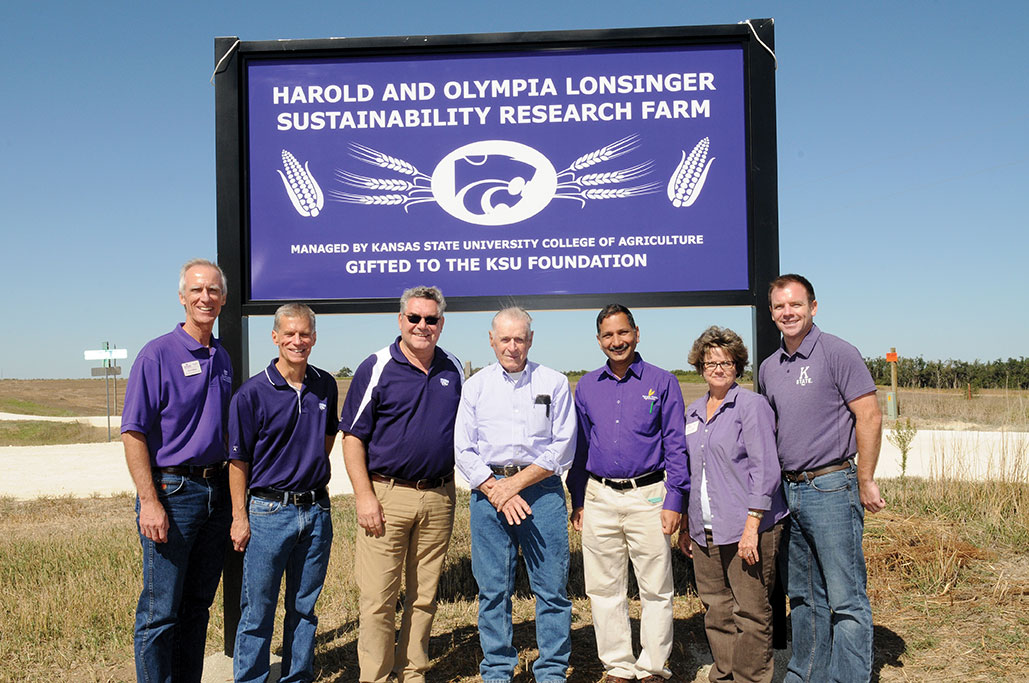 Kansas farmers are looking to the future. By evaluating tillage and irrigation practices and testing new technology, they hope to prolong their land's productivity for future generations. Using current resources in a way that doesn't delete or permanently damage them is sustainable.
While searching for new practices and technology, new partnerships are being formed.
Kansas State University researchers and Kansas farmers are teaming up on projects to ensure that raising crops is done in ways that are both economically and environmentally sustainable. You can't spend a lifetime growing food if you can't make a living doing it. You also can't damage or destroy a farm's ability to grow food and still expect the land to produce food for years to come.
A new kind of farm
Vara Prasad, university distinguished professor of agronomy, believes that, where possible, those who are raising food to help feed the world should leave the land and water better than they found them to sustain life in the future.
Prasad, director of the Feed the Future Sustainable Intensification Innovation Lab, is gearing up to lead research projects at K-State's new Harold and Olympia Lonsinger Sustainability Research Farm near Alton. Harold Lonsinger donated 2,300 acres of farmland to the university's College of Agriculture in 2017.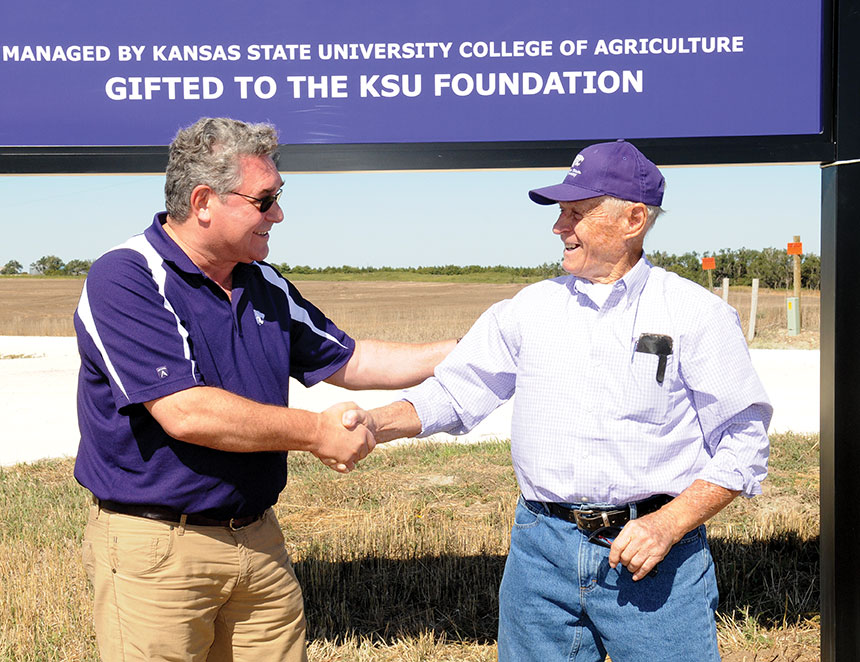 The farm will be home to studies in crop diversity with a focus on efficiently using natural resources and developing crop, soil, nutrient, and water management practices that improve the health of the soil and the quality of the water. Research from the farm will be used to improve productivity while protecting the environment.
Research projects planned for the Osborne County farm involve undergraduate and graduate students who will one day be the next generation of scholars and scientists.
They will learn the principles of sustainability and its importance for the entire food system, from the soil all the way to the consumer, said Gary Pierzynski, university distinguished professor and agronomy department head. The work done there will be a basis for educational programs for elementary school-aged children to producers in the region.
Wheat for the future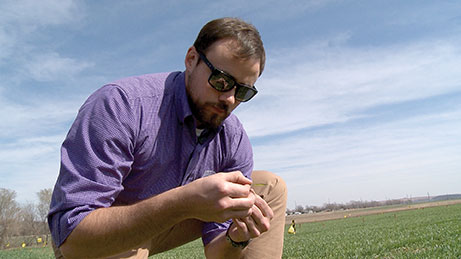 Romulo Lollato is not the average observer when he drives past a Kansas wheat field. Where most people see waving heads of wheat, Lollato, an assistant professor of agronomy, may see a crop that needs more moisture or has been overfertilized.
He is leading an effort to determine just how sustainable typical wheat production practices in Kansas are, with an eye toward identifying ways that could be modified to enhance sustainability. Part of the effort, started in 2017, tests the usefulness of a tool called the Field-to-Market FieldPrint Calculator. Lollato and his team used it to analyze previously collected data. In addition, 10 farmers are providing information about their current management practices on about 60 wheat fields. The research team will quantify sustainability on those practices.
The FieldPrint Calculator tool is responsive to some of the tests, Lollato said, especially in exhibiting the impacts of nitrogen fertilizer rates and pesticide applications. But it doesn't take into account crop rotation, double-cropping systems, and other important factors in wheat production, so there is room for improvement.
"The first year of the project was very broad in nature, mostly to understand the tool we were working with and to quantify the sustainability of a few typical wheat fields in Kansas," he said.
Final results of the current project, which was funded by the American Bakers Association, will be available later this year.
Lollato hopes to secure funding for a follow-up project in which the team would work with several wheat producers to modify particular practices and compare those practices to their usual management in terms of sustainability. For instance, researchers could compare a grower's typical nitrogen management and satellite-based nitrogen management to see if that farm's system can be improved, either by increasing productivity or reducing inputs.
Connecting the dots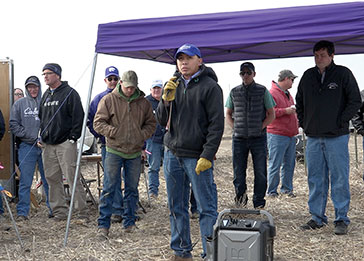 Ever since his move to western Kansas from southeast Idaho 14 years ago, Tom Willis has been trying to figure out the best crops, planting and tillage practices, and the most efficient ways to use water in his farming operations. He's owned T&O Farms near Garden City since 2013.
With diminishing water resources linked to the Ogallala Aquifer in western Kansas and portions of the state often in dry and sometimes drought conditions, farmers like Willis continue to search for ways to grow their crops, conserve water, be profitable, and leave resources for future generations.
He and several other farmers have teamed with K-State and the Kansas Water Office in a public-private partnership to establish the network of water technology farms. On those farms, irrigation technology is demonstrated, related research is conducted, and water conservation is supported. New irrigation technologies, management techniques, and cropping patterns can be tested on a larger scale on these privately owned farms than can typically be done on university property.
"I wish all the wells out here were 1,000 gallon-per-acre wells, but they're not," Willis said. "I'm excited that I'm not just sitting back and just allowing whatever happens to happen. We're being proactive. So whatever happens, I can look at myself in the mirror and say, 'I did everything I knew how to do.'"
Willis and other technology farm owners work with K-State Research and Extension agricultural engineer Jonathan Aguilar (Ph.D. '09 biological and agricultural engineering) and his research colleagues to conduct irrigation and water management research on some of the farms.
"Jonathan helps me pull the data together, interpreting what it means. I can't say enough about the State of Kansas and the extension agency and the things they've been as a resource. They've been great," Willis said.
K-State, the Kansas Water Office, and the technology farms have hosted educational events for the public to show how different technologies work in different regions of the state.
"The hope is that by demonstrating what we're demonstrating, that we can get more farmers to say, 'hey, the risk isn't as high as you think it is,'" Willis said.
Partnering for the better
Saline County farmer Justin Knopf (B.S. '00 agronomy) has no problem trying something new. Make that … a lot of somethings new. Knopf, along with his brother and father, grow wheat, alfalfa, soybeans, grain sorghum, corn, and multi-specie cover crops in a dryland no-till environment.
The Knopfs are collaborating with Andres Patrignani, assistant professor of agronomy, on a project that uses new sensor technology to develop soil moisture-based management zones within a field.
"Like most of Kansas, we farm in a water-limited environment, so the amount of water that soil can effectively capture and store is a good predictor for potential productivity," Knopf said. "The ability to divide a field into management zones based on soil-moisture would allow farmers to manage each zone more precisely, making the most of the water we receive."
In work with K-State Research and Extension agronomist Ignacio Ciampitti, the Knopfs are using satellite imagery during the growing season to predict crop yields at harvest. The results look promising, Knopf said.
"This is useful for quantifying varying levels of productivity within a field, which will allow us to divide the field into management zones to more precisely manage each area of the field," he said.
"It is also helpful for discovering a problem area within a field earlier than we may find it through scouting or visual observations, which may allow us to be more proactive in solving the problem before it causes more damage."
When the family was considering expanding cover crops on their operation, K-State helped design an experiment, monitor weed levels to quantify suppression from the cover crop, and statistically analyze the data.
"K-State is collaborating with not only our farm on these projects, and of course many others, but replicating the same projects on a number of farms across the state. The data and outcomes on other farms are also valuable and relevant to our farm, which is yet another layer of value in the relationship and collaboration between K-State and Kansas farmers," Knopf said.