Fighting Pests with Technology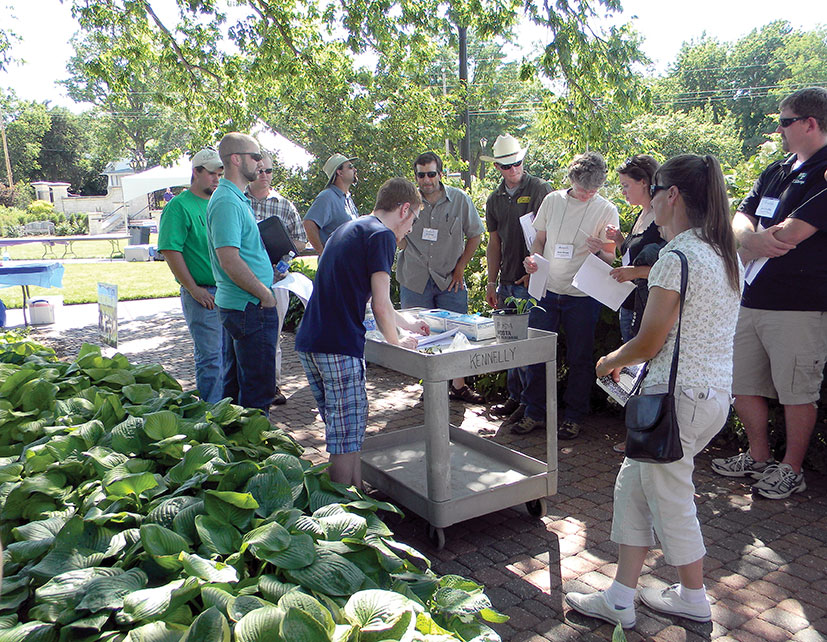 From the wheat and grain sorghum fields of rural Kansas to home landscapes and wooded areas across the state, millions of dollars worth of plants are lost to pests every year, and many millions more are spent in efforts to combat them.
To help farmers, landscapers, and gardeners — anyone who grows plants — Kansas State University researchers and extension specialists combined their expertise, resources, and passion in their life's work. Their combined efforts produced new ways to bring research-based information to Kansas and beyond.
"We know that groups tend to innovate faster, see mistakes quickly, and find better solutions to problems, compared to individuals," said project coordinator, Frannie Miller, who is also the integrated pest management coordinator at K-State.
The result is an ambitious campaign launched four years ago by experts from the departments of Entomology, Horticulture and Natural Resources, Agronomy, and Plant Pathology. They strive to educate Kansans and others on the use of safe, sustainable pest management practices using mobile-friendly technologies. Farmers, gardeners, landscapers, and others can readily find information in several different ways.
The U.S. Department of Agriculture's National Institute of Food and Agriculture funded the program.
New online app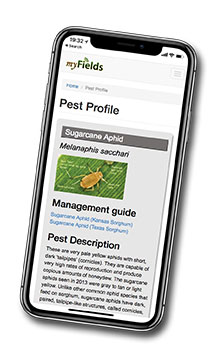 For farmers, a new online app, myFields.info features interactive tools and resources, including the popular diagnostic guides, a searchable database useful for identifying crop pests. A one-time free registration opens an array of information, including photos, pest descriptions, management options, and more. Because land-grant universities across the country are collaborating with K-State, the platform can be adapted for region-specific information, said Wendy Johnson, extension associate. She and Associate Professor Brian McCornack lead the myFields.info project.
One notorious pest currently on many farmers' radar is the sugarcane aphid, which can wreak havoc in grain sorghum — a crop widely grown in Kansas. The myFields project monitors the invasive species through real-time mapping. Reports trigger experts to send out localized alerts to myFields users.
"We've also partnered with Kansas and Oklahoma crop improvement associations," Johnson said. "They are using myFields as an online approach for crop certification procedures."
Plants for Kansas climate
For those who work in landscaping, park development and maintenance, garden centers, as arborists or who just want good advice about the best plants to grow in the often-challenging Kansas climate, the kansasroots.org website was developed.
"It's a new approach to helping clients select appropriate plants for their location by featuring searchable and interactive profiles of recommended plants," said Cheryl Boyer, associate professor of horticulture. "Our ability to reach users using a website is unique and allows for interaction with users by letting them rate their experience with plant varieties."
The website is a portal for numerous resources, including the Kansas Turf blog, which reaches more than 1,200 subscribers by email. Via the blog, subscribers have diagnosed diseases, identified weeds, and implemented cultural practices to manage pest problems.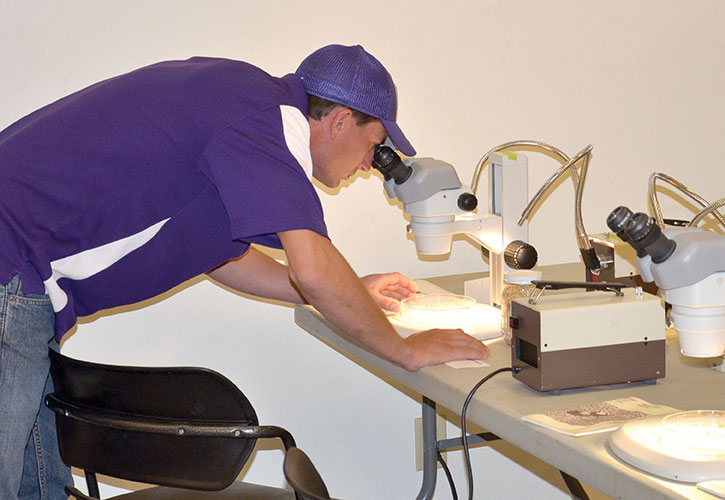 Plans are under way to convert the popular Kansas Garden Guide into an interactive digital resource also available on Kansasroots.org, Boyer said.
She and entomology professor Raymond Cloyd lead an inter-disciplinary team of entomologists, plant pathologists, and horticulturists on this section of the project. Through the website, plus face-to-face meetings, print materials, static websites, and social media, they are reaching out to Kansans and others.
A RetailWorks educational conference designed for garden center sales staff focused on plant selection, understanding product labels, and other topics important to pest management. Nurseryworks and Greenhouse Growers conferences focused on diagnosing plant stress and the use of biological control agents against the pests.
Application training
Through its pesticide applicators' educational program, K-State has provided training and resources for more than 15,381 landowners who apply pesticides and 6,084 commercial applicators in Kansas. Participants learn the latest regulations linked to pesticide use, as well as safe methods to protect the applicator, other people and animals, and the environment.
A new integrated pest management and pesticide safety online training portal has the potential to provide enhanced training options to reach more citizens. Miller leads this portion of the project, as well as the overall K-State effort.
More information about K-State's integrated pest management program is available at www.ksre.k-state.edu/pesticides-ipm/integratedpestmanagement.html.