Research Longevity
Kansas Agricultural Experiment Station continues to prove how essential it is to Kansas, the world.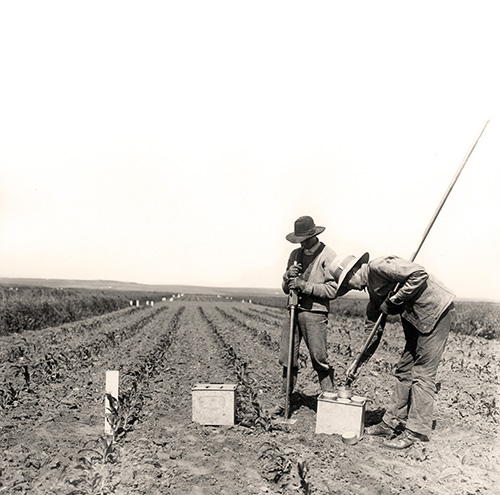 Kansas did not attain its food-production powerhouse status by accident like a random weed growing from parched ground.
It fittingly followed the path of a well-tended seed, planted earnestly on March 3, 1887, when Kansas became the first state to accept the provisions of the Hatch Act, which established agricultural experiment stations (AES) at land-grant universities.
"Adding a research mission with the passage of the Hatch Act was a logical next step following the original Morrill Act of 1862 establishing the land-grant university system," said Ernie Minton, associate dean for research and graduate programs.
"At that time, the need to teach applied aspects of agriculture was clear, but it was soon apparent that advances in agricultural practices through research were needed to add new, scientifically derived knowledge to practices that were up to that point largely culturally derived."
What followed began modestly, with 12 scientists working for the Kansas State Agricultural College. Now — 130 years later — a sprawling Kansas State University network of researchers touches every corner of the state. They define and refine best practices for livestock; grow test plots; and ensure crops, gardens, trees, and turfgrass grow well in the varied climatological regions of Kansas. They also study how to manage water resources, soil, and threats from insects, disease, and severe weather.
According to The Economic Returns to U.S. Public Agricultural Research, Kansans see a long-term benefit of $33.60 for every dollar spent on agricultural research. Kansas is a leader in production of wheat, cattle, sorghum, and pork, and K-State's AES system is world-renowned for its talent and results.
The seeds sown 130 years ago yielded today's thriving research programs. Many of them are focusing another 30 years into the future, when the planet will have nine billion people to feed. How that will be accomplished requires efforts across the broad spectrum of specializations in K-State's AES network. The following are a sample of recent, long-term research projects.
Safer Beef Supply
One of the lead researchers in a $25 million grant awarded five years ago says the nation's beef supply is safer now from Shiga toxin-producing Escherichia coli (STEC) than it was before the project started.
Randy Phebus, professor of animal sciences and industry, said the project has given scientists a much better understanding of the ecology and frequency of the potentially deadly E. coli pathogen in cattle and beef products.
"We have better diagnostics now, and we have a better understanding of the baseline contamination frequency, both in live animals and in food products," Phebus said. "We have now developed and validated multiple intervention technologies to control STEC, allowing companies to pick and choose what works best for them, with an end result of keeping it out of the beef supply."
Earlier this year, the grant funded its 100th internship, which has allowed students across the country to study STEC alongside university researchers. Each student is required to spend 300 to 500 hours on their research project.
"It's been pretty remarkable," Phebus said. "A lot of the students have gone on to graduate school in food science or public health-type fields. We've got quite a few who have taken jobs at places that could expand into their future career. It's been a very successful program. We've put more than one-half million dollars of the grant into the internships."
Safe, Accessible Water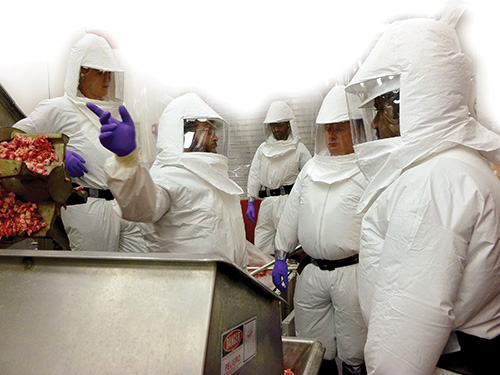 "From research focused on the best ways to keep water safe to ensuring an adequate supply in urban and rural areas, including collaborative efforts with homeowners, agricultural producers, government agencies and others, we're working to keep clean water flowing," said Dan Devlin, director of the Kansas Center for Agricultural Resources and the Environment at K-State, which is home to several organizations focused on water.
Many of the advances discovered by the university's researchers have been adopted in other states and around the world. But it's not enough to do the research and discover the best methods.
Currently, irrigation accounts for 85 percent of water use in Kansas, which is higher than the 37 percent U.S. average and 70 percent global average. Approximately three million of the 21 million cropland acres in Kansas are irrigated primarily from groundwater sources, mostly in the western one-third of the state, according to a Water Primer, part of a series of articles written by Devlin and other K-State Research and Extension specialists.
Research, often years in the making, has focused on such efforts as the development of computer software such as KanSched2 and Crop Water Allocator to help farmers make irrigation decisions about subsurface drip irrigation and its potential in commercial agriculture and advances in center-pivot irrigation technology, including mobile drip irrigation.
Meatier Pork Industry
University Distinguished Professor Mike Tokach said K-State swine research over the last two decades has allowed the swine industry to safely increase litter sizes and growth rates of finishing pigs.
"It is quite amazing when you look at where we were 20 years ago," Tokach said. "The average sow in the mid 1990s produced about 14 pigs marketed per sow, and today we are over 22 pigs marketed on that same sow base.
"Pigs grow about 30 percent faster than they did 20 years ago. That's fairly amazing, if you ask me, in terms of how fast an improvement we've made in the industry. And they do that with about 20 percent less feed per pound of gain than we did 20 years ago."
Tokach noted that in the 1990s, the average litter was 7 to 10 pigs. "Now we have a lot of farms that are weaning over 15 pigs per litter," he said. "That allows you to achieve some very high targets."
Advances in genetics, artificial insemination, and feed nutrition are key factors in the success of the swine industry, according to Tokach. Geneticists have filled an important role in selecting for breeding success and in reducing the mortality rate of piglets.
The university's swine nutrition group is renowned for research that focuses on converting feed to energy in the most efficient way possible. Tokach said he attributes this to an increased emphasis on science.
Farm Business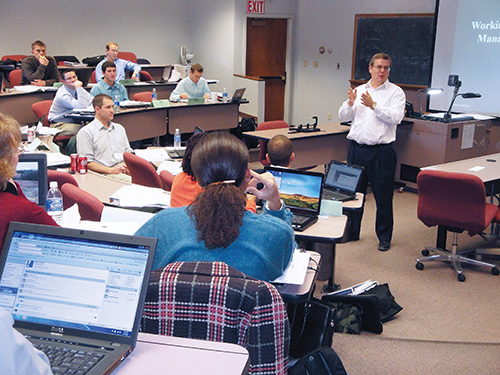 Through research and outreach, K-State's Department of Agricultural Economics works with producers who seek to position themselves to take advantage of opportunities and weather any storms.
It's against that backdrop that the department's award-winning website www.agmanager.info was developed more than 20 years ago as a resource for farmers, ranchers, landowners, and lenders to find the most recent economic research pertaining to their businesses. The site averages more than 24,000 hits per month.
Another key component to the department is the Master of Agribusiness, which celebrates its 20th anniversary this year.
"There's quite a bit of research that has come out of that program. It's really a public-private partnership," said Allen Featherstone, head of the agricultural economics department.
Students working toward a master's degree in the distance education MAB program are full-time employees at companies and farming operations across the United States and in other countries and often base their thesis on challenges or activities at their company. Faculty members work with them to research potential solutions, which are often implemented by the companies.
UAV-monitored Crops
Breeding better wheat varieties and monitoring for disease is easier and faster with a bird's-eye view. Researchers at K-State's USAID-funded Feed the Future Innovation Lab for Applied Wheat Genomics have been accelerating their use of unmanned aerial vehicles (UAVs) to collect data on thousands of plots in Kansas, Mexico, and India.
"Perhaps the greatest bottleneck currently in plant breeding and genetics is effectively generating precision measurements of plant characteristics in the field," said project director Jesse Poland, assistant professor of plant pathology.
"The goal of this project is to deliver in-season yield predictions by building models that combine genetic information from DNA sequencing and crop physiology that we will gather from UAV measurements on tens of thousands of breeding lines."
Poland said the university uses UAVs to evaluate large populations of candidate varieties under field conditions in large wheat-breeding nurseries in multiple countries — enabling research to continue all year long, not just in one, U.S.-based growing season — then build a database that breeders can use when developing future varieties.
"Plant breeding is really a numbers game," Poland said. "If we can use new technologies like remote sensing with these low-cost UAVs, then we provide the breeders with the tools to look through many more candidate varieties and increase the chances of finding ones that are really excellent and can become the next best varieties to release to farmers."
Value to the University, Kansas
Associate Dean Ernie Minton summarized the continuing importance of agricultural research.
"The Kansas Agricultural Experiment Station has grown to be a dominant feature in the university's research enterprise. Over the past five years, KAES averaged 54.2 percent of K-State's total research expenditures.
"According to the most recent Census of Agriculture, Kansas ranked sixth among all U.S. states in the value of agricultural products sold. Given the unmistakable importance of the industry to the state and the centrality of food and agriculture to the university's land-grant mission, it is fitting that the Kansas Agricultural Experiment Station has a prominent footprint in K-State's total research enterprise."
Learn more about agricultural research at ag.ksu.edu/research/