President Myers on the Importance of Agriculture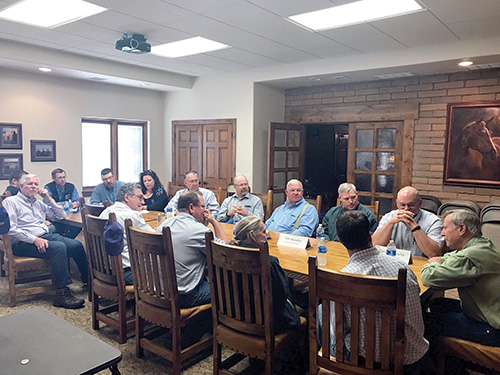 After serving as interim president of Kansas State University for six months, retired U.S. Air Force Gen. Richard B. Myers was named the university's 14th president. His inauguration ceremony took place in McCain Auditorium on April 28, 2017.
The President's Corner, a monthly radio program hosted by Richard Baker, allows President Myers to communicate with a broad audience about university issues. On June 9, 2017, Myers and Baker discussed the FY2018 budget, the College of Agriculture, and Myers' recent visit to southwest Kansas.
Agriculture makes up 43 percent of the Kansas economy. It is both the largest employer and largest producer of goods for export. K-State plays a major role in making that happen. Are we meeting the educational needs of agriculture?
If we can't do agricultural education well, then we might as well not exist because it is the essence, one of the pillars of our land-grant institution. I think that without adequate funding for all our colleges — not just the College of Agriculture — we would do a suboptimal job of providing talented graduates. It probably would impact the number of young people and faculty we can attract. It would limit the research needed to produce graduates with the kind of talent we need in this state. We need adequate state funding to conduct the kind of research we need to make progress in agriculture and all other economic sectors in the state.
The college has about 2,700 undergraduate and 545 graduate students with a placement rate of 97 percent. Do you see continued growth for the college?
There's been great growth in the College of Agriculture in terms of student numbers. It has plateaued at this point, and I don't know if there is a lot of room left for growth. I know that there's not a lot of room left for research because our facilities have either been maxed out or become so old that they're not good any longer. So long term, we need to look at some capital improvements as well. That certainly will take some state help, maybe major state help, to get our facilities back up to where they need to be.
Does your proposal for a budget include funding for new agricultural research facilities?
The current budget proposal does not include funds for needed agriculture research facilities. We have proposed and are still trying to make progress on the geosciences research and classroom renovations in one of our oldest buildings on campus, Thompson Hall. That's right before agriculture. Then agriculture will consume a lot of our time going forward.
The state doesn't help as much as they used to with building facilities or renovating facilities, which means we need to do a lot with philanthropy.
When you look at the recently completed phase IV engineering building or the new College of Business building, philanthropy played a major role in being able to fund those buildings. The state helped of course, especially in terms of engineering.
A lot of improvements like the Berney Family Welcome Center were done through philanthropy. And there's going to be more of that. We're going to need some improvements to Hale Library and McCain Auditorium, which houses many student activities, recitals, and practice. Those both need to be refreshed.
How do we better communicate to those who decide whether we get money or not about the role K-State plays, not only in agriculture around the state, but also in the Kansas economy?
That's a really good point. Where is the state population? Not in the western part of the state. It's on the eastern side and near Wichita. There's a lot of agriculture around those areas and a lot of the people that live there understand agriculture. But to really understand what K-State contributes, you've got to go to all 105 counties where we have research and extension folks trying to make life better. They are helping people work smarter, more efficiently, and be better stewards of our resources. That's what we do.
I recently went to western Kansas with John Floros, dean of the College of Agriculture, Tammy Beckham, dean of the College of Veterinary Medicine, and Secretary of Agriculture Jackie McClaskey. We went out there to listen and learn about what we need to do better. One thing we need to do better is help people understand the role that talent — agricultural students graduating with bachelor's, master's and Ph.D. degrees — what a difference that can make to our state and our economy.
We can do better. As fewer and fewer folks in our state are directly involved in agriculture, we need to do a better job of educating them about the importance of agriculture. We're not there yet.
Did you bring back anything you hadn't heard before?
Absolutely. We visited dairymen. Dairy is growing at a pretty good clip out in western Kansas. We talked to cattle producers. We visited some water technology farms that are comparing pivot sprinkler systems with a high rate of evaporation to the drip line alternative that reduces the water you need to irrigate crops. It could help protect the Ogallala Aquifer, which is not being replenished as it should. That area could be very unproductive if we don't take steps to conserve water. We also had a session with veterinarians and saw some swine production facilities. It was quite a tour.
A lot of the people you visited with are K-State graduates. Did they voice some of the same concerns you have about the budget?
Dean John Floros will tell you that we are not producing enough graduates in agriculture to fill the job needs that are out there. We are not even coming close. That also was reflected by the folks out there in western Kansas. They need talent; they need educated talent — the kind of folks we produce here, not only in agriculture but in a variety of disciplines. We heard that loud and clear.
Final thoughts about the budget?
I'm an optimistic person. I've talked to a lot of legislators, and a lot of them want to fund education. The legislative body controls the purse strings and will decide. I hope they understand how important education in general, higher education in particular, is to the state. We've got to do a better job of funding this really important economic driver for the state.