This little piggy went to market
Study looks at how transportation affects pig health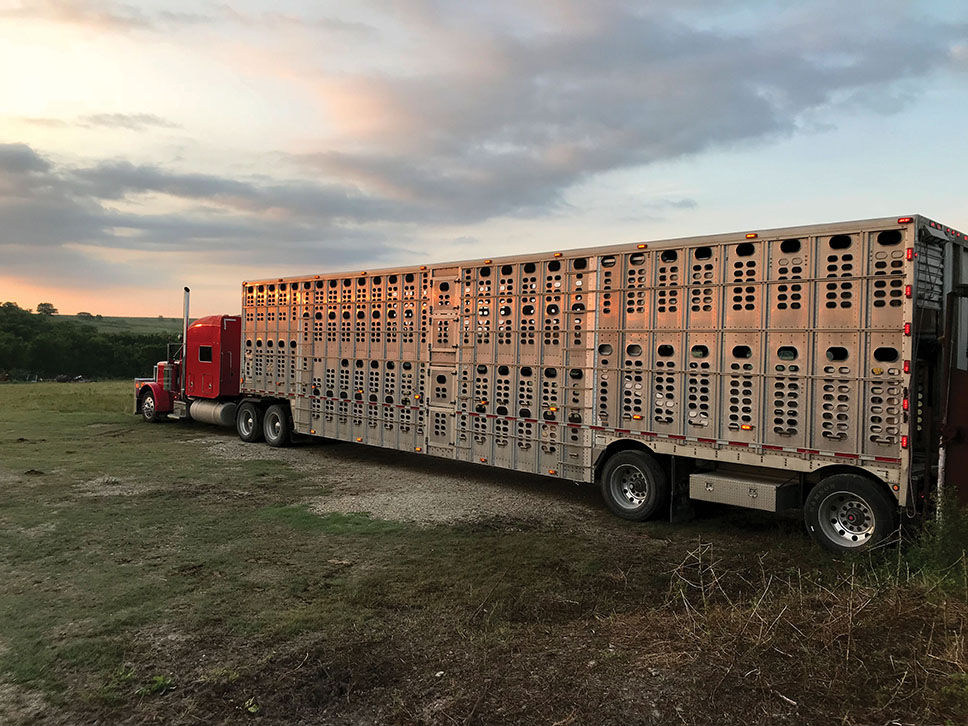 K-State researchers are planning a road trip, actually 40 of them, to learn how transporting pigs affects muscle fatigue in those animals.
They plan to follow trucks around the Midwest, specifically Iowa, Kansas, Missouri, Nebraska, and Oklahoma, to measure vibration in the trailers and the stress it may cause animals.
Our primary concern is animal welfare, but we are also concerned about the loss to the industry, said John Gonzalez, associate professor of meat science.
An estimated 120 million pigs are transported on U.S. roads and highways each year, or about 750,000 loads of pigs. Previous research has identified fatigue – from various factors and possibly the constant shaking the animals endure during transportation – as the cause of an estimated loss of .3 percent, or 360,000 pigs per year, according to Gonzalez.
That's equivalent to about 109 million pork meals lost per year, and just over $17 lost per pig, a total of $61 million lost by the pork industry.
Gonzalez works with a team of K-State specialists: animal scientists Tim Rozell and Jason Woodworth '97; biological and agricultural engineers Dan Flippo '94 and Ed Brokesh '83, '06; and kinesiology professor Tom Barstow.
The team received $125,000 from the Agriculture and Food Research Initiative, which is administered by the U.S. Department of Agriculture's National Institute of Food and Agriculture, to gather data on how to make pigs more comfortable during transportation.
"We are looking at different locations within the truck," Gonzalez said. "Let's say we find out the bottom level of the nose near the axle of the truck vibrates a lot more than the other compartments. So, you can actually tell producers, 'OK, these pigs at the far end of the hog house will have to walk a long way and be more fatigued than those close to the door. Maybe you don't put them in the nose of the trailer.'"
They intend to develop strategies for loading the pigs so those that might be more fatigued are not put where the vibration is strongest.
Gonzalez said he often uses an analogy to explain the process. "The effects of transporting pigs is much like a homeowner using a weed eater or a chain saw that vibrates heavily. At the end you have no strength in your hands."
The team will collect data on 40 loads of pigs using accelerometers placed in the trucks to measure movement from side-to-side, forward-to-backward, and up-and-down.
The measurements will help researchers understand differences, such as a bumpy ride along a county road compared to a ride along an interstate highway.
"We can take those variables and see how it's affecting our pigs," Gonzalez said.
After determining the vibration profile, the information can be used to address other transportation factors and create a better overall trip for the pigs. The team will collect a vast amount of data, possibly 100 data points a second, during a 3- to 4-hour load.
Once all of that information is gathered, the team will design and build a live simulator to test the effects of transportation and vibration in a controlled university setting. Eventually, the work can also include other animal species.