Spreading the word
It's a Tuesday morning in Topeka, and Ariel Whitely-Noll '14 arrives at her office thinking about her to-do list. That list may include a Facebook post, an interview with the Topeka Capitol-Journal newspaper, or making room arrangements for a program she's presenting. She knows that emails, phone calls, or visitors may change her day, but that's the way she likes it.
In her role as a K-State Research and Extension horticulture agent, questions may come in about lawn irrigation or insect problems in a vegetable garden, or guiding an Extension Master Gardener who's speaking to a community group.
Whitely-Noll relies on the latest research from K-State and other universities to provide information to local residents, whether they're first-time homeowners or seasoned gardeners.
Statewide network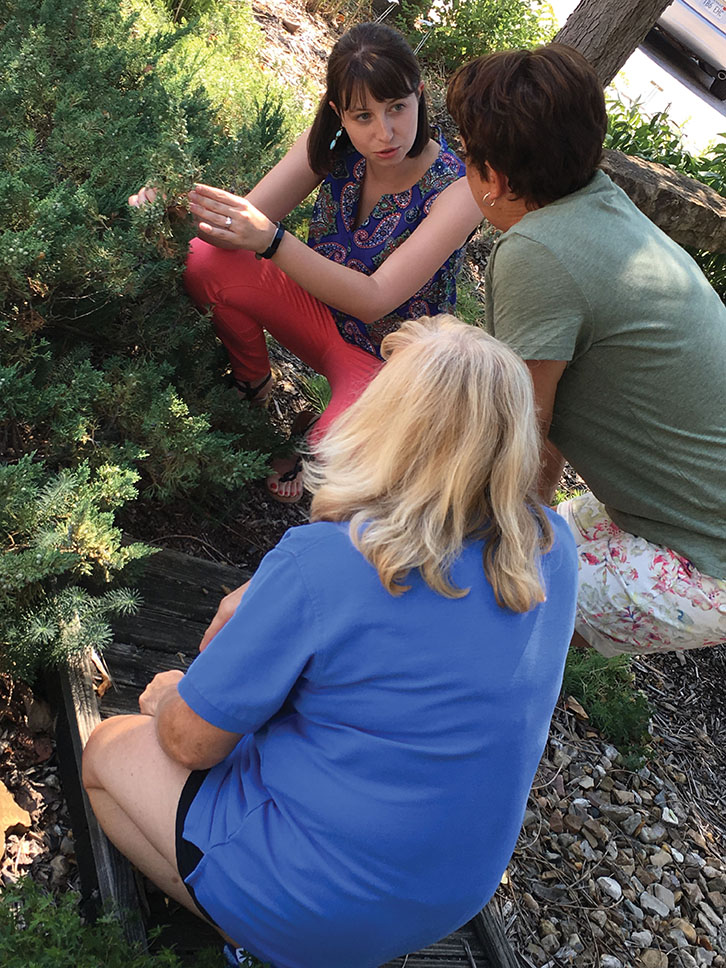 Farther west, agriculture and natural resources agent, Tom Maxwell '78 '80, relays crop production and farm management information to farmers in the Central Kansas District (Saline and Ottawa counties). It's enhanced by his 37-plus years working with K-State researchers and specialists, disseminating information to the public.
Maxwell and Whitely-Noll are two of about 225 K-State Research and Extension educators working across the state to deliver information on topics from personal financial management to growing soybeans to fitness and health programs, planting your garden, and more. All have bachelor's degrees and many have master's degrees or beyond, plus experience in the business world. Most of the information, focused on improving lives, businesses and communities, is either free or low cost and available to all Kansans.
Through classes, field days, newspaper columns, radio and newsletters, plus social media – Twitter, Facebook, Pinterest, YouTube, and others – agents take research results and convey it to Kansans.
"I often highlight 'Dining with Diabetes' as an example of a popular program built on solid research findings," said Gregg Hadley, K-State director for extension. The program consists of classes where Kansans learn about nutritional and physical activity changes they can make to lessen the health risks of diabetes, which affects one in 10 adults in the state.
Hadley cited Erin Yelland, specialist in health and wellness, for her work in opioid education and aging populations. Agents in communities large and small work with Yelland to educate Kansans.
Nora Rhoades, family and youth development agent in the Post Rock District – which spans five counties in north central Kansas – uses a multidimensional approach to expand a culture of health and wellness across the age spectrum.
"In some cases, I provide direct services to the public as an educator, and other times I train professionals so they can better serve their audiences," said Rhoades, adding that partnerships with community coalitions, management teams, and volunteers help spread research-based information further and magnifies the reach.
Agronomy specialist Jeanne Falk Jones '02, '04, works with crop producers in Cheyenne, Sherman, and Wallace counties. "Being trained as a weed scientist, I think weed control is a big concern," said Jones.
She has four county wheat demonstration plots and conducts tours, plus works with specialists to present three research-related field days.
"My primary job is to get unbiased, research-based information into farmers' hands, for them to apply it on their farm," said Falk Jones, who uses social media and email to send timely alerts, videos, and photos to farmers.
Keith Martin in Labette County (Wildcat District) and Dale Hellwig in Cherokee County are among the agents who work with Kansas beef producers through the Sunflower Supreme Heifer Program. Led by southwest area beef specialist, Jaymelynn Farney '07, '12, the program focuses on best management guidelines for replacement heifers.
Agents and staff in the Wildcat District (Crawford, Montgomery, Wilson, and Labette counties) are reaching out to longtime and new audiences via social media plus two weekly television segments, Wildcat Wednesday and Wildcat Cooking on KOAM-TV. The team produces a monthly e-magazine, Wildcat Connection, which features print articles, photos, and audio podcasts on an array of topics, and uses Facebook, Twitter, and other social media to reach out to residents.
Community support
K-State Research and Extension works to strengthen communities, by offering grant-writing workshops, helping communities assess their strengths and weakneses, hosting First Friday webinars for small businesses, and facilitating public meetings, Hadley said. He also noted K-State's role in recent critical water-related public discussions and a meeting in Coffeyville about the prospect of a new poultry facility.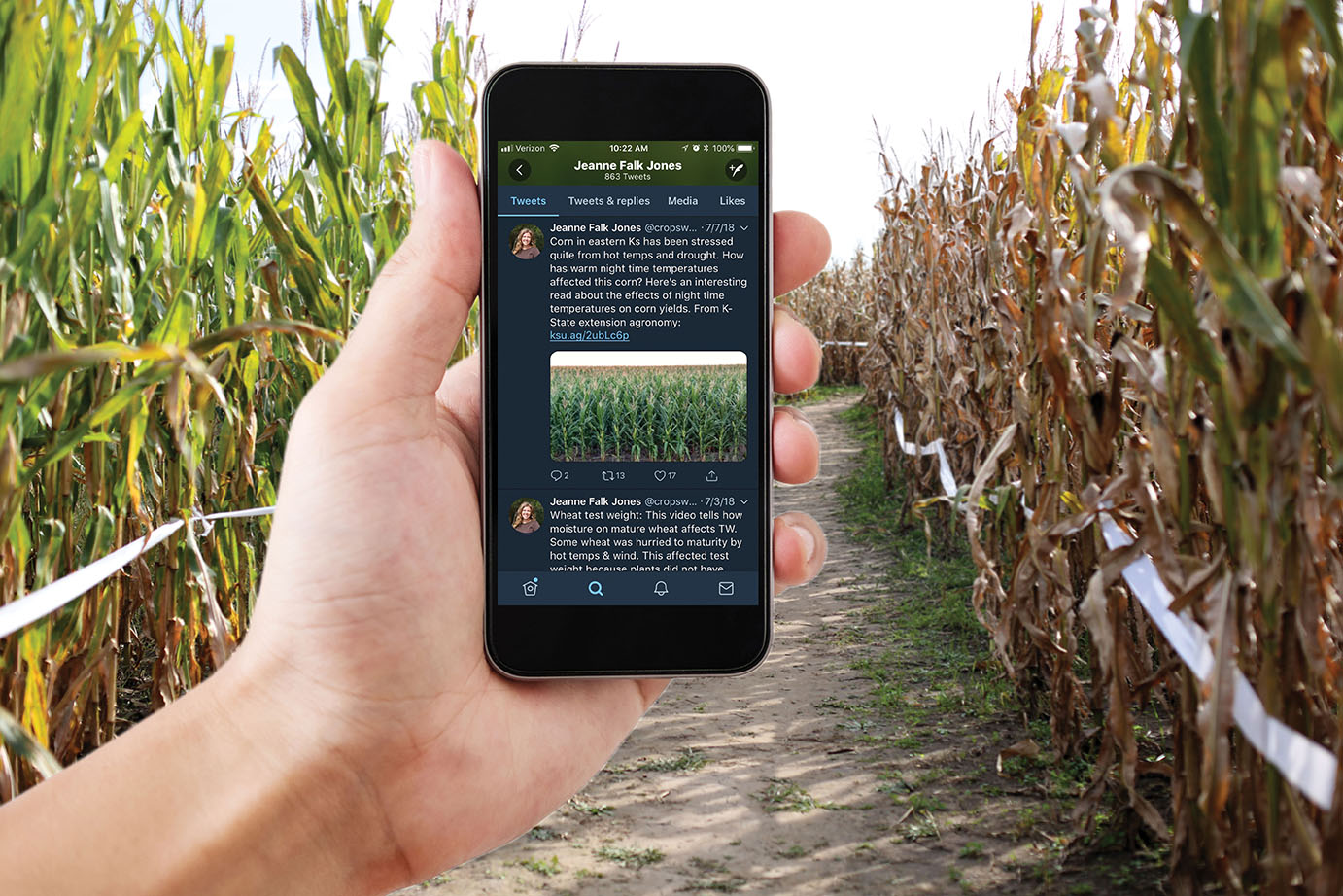 "We're putting research into action by helping the public decide what direction to go," Hadley said. "One of the biggest challenges we face is the speed at which something can be transmitted. We're all used to getting things at our fingertips. Our information may not come at the speed that society is used to. Speed is important, but it's more important to be accurate."
Even with more than 100 years of delivering information, some aren't aware of our services, Hadley said. It's tough that people don't know that their local agent is just a call, email, or visit away when they have a question about irrigating their yard or irrigating 10,000 acres.
The information we provide is unbiased. K-State Research and Extension agents and specialists do not profit from sales of a particular product.
Because K-State Research and Extension is taxpayer supported, it generally can't spend money to advertise, so many people learn about programs by word of mouth and through traditional or social media.
Go to ksre.ksu.edu for more information about K-State Research and Extension.